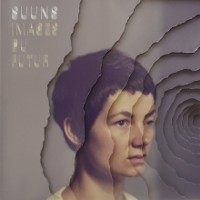 Montreal soothsayers SUUNS (pronounced 'Soons') released their newest album, Images Du Futur, on March 5, 2013. The hypnotic, sultry grooves envelop, but remain simple enough to drive you crazy with a fist full of 'why didn't I think of that'. The prospect of 10 new tracks from the downbeat groovemeisters activates salivary glands that lead to a consequent mess of drool.
The first track "Powers of Ten" starts the record with a powerful reminder that SUUNS can be as noisy as they can be melodic and groovy. Poetic use of layers carry tracks like "Mirror Mirror" and "Bambi" though a full spectrum of minimalistic to fully immersive and complex with enough atmosphere that the listener can easily get lost in the throes. Instrumentation is familiar, with the all too common guitar-bass-synth-drums, the sound on the other hand is anything but common. Fans of their first album Zeroes QC will not be disappointed since Images Du Futur feels very much like a continuation of Zeroes. Newcomers to the band will quickly learn what all the fuss is about.
One of the greatest elements of SUUNS is their disregard for conventional genres while remaining immaculately listenable. A self-described rock and roll band, SUUNS fits handily into the same category of organic-electronic outfits as Ratatat and Holy Fuck, although the role of synths is not always apparent, as in "Sunspot". While not inherently danceable, it is far too groovy to be considered ambient. There are elements of progressive rock and acid jazz with smatterings of fuzzy guitars all held together with the groove of an abstract hip hop album. It is one of the truer examples of a punk rock record, full of the characteristic 'do whatever you feel like' attitude. Images Du Futur offers a reminder that "Music Won't Save You" but it will bend to the mercy of its creator.
By Greg Mahood
Mar 14, 2013
[
reviews home
] [
list reviews
]
comments powered by

Disqus
More Reviews By Greg Mahood