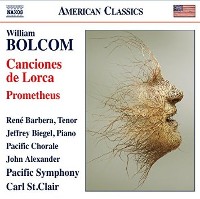 Canciones de Lorca; Prometheus
Naxos
(
)
William Bolcom (born 1938, Seattle) has composed chamber, operatic, vocal, choral cabaret, ragtime and symphonic music. The two works on this disc are big "occasional" pieces—commissioned for a special occasion, intended for maximum impact on an audience. The performing forces are large, the gestures grand, the execution virtuosic while appearing effortless. The recordings, appropriately, are live.
Canciones de Lorca was composed in 2006 for tenor Placido Domingo, the Pacific Symphony, and conductor Carl St. Clair. It was the centerpiece of the gala opening concert of the Segerstrom Center for the Arts, Cosa Mesta California. A setting of seven poems by the Spanish poet Federico Garcia Lorca, Canciones captures the "surrealistic humor, passion, wisdom, mystery, and … the Andalusian flamenco tradition which lurks behind almost every lyric [Lorca] wrote." The cycle opens with the tenor, unaccompanied, singing "Balanza," musing on the conflict between night and day. An orchestral Interlude leads to Lorca's most famous poem "La casada infiel" (The unfaithful housewife). Subsequent movements are by turns disturbing and surreal: "Alba" (Dawn), "Danza de lúa Santiago" (Dance of the Moon in Santiago), "Arboles" (Trees) and the touching "Soneto de la Dulce Queja" (Sonnet of the Sweet Complaint). Orchestral Interlude II "A Poet in New York" forms a jazzy orchestral bridge to the final swinging "El poeta llega a La Habana" (The Poet Arrives in Havana). This recording, made seven years after the premier (with tenor René Barbera replacing the aging Domingo) was taped in concert in October 2013. Domingo's absence allows us to hear objectively just how good Bolcom's music really is and what a fine singer Barbera is at this stage in his career. Canciones is a valuable and engaging addition to the song literature for tenor and orchestra.
Pianist Jeffrey Biegel instituted and secured funding to commission Bolcom to compose a companion work to Beethoven's "Choral" Fantasy, scored for the rare combination of piano, orchestra and chorus. Bolcom opted for a setting of Lord Byron's poem "Prometheus." (Prometheus was the Greek god condemned by Zeus to suffer eternal punishment for stealing fire from Mount Olympus and giving it to mankind.) Bolcom proposes Prometheus as a metaphor for 21st century western civilization. "We are now all Prometheus, chained to our rock of technological dependency … our unprecedented advance has given the world enormous benefits … but we are now enjoined to see the dark side of this bounty." Space does not permit a detailed description of how this philosophical material is given musical expression, but Prometheus is a fascinating, engaging response to the requirements and limitations of the commission. The dramatic arc of the work begins with a piano solo evoking Prometheus' struggle against the chains and builds slowly but irrevocably to a concluding affirmation of hope by piano, chorus and orchestra. Heard on the same program with Beethoven's "Choral Fantasy" Prometheus would easily emerge as the more complex, challenging work. This recording from the first performances in 2010 should not be missed.
René Barbera, tenor; Jeffrey Biegel, Piano; Pacific Chorale, John Alexander, artistic director; Pacific Symphony, Carl St. Clair conductor; William Bolcom "Canciones de Lorca (2006)" "Prometheus (2009)".
By Jim Hayes
Jun 16, 2016
[
reviews home
] [
list reviews
]
comments powered by

Disqus
More Reviews By Jim Hayes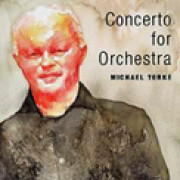 Michael Torke
Concerto for Orchestra, Bliss, Oracle, Iphenenia
(Ecstatic Records)
May 17, 2016