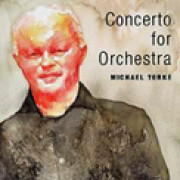 The music of Michael Torke (b. Milwaukee, WI, 1961) is rooted in the "minimalist" tradition of Philip Glass, Terry Riley, and John Adams. Large musical structures evolve out of the repetition of small sequences and patterns and the gradual introduction of changes into those sequences or patterns. Minimalist music grows, develops and transforms slowly across time. The results can be mesmerizing and extraordinarily beautiful.
Each of the four pieces here perfectly exemplifies Torke's claim that by "tethering the musical expression to as limited of means as possible … unexpected freedom, caprice, and voice can follow." Concerto for Orchestra (Royal Liverpool Philharmonic Orchestra, Vasily Petrenko) opens with a four-note motto stated by the trumpets. Out of those four notes, the seven continuous sections (22 minutes of music) of the Concerto evolve seamlessly from changes in tempo and orchestration. The composer adds "each point of the piece sounds different—the music is an array of colors, moods, and speeds… a tapestry that weaves the invariant motto through a broad range of contexts." Bliss, for winds (University of Kansas Wind Ensemble, Paul W. Popiel) begins with a rhythm clapped by members of the ensemble. The clapping pattern sets the rhythm of all the melodies heard—executed by almost every instrument in the wind ensemble. The rhythm is the "theme." The notes of the unfolding melody are constantly changing, and the chords harmonizing the melody are shifting as well.
Oracle (Quad City Symphony Orchestra, Mark Russell Smith) a four-minute concert overture evolves out of the opening brass call made up of four lengthening phrases. The piece plays with the notion of "same but different" by interweaving truncated parts of that opening brass call. In the ballet Iphigenia (Camarata New York, Richard Owen) (based on Euripides' Iphigenia in Aulis) each of the seven scenes begins with a thematic line in the opening bars. New notes are inserted between the gaps of the theme, creating the musical fabric from what is first heard, and the entirety of each scene refers back to its opening bars.
Each of the performances is by the group that gave the first performance of the work. All four are fully committed, warmly persuasive and presumably definitive. Recording quality is excellent. Highly recommended.
By Jim Hayes
By Jim Hayes
May 17, 2016
[
reviews home
] [
list reviews
]
comments powered by

Disqus
More Reviews By Jim Hayes