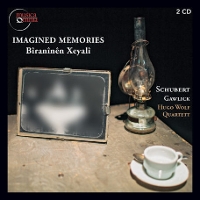 Imagined Memories, the Hugo Wolf Quartet's 2016 double release, was recorded in just six hours in the famous acoustics of the Church of the Redeemer, Chestnut Hill, MA. The CD pairs Ralf Yusuf Gawlick's most personal work, "Imagined Memories – Bîranînen Xeyalî", with one of the many string quartets quoted in its introduction, Franz Schubert's 1924 A minor "Rosamunde" Quartet. The CD package includes 40 pages of liner notes, in English and German.
In an interview with Jane Whitehead (Boston College Magazine), Gawlick, who is an associate professor of music at Boston College, says that he's "been blessed with two mothers," the mother who raised him and the woman who gave him life. He was born Yusuf Mustafa in a Bavarian town (Pfaffenhofen-an der-Ilm) to Naciye, a young Kurdish woman, who, as Gawlick says "has always been in (his) thoughts and heart" and "risked much to give him life" before she left him in a Munich orphanage and returned to Istanbul. In the same interview, Gawlick noted that his sense of intimacy with Naciye "deepened profoundly" when his own children were born.
Through a sequence of 17 musical segments, or "memory footprints, Gawlick quotes, layers and distorts fragments of the string quartet repertoire, from Schubert's "Rosamunde" through Kurtág, Shostakovich, and others, as he tries to re-member and re-inhabit the emotional spaces shared by himself and Naciye before, during, and after their separation. The end of the score brings the players together in "a symbolic reuniting of mother, lost child, and adult son."
The Hugo Wolf Quartet was established in 1993 at the Vienna University of Music, and is currently made up of violinists Sebastian Gürtler and Régis Bringolf, violist Subin Lee, and cellist Florian Berner.
By Catherine Fisher
Apr 24, 2017
[
reviews home
] [
list reviews
]
comments powered by

Disqus
More Reviews By Catherine Fisher