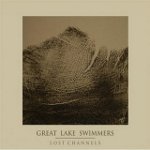 Torono's own Great Lake Swimmers have quietly been making a name for themselves among the folk rock audience since their inception in 2005. Following the success of their third album, 2007's Ongiara, the band has performed internationally with names such as Feist, Bela Fleck, Hayden and even Robert Plant & Alison Krauss. The band's folllow-up to Ongiara, Lost Channels, demonstrates why the band is ever deserving of hype and international recognition.
Lost Channels, a half-concept album, was recorded in the historic Thousand Islands region slightly north of the American border. More than that, the actual recording was done in rural locations as varied as old churches and abandoned grain silos. As such, the album features a heavy reliance on nature and earthy elements for its inspiration. What results is a testament that is as nostalgic and personal as anything Neil Young ever recorded. Case in point: "Stealing Tomorrow." Tony Dekker's hauntingly beautiful vocals combine with the hollow strumming of a distant guitar to present a testimony that is both dark and inspiring at the same time. The majority of the songs on Lost Channels do an equally good job of conveying the deepest emotions.
It is their ability to demand listener attention and craft the most beautiful imagery that will grant Great Lake Swimmers even further success. More than that, the band has clearly come into their own with a sound that is instantly recognizable after half a bar. In that respect, Lost Channels can be viewed as a quiet revolution: for folk rock, for Canadian music and for music lovers the world over.
By Matija Kamikovski
Apr 1, 2009
[
reviews home
] [
list reviews
]
comments powered by

Disqus
More Reviews By Matija Kamikovski
More Reviews For Nettwerk artists