Alvvays also was #1 on the Top 200 of 2017
The Best Albums of 2017
Sometimes you've got to dig a little deeper to find some of the special treats offered by the year in music.
We polled some of our regular contributors and programmers from across the country to get an individual perspective on some of the best albums of 2017. These folks have listened to a lot of records this year. Here is what stands out.
Share your choices in the comments...
Troy Lemberg, Music Director, CFUV 101.9FM, Visctoria, BC
I am Troy Lemberg, the Music Director at CFUV in Victoria BC as well as host of The Action Index on Thursdays 6:30-8PM. My personal program is a hardcore punk show and I book concerts of various genres in town as well.
My Top 3 records of the year
Woolworm – Deserve To Die – (Mint)
Biased pick maybe but also the best album this year. I have told so many people about this album and have been listening to this record since Feb when Woolworm played my 10 year radio show anniversary and they gave me an advance copy of this record. I never stopped listening and knew all the words at the album release show in August. I have been booking this band in Victoria since their very beginnings and am excited to see a full length out on a label and the new fans they have now got!

Dreamdecay – Yu – (Iron Lung)
This album was just such a great mix of punk and cool post punk sounds that I fell in love with the release. Then seeing them live twice in 2017 also pushed this album up in my rankings. Check out their KEXP session.

Kelly Lee Owens – Kelly Lee Owens (Smalltown Supersound)
I felt like I was the only one into this album at our station for the first 2 months it was here at the station. Then near the end of its charting time more and more came to discover it. I came into it because of the Jenny Hval featured track but stayed for her production throughout the album.
Glen Ingram - Outside-In
CICK Radio - Smithers, BC
My show is a mixed bag of genres (but I lean heavily on indie pop and rock) that features the best and most recent music in the studio within the last 2 weeks. The show has been on the air since 2009 (since the beginning of CICK).
Show website - http://www.smithersradio.com/stationprogram/outside
Station facebook - https://www.facebook.com/SmithersCommunityRadio/
My Top 3 records of the year
The Souljazz Orchestra - Under Burning Skies – (Indie)
A mix of funk, disco and afrobeat. What's not to like. Oh, and did I mention that every musician is at the top of their craft.
http://www.souljazzorchestra.com/
Alvvays – Antisocialites – (Royal Mountain Records)
CBC may love them, but we love them more. There is a creativity that bursts forth from every track. The space between notes combined with sorrowful reverb begs you to pull a late night mainer, while staring at abandoned storefronts.
http://alvvays.com/
Esmerine – Mechanics of Dominion – (Constellation)
Stark, haunting and profound. Three words that describe Esmerine's latest album. The builds and plummets perfectly articulate a planet rushing towards the impacts of climate change. Instrumental/chambre music with a meaning.
http://www.esmerine.com/
Myles Gregory - Broken Glass CFBX, Kamloops BC.
My name is Myles Gregory, and I host a weekly punk/hardcore show on CFBX in Kamloops, BC. Broken Glass is on Sunday Nights from 9pm – 10pm. Twitter is a great way to contact both myself and the radio station; @theycallmemylo and @CFBXradio.
My Top 3 records of the year
Piss Test – LP2 – Dirt Cult Records & Taken By Surprise Records
This is a phenomenal release, and definitely a punk album that will stick around. The first time I heard 'Basement' it warmed up my heart.
https://pisstest.bandcamp.com/
https://www.facebook.com/PissTest/
Dad Thighs – The Ghosts That I Fear – Old Press Records & Damn Fine Tapes
Although the entire album works well throughout, 'The Rain it Raineth' is my favourite track of 2017.
https://dadthighs.bandcamp.com/
Twitter: @dadthighs
Xylitol – Is Toxic To Pigs? – Thrilling Living Records & Total Negativity Records
Just an amazing 6 track EP. A full length will be unstoppable!
https://xylitolband.bandcamp.com/
Catherine Fisher, Wine Dark Sea - Kootenay Co-op Radio, Nelson, BC.
Catherine Fisher is the host of the Wine Dark Sea, Mondays from 8-10pm on Kootenay Co-op Radio, CJLY-FM in Nelson, BC.
3 of my Top 17 for 2017.
Anouar Brahem - Blue Maqams - (ECM)
Oud master Anouar Brahem, born in 1957 in Halfaouine, Tunis, was ten when he began studying the oud at the National Conservatory, and then apprenticed with great master Ali Sriti. His ninth album brings Brahem together with jazz greats Dave Holland, Jack DeJohnette and Django Bates. Website
Lusine Grigoryan - Komitas: Seven Songs, Piano Compositions - (ECM)
Composer and ethnomusicologist Komitas Vardapet (1869-1935) spent his life exploring and recording Armenia's musical history. This recording features his 1911 composition Yot Yerg. As Paul Griffiths observes in the liner notes, Lusine Grigoryan has interpreted "not just in what is on the page but the whole folk music background. Her legato phrasing might suggest the duduk, her staccatos the tar; drums and zurna are here, too, together with a folk-like flexibility of rhythm." Website.
Kathleen Yearwood - This Guitar is Wrecked Vol 1 and 2 - (Voice of the Turtle)
I always look forward to new music by Alberta-based composer and musician Kathleen Yearwood. This Guitar is Wrecked opens with a blistering drone-concrete composition.Yearwood's beautiful guitar work and composition skills are in evidence throughout the cds. You can order them on Yearwood's webpage.
See the rest of Catherine's Top 17 of 2017 here: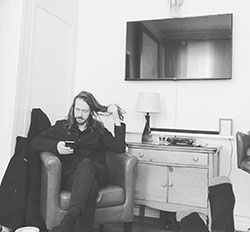 Jason Sheilds - BIOS Radio, UMFM 101.5, Winnipeg, Manitoba
I host BiOS RADiO in Winnipeg, Manitoba for UMFM 101.5. The show primarily consists of industrial techno, acid, and other electronic oddities. None of these genres appear on my list this year oddly enough. That's not to say that there weren't some great records in this realm, they just didn't make the cut this year. Also, feel free to check out my music project KHRAKEN on Bandcamp!
https://khraken.bandcamp.com/

My Top 5 records of the year

Charlotte Gainsbourg – Rest (Because Music)
Stunning return from Carlotte Gainsbourg on this release. Her soft vocals which shift between English and French tie together nicely with the incredible production from Ed Banger's SebastiAn. There is a simplistic beauty to this album which makes it an easy choice for my favourite record of the year! The final bonus track with the child singing Happy Birthday is the icing on the cake.
http://www.charlottegainsbourg.com/
https://www.facebook.com/charlottegainsbourg/

Björk – Utopia (One Little Indian)
Utopia is a bit of an oddity, I could understand why people wouldn't find it as accessible as her prior works. As Utopia unfolds it begins to integrate a multitude of "nature sounds" which melds perfectly with Bjork's unique production style. This is further elevated by the incredible vocal range & ominous lyrics this LP offers. Not her strongest work, but it continues to grow on me since its initial release. I will undoubtly be playing this record for months to come.
https://bjork.com/
https://www.facebook.com/bjork/

St. Vincent – MASSEDUCTION (Loma Vista)
This selection may confuse a few people. My radio show primarily plays industrial techno & acid and this is the polar opposite. This album took me a couple listens to fully appreciate. In the end, the pop driven beats with tinges of industrial-rock and absurd lyrics won me over. I was originally introduced to her work from seeing a live performance in 2012. I was never a huge fan of her previous studio releases but MASSEDUCTION is an absolute blast from start to finish. I can't explain why I love this record so much. I just do!
http://ilovestvincent.com/
https://www.facebook.com/St.Vincent/

Borussia – Kinda Love EP (Ed Banger)
This EP received a lot of play from me in the beginning of the year. Young Parasian producer Borussia created a solid 4 track club EP that somehow flew under everyone's radar. Very catchy, very fun, very French. Don't sleep on this one!
https://www.facebook.com/AgentBorussia/

Persona 5 – Original Video Game Soundtrack (Mastard Records)
In all my years, I do not think I have ever listed a video game soundtrack in my year-end roundup. Spanning 110 tracks and 3 CDs (6LPs), this is an absolute masterpiece. The productions are nearly as stylish as the game and that truly says a lot. The OST spans a multitude of genres but is primarily in a loose jazz style. Lyn Inaizumi adds her unique sound to the mix to create a handful of standout tracks that are difficult to not play on repeat. To be honest, there are a few songs on this OST that I will have perpetually stuck in my head until Persona 6 is released. Do not overlook this release because it is a videogame soundtrack. That would be a very silly thing to do.
http://atlus.com/persona5/
https://store.iam8bit.com/products/persona-5-vinyl-soundtrack


Kyle Mytruk, Shut Up, It's Time for Radio, UMFM 101.5, Winnipeg
My name is Kyle Mytruk. I host Shut Up, It's Time for Radio, Sunday's at 9 pm
I play free jazz/experimental/weird music.
My Top 3 records of the year

Lean Left, I Forgot to Breathe, (Trost Records)
The Ex guitarists plus Paal Nilsson-Love from The Thing and Ken Vandermark on sax equals chaos, beautiful chaos.
https://trostrecords.bandcamp.com/album/l-forgot-to-breathe

Peter Brotzmann/Heather Leigh, Sex Tape, (Trost Records)
Heather Leigh pulls out a more emotional and subtle performance from Peter Brotzmann, who is known for usually a more aggressive saxophone performance
https://trostrecords.bandcamp.com/album/sex-tape

Guerilla Toss, GT Ultra, (DFA Records)
A very underrated album, a great blend of avant-garde and pop. It's got off the wall performances and catchy melodies that will stick in your head.
https://store.dfarecords.com/products/guerilla-toss-gt-ultra
comments powered by

Disqus