Tell the Band to Go Home
Jeff Robson's program starts with a simple idea and expands from there.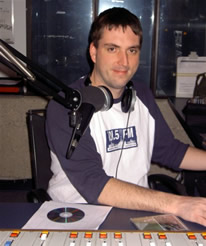 Jeff RobsonMusical categories can often be more limiting than illuminating. That is especially true these days. This is something Jeff Robson, Host of Tell the Band to Go Home on Winnipeg's UMFM (101.5FM, Sundays 2 P.M. to 4 P.M., online at www.umfm.com) encounters all the time. TBGH is a program based on singer/songwriters. "Most people assume that it's a folk music show and there certainly is an element of acoustic and folk music," say Robson, "but there are so many great artists from so many genres that fit the bill." Folk, roots, pop, rock, blues and country are all part of the mix and this lets him play legends such as Johnny Cash, Tom Waits and Elvis Costello as well more earth-bound artists. "I try as much as possible to focus on Canadian and independent artists, so I play a lot of folks like Jim Bryson, NQ Arbuckle, Luke Doucet, Willie P Bennett, and on and on.".
Robson also tries to bring as many of these performers as he can into the studio for interviews or
I plan to spend my life in pursuit of good music and general happiness.

live performances. "I've been lucky enough to have in-studio visits from folks like Stephen Fearing, Hayes Carll, The Lowest of the Low, The Wailin' Jennys, Nathan, and more," he says.
In his life off the air, Robson is a teacher and he has found a way to bring together his love for music and radio with his work by designing courses for his students that teach them about music, journalism, radio production, and more. "I plan to spend my life in pursuit of good music and general happiness (which are closely related), and I'm still pursuing my dream of owning a copy of every good CD in the world. I'm well on my way."More International programming across the land.
More great songs and songwriters can be heard online across Canada on these great programs. Check out the weekly Folk, Roots and Blues chart available only on line at www.earshot-online.com.
Woodsongs Radio Hour on 92.5FM TheX in Kamloops, BC
Mondays from 9 A.M. to 10 A.M. PT
Online at www.thex.ca
Passport on CIUT 89.5FM in Toronto, ON
Tuesdays from 3 P.M. to 5 P.M. ET
Online at www.ciut.fm
Hit the big wide strum pal! on CKUW 95.9FM in Winnipeg, MB
Tuesdays from 4 P.M. to 6 P.M. CT
Online at www.ckuw.ca
Roots Mornings on CJSR FM88 on Edmonton, AB
Weekdays from 9 A.M. to 11 A.M. MT
Online at www.cjsr.ualberta.ca
Int'l & Roots Mornings on CJAM 91.5FM in Windsor, ON
Weekdays from 9 A.M. to 11 A.M. (Weekends 8-10 A.M.) ET
Online at www.cjam.ca