Inbox(1) ~DSD~
By Bryndis Ogmundson
1 of 2 Next>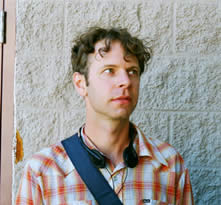 I'm not entirely sure what I could write about Derrick that would be more interesting than just letting him ramble. Truly a fantastic person to converse with and his music takes it to another level. Listening to Norsk Drag leaves me feeling both appreciated and made fun of. He either has a barrel full of trust that you'll "get" him, or he just doesn't care because you're clearly an idiot if you don't. I think I get it. I hope I do. I don't consider myself an idiot. One thing I know for sure, this guy has something…
Name: Derrick Stacey Denholm (DSD)
Your defining feature/quirk?
Well, a lot of it is in my choice of instrumentation. I play the hurdy-gurdy and the Swedish keyed fiddle, among other things. They both make a terrible racket and have wonderful, unique sound. Also, after having played both the electric guitar and the accordion, the accordion wins, hands down. There are 120 keys on the bass end to make power chords with. There are almost endless possibilities with the bellows action to make unimaginable sounds. It's quite the experience, and all without electricity and peddles. Also, stylistically, my music is often very fast and is almost always on the verge of going out of control; in addition to this, on the free-improvisational side of things, it's almost always about constant change, an endless series of transitions from one idea to the next. As Alan Watts said, when you get the message, hang up the phone...
Your recent work of genius?
Well, this Norsk Drag cd is the best recording I've ever done, and if a 4 year project and 2 and 1/2 years of recording can be called recent.
Inspirations/Muses?
On one level, there is a very staunch, anti-pop-culture pigheadedness in what I do, but I grew up on pop in western Canada like any other young person of my sphere, so it's definitely still there. Yet most of what might be found halfway interesting in my music has much more to do with ideas coming out of places like Estonia, Romania, Sweden, Japan, and Poland, combined with what I love about the universalism of the contemporary avant-garde, much more than any likenesses to what pop is coming out of North America. There are brilliant things coming from some quarters of western music, but my point is that the west is just a drop in the bucket, creatively, compared to the amazing wealth of musical ideas out there in the big dizzy world. For example, on the soundtrack to the Chinese movie In the Mood For Love there is an old recording of an unnamed folksong by an unnamed folk artist. It's just an old man playing a sort of fretless banjo and singing. It is completely understated and yet I dare say more creative than anything Jimi Hendrix ever did, and with no corporate rock sell-out, drug addiction and pathetic death involved.
1 of 2 Next>