The Coco Love Alcorn Interview
Coco Love Alcorn doesn't let genres tie her down. With her new CD Suger, she finds her onw vide and goes with it.
By Jim Dupuis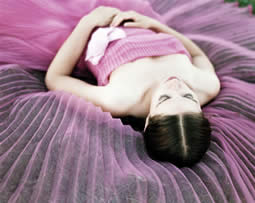 Perhaps I would compose more often if I was angry
and sad more oftenCoco Love Alcorn is barely 30, yet she it seems like she has been on the Vancouver music scene for ages. It is hard to categorize her music and she is fine with that. She is equally at home as part of a jazz quartet in a nightclub or alone on stage at a folk festival. She has also experimented with funk, rhythm & blues, pop and hip-hop. She can play trumpet and guitar and her vocals are something to die for. Her singing evokes the names Jane Siberry, Holly Cole, k.d. lang and Sarah McLachlan. She was part of Lilith Fair, Grrls with Guitars and 54-40, yet her music is accesible to everybody. She wrote or co-wrote all the songs on her new CD,which is called Sugar. Her voice is truly an instrument and her llive shows contain some incredible vocal improvisation. and skat. These days she is happy and content. She is in the midst of releasing her new CD and touring the country. I chatted with her just before the start of her tour.
JD: Right off the bat I've got to ask you about your name. Is there a story behind your name?
Coco: Ok, well I don't really have a good story for my first name. I keep asking my parents and I can never really remember what they say, so obviously there's not a great story (laughs), although I think Coco Chanel was around at the time and they were trying to pick a name and when I was born it just seemed like I was a Coco. That's the best I got and I guess that's not bad. Now my middle name, Love, was my great-grandmother's name on my father's side and allegedly, when he was about six years old he was on a walk with his grandmother, Love Parker, and he promised her he would name his kid after her (laughs).
JD: Well, I think that's a good story.
Coco: Ya, that's not bad, and Alcorn is something about corn growers in Europe, centuries long ago.
JD: That's more than I know about my name, so that's not bad.
Coco: There you go.
JD: I'm going to ask you some basic bio stuff, because I think that a lot of my listeners will be new to your music. Maybe you could tell us where you grew up and how you got into playing music.
Coco: I was born in Nova Scotia, but was raised mostly in Vancouver and part of the time in Toronto-and how I got into music...wow? My dad's family is all very musical and my dad (John Alcorn) is a professional musician living in Toronto. And my mom's family are a wacky, creative bunch
I'd rather just leave the house and go on a bike ride and wait until the song comes to me

themselves-filmmakers, writers, people that dabble with music and costume design for the movie business and all sorts of creative ventures, so I guess the creative environment was all around me and in the school program I picked up my first recorder in grade four and trumpet in grade seven. All along the while I was always singing, but not thinking about it like if I heard a radio jingle come on I would try to sing a harmony to it or something like that. Music was always just a fun thing to play with. I guess I got more serious about singing in grade eleven when I joined choir in high school--a jazz choir. I had a teacher who started teaching me how to improvise and opening that up and skatting, that sort of thing. Ya, who's that for an answer.
JD: Good. What was the teacher's name.
Coco: Norma Mai and that was at Carson Graham in North Van. It's funny because her husband, of the time, is a fantastic trumpet player named Vince Mai and now I sing in a ten piece soul, funk band with him. It's funny how different periods of your life intersect. He used to be my high school teacher's husband and now he's my colleague. You know.
JD: It's kind of a small world in the music business. There's a few generations that seem to intersect in the jazz, blues, funk areas. I love to see the different age groups at the festivals and the combinations in some of the bands. It's really nice.
Coco: And know I'm becoming one of the older ones. For a long time I was one of the new upstart kids and now there's really, really talented and skilled players coming out of Cap College and VCC and some kids are just hitting the streets without any college and just sounding fantastic.
JD: Yes Vancouver is a real hotbed for music and that's really good to see. It's getting to the point that it's rivalling Toronto, which is a tough thing to do.
Coco: Well, I've always found that they have a different vibe. Toronto seems to have more of a slant to the straight ahead and Vancouver seems to have more exploration of some of the outside.
JD: So as a musician you have to practice, you play live, you compose--
Coco: You have to practice (laughs)?
JD: Ok. Let's pretend you do. Then, what element of your work gives you the most pleasure.
Coco: That is a very tricky question, but off the top of my head and probably from the depths of my heart and soul the answer would have to be improvising. Ya, improvising. The moment. It's my favourite part of life, too. Feeding off the ideas and creativity and energy of other players on stage and even when I'm playing solo with me and my guitar, feeding off the energy of everyone in the audience. You know, every night, every room, everyone in the audience, every song, every player. Every audience member has a different feel for them. I don't know, it's almost like an energy stamp or something like that. Every gig I've ever done in my whole life has been different--and that's exciting and I keep coming back for more.
JD: I can attest to that, as you know, I saw you at the Komasket Festival and a gentleman came up and played bass with you, that I'm sure you'd never laid eyes on before.
Coco: I'd never met him.
JD: And you and your drummer jammed with him and it was incredible, it was so much fun.
Coco: It was fun.
JD: I'm sure a lot of other musicians would have told him he couldn't do it, because there is a set list and shows are planned, etc, but you let him play along with you. But it was great. I wish it would have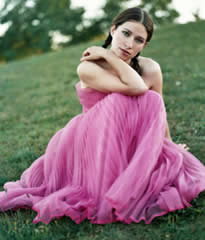 I started off singing jazz, then I picked up a
guitar and started writing more folk pop kind
of stuff, a few angsty songs in there (laughs),
I moved over to programming beeps
and started writingR&B and electronic
drum and bass--hip ho kind of stuff.been recorded. It was a lovely, one-time performance. Your improvisation was incredible ... I'm a fan obviously.
Coco: (laughing) Yeaah.
JD: You'll have lots of them with that new CD coming out. And speaking of the new, you wrote or co-wrote all the songs on the new CD, which is called Sugar, so as a composer, what inspires.
Coco: Hmmm. (laughs) I suppose life. Sometimes a song comes out of a very specific experience or feeling and sometimes it comes out of my subconscious, you know? But both my conscious and subconscious mind are constantly being informed by the life that I'm living. Did that make any sense? (laughs).
JD: Ya. Do you need to be in any specific emotional state to compose? Do you compose better when you are angry or happy or sad? How does it work with you?
Coco: Perhaps I would compose more often if I was angry and sad more often. I think a lot of writers do use those emotions as a jumping ground for creativity. I'm a pretty happy person and I'm pretty content. Sometimes weeks will go by and I have nothing I need to get off my chest, but I write happy songs, too. But do I need to be in a specific mood? No.
But I guess I need to feel inspired. Some writers have the ability and the discipline to sit themselves down and try every day or every week and chip away at a song . I'd rather just leave the house and go on a bike ride and wait until the song comes to me.
JD: I see. I've talked to a number of people in the last little while and the one that suprised me, was a man named D.D. Jackson , a pianist and composed living in New York, now. He told me--it's a deadline. He get's a deadline and he can write. I'm thinking, that just makes no sense to me, but he say's that it's just the way he is. If he gets a deadline he can write, if he doesn't, it might not happen (laughs).
Coco: Ya, but that is interesting. I probably would write more if there was some kind of deadline. Like I have had some things come up like that, where I've had to write things very specific and you look at it as a task, but you can still find some inspiration and can still come up with something that's very creative and inspired and the impetus is to get the ball rolling and oh shit--am I allowed to swear?
JD:Ya.
Coco: (laughs) Ok, good.
JD: Hell, no.
Coco: (laughs) Heck, no. I also find co-writing very interesting. Sometimes you'll set up a time and you'll get together and you won't really get anything. But somehow that makes sense. What are the chances that both of you will feel inspired at the same moment every time you get together. But co-writing can be a really great way to bring a song into the world that otherwise would not have existed. I wouldn't have written it alone and whomever I'm writing with wouldn't have written it alone. So, it's like this bonus,extra song that can all of a sudden be born.
JD: Tell us about your new CD that's coming out on the 19th of September. It's called Sugar and we're counting the days. Tell us a bit about the songs that are on it and the process of making it and of course how we can get it.
Coco: Ya. Ok. Wow. That's a big question. That's about four questions, but there all good questions so I'll do my best. Ok, the songs on it and the type or record it is--it's a collection of songs that I have written over the last nine years; songs that hadn't been used in any other project; songs that stayed with me that I have never released on anything else, that I still fell really close to and then some
I've always found that they have a different vibe. Toronto seems to have more of a slant to the straight ahead and Vancouver seems to have more exploration of some of the outside

newer songs. I've explored many different styles in my musical career. I started off singing jazz, then I picked up a guitar and started writing more folk pop kind of stuff, a few angsty songs in there (laughs), I moved over to programming beeps and started writing R&B and electronic drum and bass--hip hop kind of stuff. I always loved blues, and funk and soul--ya, it's from a lot of different stuff, so I came to a place a couple of years ago and realized I was frustrated with everyone always telling me I had to pick a direction. Pick one thing and really focus on it.
And I thought, where is the loophole. How can I make a CD where it is easy for me to tour alone or also with a band and that would give me a lot of room to explore different directions in live shows, while still sounding cohesive as a CD. So I made a very acoustic CD and its got some of my guitar-based songs and some groovier R&B-ish type numbers and they are all approached with a jazz quartet. So the CD gives me room to play at jazz festivals or folk festivals, or really any type of music festival. It can be put together/performed with a drummer and a piano player or piano/bass/drums jazz group, or me and three backup singers or whatever. Ya. Ya.
JD: I've had the CD for a little while and I'm really enjoying it. In fact there's a song called Love Song and I can't get it out of my head--and I mean that in a good way.
Coco: Oh, good. Good.
JD: Ya, I brought it to some friends' place last night--it was a small dinner party and they played it twice in a row. I think there is going to be quite a buzz about the CD.
Coco: Oh, lovely.
JD: You used Steve Dawson as your producer. He's getting quite a bit of noteriety--I think CBC Radio's Sheila Rogers wants to adopt him--but that's good too.
Coco: (laughs)
JD: Tell us a bit about Steve Dawson as a producer. How did that work?
Coco: Amazing! Amazing! He's really fun to hang out with, which is really an important thing for making great music is actually enjoying the company of the people you are working with. He's really openminded and open to different ideas; yet, not indecisive or wishy-washy. When a decision needed to be made and I couldn't make it he was ready to say, well lets go with this and that's a really fine balance to strike. And what that means is moving things forward efficiently but always leaving room and being ready to toss the schedule for a little bit if there's some hairbrained idea that I come up with that I want to explore for a little bit, you know. Ya.
JD: Ok, how do we get this CD?
Coco: How do you get this CD? Well, Sepember 19th, Sugar is going to be in stores all across Canada. I don't know if it will be in every single store that sells records, but I think it will be in most of them. I don't know the details, but if you go to a store and it's not there ask them to bring it in. It's being distributed by Black Hen Music, which is Steve Dawson's label and that is going through Koch, which is Canada's biggest independent distributor.
JD: Ok. Is there web access if they can't find it anywhere else?
Coco: Yes. Through my website, cocolovealcorn.com and you can also get it at the Black Hen website. Oh, I loved that you listened to it at a dinner party with your friends. I picture that as being a nice setting for the CD because I set out to make a mellow CD that could fit smoothly in the background, but if you sat down and focused on it, because of the players I have on it with me, there are lots of little bits of ear candy that can make it an enjoyable focused, listening experience, too. But ya dinner parties--great. That's sometimes what I say, when people ask me what the CD is like. I say it's a little on the mellow side, perfect for a dinner party (laughs), but you're the first person who actually has played it at a dinner party.
JD: Lots of good musicians on Sugar. Chris Gestrin, John Raham, Jesse Zubot, Steve Dawson, yourself, obviously. Who am I missing?
Coco: Keith Lowe. Keith Lowe and Jesse Zubot on violin and Rebecca Shoichet and Finn Manniche on cello. I had never met him before and I haven't crossed paths with him since the day he was in the studio, but he just came in and was totally game. We threw him a robotto track to try and play along with and he just did a great job and was a real pleasure to work with. There you go. Good people.
JD: Keep the phone number for the next time you need him.
Coco: Ya.
JD: Let's get to some really simple questions now. What was the last piece of music that you heard that really excited you?
Coco: Oh, I don't know if this was the last one, but this one springs to mind. About a month ago I went up and played the Kaslo Jazz Festival
JD: Lovely place!
Coco: I had such an amazing time. First I have to say, for that festival I had my friend Chris Hockey, playing drums and singing backup vocals and my friend Chris Gestrin brought up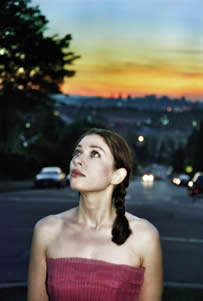 Sometimes weeks will go by and I have
nothing I need to get off my chest,
but I writehappy songs, too.his full spaceship worth of keyboards and he played keyboards and did lefthanded bass. We did two gigs. A Friday and Saturday gig and it was so much fun and me being the organized bandleader that I am, we never had a rehearsal, so Friday night was sort of a rehearsal and Saturday I couldn't stop smiling. I'd sing the song and step back from the microphone and strum the guitar and let Chris just take it into outer space and I was beaming from ear to ear. It was so much fun--anyway we were driving back from Kaslo and we go to a music festival in Vernon--the Komasket Festival on the Indian reserve, there, and I played my show. Hey, that's the show where you were. I don't know if you stayed until the end of the night, but we had to leave, but before I left I met some guys from a band called Mr. Something Something.
JD: I stayed and they were incredible.
Coco: I exchanged a disc with Larry the drummer. They all looked a little bit groovy, but kind of clean cut and groomed and I thought that maybe they were going to be like "boy bandish", because they were all so good looking--
JD: No, no, no.
Coco: We're driving back, Chris Hockey and I and around midnight--amazingly we had done the whole drive from Kaslo without listening to any music--you know, like talking and finally our last hour of twenty hours worth of driving on the weekend, we through in the Mr. Something Something CD and it just blew my mind. It really did. It's just a very different sound and the vocalist--his voice has just awesome tone and great phrasing. Let's see--Jonah from Mr. Something Something--awesome. Ya and the really creative writing and the horn arrangements and Larry's crazy kickass drumming. It was amazing.
JD: They just kicked ass. There's no two ways about it.
Coco: That's what we were thinking. We should have stayed for the show.
JD: I think the time you guys played the CD was around when they were coming on stage.
Coco: Oh, that's perfect.
JD: I think the sax player played soprano, alto and baritone, too. He was just incredible. The singer and his friend danced on stage wildly. As you said the drummer was awesome and the bass player--everybody was incredible.
Coco: And the singer was awesome live?
JD: Ya.
Coco: It doesn't sound like his vocals have been tampered with. It just sounds on the record like the vocal tracks are so natural, you know?
JD: What you see is what you get. That is good to hear. I concur with that. They are another band that excites me.
Coco: Nice. I'm glad to hear that they are as exciting live, which is what I imagined that they would have been and it's good to have that confirmed (laughs).
JD: Oh, definitely. Ok, if we were at your place right now, what would we find on your CD player, other than Mr. Something Something?
Coco: (laughing) I'll plug this CD (Sugar).
JD: (laughing) You can't use that one either.
Coco: Well, I was hanging out with some friends last night and went out for dinner and we totally lost track of time. We had an amazing conversation about philosophy and it was just amazing and at the very end of what was like a four and a half hour hangout I started singing (sings) "Oh, let the sun shine in," and then this other dude started singing along with me ... "open up your heart" -- it's off an Anne Murray children's record called There's a Hippo in my Tub and I just loaded it into my I-tunes and just listened to some of the tracks last night. It's a good record and was one of my childhood favourites and recently rediscovered it as an adult. There you go. If you have kids go track down Anne Murray's There's a Hippo in My Tub.
JD: (laughing) I don't and it seems to me I might pass it up.
Coco: That goes out to the listeners and readers, too.