Programmer Profile: 98% Bop Free
Ian Cochran started is jazz program Searchin' at Victoria' CFUV FM101.9
before the station even when on air.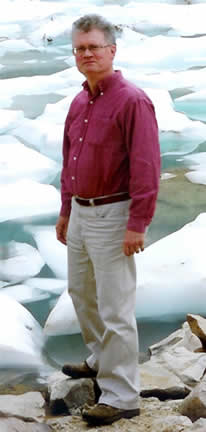 The definition of what is jazz is so broad these days it can sometimes be hard to know what it means. Few jazz hosts try to cover all the bases. Ian Cochrane's show Searchin' on Victoria's CFUV-FM101.9 (Fridays 6P.M. to 8P.M., online at cfuv.uvic.ca) has carved out its turf focusing on post-bop and contemporary jazz. "I used to say it was 98.6% bop free" says Cochrane. "I have a decided weakness for Thelonious Monk and Charles Mingus, who are definitely from that era, but I see them as outside of the bop mainstream. Their compositions certainly are more febrile than most bop tunes and easily lend themselves to all kinds of decidedly non-bop uses. But you're even more likely to hear Dave Douglas, Matthew Shipp, Vijay Iyer, Tim Berne or Bill Frisell.&rdquo!;
Cochrane is now a veteran broadcaster after nearly 25 years on the air, but he remembers getting his start back before CFUV was even broadcasting. "When I started - 1982? 1983? - you could only hear us CFUV one or two of the university residences and the washrooms in the SUB," remembers Cochrane. "I had a record store in Victoria at the time, and someone asked me to get involved with a new volunteer radio station. I recall being nervous as hell
You could only hear us CFUV in the washrooms in the SUB

the first few weeks and hardly speaking at all during my shift. The store's long gone into legend, but I'm still at CFUV. And no, I'm not the slightest bit nervous any more."
So what's getting lots of spins on Searchin' these days? "One of the side effects of doing radio and buying a lot of music, is that nothing gets into heavy rotation. There's always something new demanding attention. But a couple of things that stand out are Meaning and Mystery by Dave Douglas, Time Lines by Andrew Hill. Not to forget Bruce Springsteen's and T-Bone Burnett's latest - both superb."
More Jazz programming across the land.
Jazz Notes with Jim Dupuis on 92.5FM TheX in Kamloops, BC
Wednesdays from 5P.M. to 7P.M. PT
Online at http://tru.ca/radio8/
Cracked Vinyl on CFMU 93.3FM on Hamilton, ON
Mondays from 10A.M. to 12A.M ET
Online at http://cfmu.mcmaster.ca/
Jazz et Compagnie on CHUO 89.1FM in Ottawa, ON
Mondays from 6P.M. to 7P.M. ET
Online at www.chuo.fm
Jazz Mornings on CJSW 90.9FM on Calgary, AB
Weekdays from 6A.M. to 9A.M. MT
Online at www.cjsw.com
Some Experiences in Jazz on CHRY 105.5FM on Toronto, ON
Fridays from 9P.M. to 11P.M. ET
Online at www.yorku.ca/chry/