Inbox(1) ~Big Old Eyes~
By Bryndis Ogmundson
1 of 2 Next>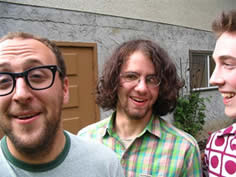 If you'd told me a year ago that one of my favourite bands of all time would hail from Prince George, British Columbia, I'd have said, "really?" But after living here for five years, I've learned that statement is entirely possible. In fact, it happened! Local trio Big Old Eyes have taken hold of the top spot of my Top 10 of 2006 list with their new album, Cathedral & Cathedral. I'm not sure I have a choice in this, as the album refuses to leave my Discman, and my head for that matter. The songs are infectious, boasting ambitious song-writing structure that pays off in a big big way. To the person that devotes a 41 minute and 27 second block of time to Cathedral & Cathedral, you will be an instant fan. And if you need a little bit more to convince you, here you go…
Name: Big Old Eyes
Your defining feature/quirk?
We ball up, i guess. You know? Like, together really. Fortunately, or unfortunately...we're really not sure... we hit the same highs and lows at the same times usually. So, in terms, we end up playing the same horrible mess together, or the same beautiful mess together. It depends.
Your recent work of genius?
We did Cathedral & Cathedral this spring. It was supposed to be two different reco... it was supposed to just be better. But, I guess it came out how it wanted. It must have.
Inspirations/Muses?
Corbin: Just like, the good stuff, haha. The stuff that, uh, the stuff like, the stuff that you keep with you to get through the rest.
Rob: Oh no, haha. Okay. Well, umm, muses are something that don't work for me. Well they don't but... My sister got a book out of the library on muses and I thought it was total bullshit. They end up taking the life out of you, making you do the same stuff over again, it's just not good. Inspiration though, that's real. Ahh... my inspiration is... I can't say what my inspiration is. Yeah sure, just do that.
Ryan: Ummm. Muses, what is a muse? Like really? What's a muse? Uhhh, ohh yeah, I don't have a muse... put Ryan Ziegler*, I don't even know him, ha ha. My inspiration... clouds and trees and fashion magazines.
*another Prince George musician.
1 of 2 Next>