Programmer Profile: Punks and Mods
Punk in Parkas represents DJ Penny Lanes musical journey of discovery
Usually, community radio hosts build a show around the music they have loved all their lives. The depth and range of their knowledge becomes a crucial part of their show. In other cases, a newly discovered passion fuels an exciting journey of discovery into new musical territory, for both the host and the listener. Amanda Yusishen's program, Free Range Radio-Punks in Parkas edition on Winnipeg's UMFM 101.5FM (Tuesdays 6:30P.M. to 8P.M., online at www.umfm.com), started out as that kind of show.
"In my early university days," says Yasishen, "I started going to this small dingy little night club [and the DJ] would be playing all sorts of great old tunes and people would be dressed so sharply - men in suits, girls in retro 1960s dresses and skirts. It was my first exposure to Mod culture and I was hooked."
"Punks in Parkas is a tribute to Mod Culture. Both new and old. Scooters, The Who, Mohair Suits, Gin and Tonics, Levi Jeans, and impeccable style grace my show weekly, along
It was my first exposure to Mod culture and I was hooked.

with some of the best undiscovered new and old Mod tunes around," says Yusishen, aka DJ Penny Lane. To this mix she adds in some of other sounds from the classic Mod era, some ska and even has local bands drop by to spin some of their favourite records.
Immersion in the mod life and the radio station has lead to many new things for Yusishen, from helping to plan Winnipeg's first Ska and Reggae Festival, coming up this month, to DJing at Mod Club events. It's far more exciting and fulfilling than her 9-5 life working for the federal government. "Pretty much all my activities outside of the boring desk job are related to UMFM. I am passionate about the station and do my best to be involved."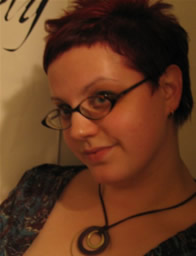 Joining the Mod scene and the radio
station changed the life of
Winnipegger Amanda YusishenI just adore the new Flaming Lips album, At War with the Mystics. I've always been a big fan of their sound. I still find myself constantly listening to Clap Your Hand's Say Yeah's self titled album and can't put down both the new Strokes album First Impressions of Earth or the Racountures Broken Boy Soldiers. I really am a vintage music buyer and lately have been filling my collection with lots of old vinyl, so have been shying away from the new releases.
More punk and ska programs available across the land…
Unintentional Mohawk on CKLU 96.7FM in Sudbury, ON
Tuesdays from 10P.M. to 12 midnight ET
Online at www.cklu.ca

Boarders and Boundaries on CJSF 90.1FM in Burnaby, BC
Tuesdays from 10P.M. to 11P.M. PT
Online at www.cjsf.ca

Earwax! on CJAM 91.5FM in Windsor, ON
Saturdays 12 midnight to 2A.M. ET
Online at www.cjam.ca

Skankin' and Stompin' on CKXU 88.3FM in Lethbridge, AB
Thursdays from 8P.M. to 9P.M. MT
Online at www.ckxu.com

Flatline on CFBX 92.5FM in Kamloops, BC
Sundays from 10P.M. to 11P.M. PT
Online at www.thex.ca