Julie Doiron
Julie Doiron has crafted a chart-topper with
her latest release Woke Myself Up
By Bridget Arsenault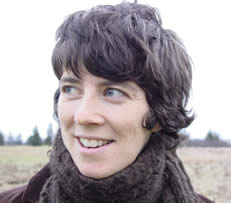 Over the years Julie Doiron has found herself
on the stage bothas a solo artist and with
a backing of the bandSitting in her home in Sackville, New Brunswick, craving a snow storm, Julie Doiron scribbles secrets of men, misfortune, and motherhood. This channeling of thought, feeling and reflection molds itself into her January release Woke Myself Up. This album finds itself a favourite among the Canadian campus scene, it's hijacked the top chart spots for weeks now.
Doiron has been writing songs and recording them since the early 90's, and she has an expansive discography as proof. "I'm glad that I've put out those other records," says Doiron of her earlier work. "Some of them might be a little naïve, but I think it's really important that I put them out, and it's helped me mature and get where I am now. I don't think I'd be quite the same if I hadn't," explains Doiron.
As well as holding her own on the recording end, Doiron has done her part on the touring scene; she could undoubtedly spin some great stories from the multiple cross-Canada tours she's undertaken. As well, Doiron has made her way through the United States and across Europe. "I just did six dates in Ontario" through questionable weather, laughs Doiron. Luckily she has snow covered roads and lumbering tour vans down to a science: "You just drive really slow, and somehow there's always enough time and you get to the shows on time."
A few years ago geography was key to Doiron's tour trouble-shooting, the East Coast of Canada housed the mainstay of her fan base and provided the most consistent shows. These days it all seems to be evening out: "All the shows are starting to go really well. Now I find the Southern Ontario shows are going very well, showly speaking," jokes Doiron, allowing her quirky sense of humour to show itself. Dorion's personality exudes a feeling of warmth and honesty not often found. After one of her shows you just want to go up and hug her or ask her if she wants to be your friend.
Making friends aside, Doiron has her own parameters to determine the success of a show: "I think of a good show as when [the audience] is connected with me, if we're all in the same kind of mood. I like to tell them stories if I think that's what they
At the time of recording it I did not realize how personal it was about to become. It's kind of like an ending and a beginning all in one

will connect with. I don't really know where the stories come from. Sometime something just pops into my head right at the moment. Sometimes they will be about something that happened that day, it all depends." Unquestionably there is spontaneity to Doiron's shows; she'll cut from one whimsical story to the next without a moments notice, but her transitions between quip tales and molasses vocals work.
Over the years Julie has found herself on the stage both as a solo artist and with a backing of the band, most often with touring mates and friends Shotgun and Jaybird. Shotgun and Jaybird's first full-length album Trying To Get Somewhere has also found its way to the campus charts, their playful pop finds a faithful listener amongst the university crowd. For Doiron, touring solo or alongside a band, each prove different experiences for her and the audience. "Both are really great and I really appreciate working solo and with a band. When it's me along I focus more on the little things. I think solo makes for a better performance on my part. When I'm with a band I have more people to rely on and it becomes more playful, less serious."
The release of Woke Myself Up began with a little party in Doiron's hometown Sackville: "It was really cool," says Doiron of the release party. "It went really well, on my end anyway. It was the same night as an art opening, which was in the back room. There were a lot of people there who maybe wouldn't have been there otherwise. It was a really cosmopolitan type of event. It worked out really well." The album may have debut to partially unexpected crowd; fortunately, Doiron's music has a way of translating itself for all types of ears. This album has a particularly universal touch that fans are paying attention to. "I feel grateful that people are liking it. It's a little more accessible- for lack of a better word" scoffs Doiron at her struggle to pinpoint her own music. "It's more peppy I guess. Also I think working with Eric's Trip again, people were excited by that. I think there was an overall excitement surrounding this record." The album was recorded with and produced by Rick White of the now defunct Eric's Trip, Doiron's first band.
"I'm not really sure how it fits in with the other album. It's kind of a personal record. At the time of recording it I did not realize how personal it was about to become. It's kind of like an ending and a beginning all in one." As far as the title track Woke Myself Up: "It's about being happy, living at home and dealing with domestics doings and being happy about it. It's such a simple song, but it means more than that."