Program Profile: Deconstructing Dinner
Jon Steinman takes a close look at the food we eat and where it comes from
By Magnus Thyvold
The food we eat, what goes into it and how it arrives at our plate, has become an issue more and more people are concerned about these days, spurred on by books and films such a Fast Food Nation and Supersize Me. Deconstructing Dinner, a syndicated Canadian radio program that airs on more than 16 stations across Canada every week, examines these issues in a uniquely Canadian way.
Host Jon Steinman first became interested in issues surrounding food while in university
I quickly discovered the politics and control behind our food

studying Hotel and Food Service. Years working in the food industry only deepened his interest and his concern. "I quickly discovered the politics and control behind our food that the average Canadian would never see listed as an ingredient on a box of frozen pizza or a stalk of celery." But more than that he became "frustrated at how difficult it was to not only find food that tasted good and was grown and produced near my home, but how difficult it was for Canadian farmers/producers to create this food." Deconstructing Dinner is about more than just the kitchen and the supermarket. It takes a look at the entire food system and presents this information in a way that is accessible to the average consumer of the products of that system: you and me.
Deconstructing Dinner is produced at community radio station CJLY 93.5FM in Nelson, BC. Radio is the ideal medium for Steinman's message. "Radio is most accessible and sustainable medium of information to the public" he says. "It's time Canadians started taking advantage of independent radio. Commercial radio is a joke, and it's scary to just rely on the CBC as the only place on the radiowaves to gather information."
You can hear Deconstructing Dinner on 16 stations across Canada or as a pod cast available at the Deconstructing Dinner (www.cjly.net/deconstructingdinner/ )

If it's a more rock and roll take on your food you are looking for, tune in to "Let's Get Baked with Mat and Dave" originating from CKDU 88.1FM in Halifax and available on a dozen other stations from St John's to Victoria. Program times can be found on their website, along with a podcast version of the program (http://letsgetbaked.ckdu.ca/). Read !earshot's profile of Let's Get Baked.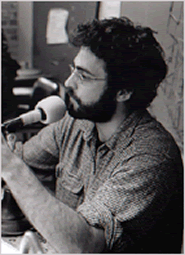 Jon Steinman: I'm pretty immersed in food right now. I sit on the boards of a local cooperative grocery store and a food bank. I'm also part of a group that is working towards bringing the issues discussed on Deconstructing Dinner to the people of Nelson and our municipal government. The rest of my time is spent wandering through the mountains or hanging out in the garden and kitchen where I grow and construct my dinners!
Here's where you can hear Deconstructing Dinner on the radio or online across Canada
Station

Location

Air Times

CJLY
Kootenay Co-op Radio
93.5FM/96.5FM
http://kootenaycoopradio.com

Nelson/Kootenay Lake, BC

Monday - 12-1pm
Thursday - 6-7pm

CJSF
Simon Fraser University
90.1FM, 93.9 cable
http://www.cjsf.ca

Burnaby, BC
(Greater Vancouver)

Wednesday - 6-7pm
Thursday - 10-11am

CFUV
University of Victoria
101.9FM, 104.9 cable
http://cfuv.uvic.ca

Victoria, BC

Wednesday - 2-3pm

CHLY
Radio Malaspina
101.7FM
http://www.chly.ca

Nanaimo, BC

Thursday - 11am-12pm

CFUR
University of Northern BC
88.7FM, 101.5 cable
http://www.cfur.ca

Prince George, BC

Friday - 12-1pm

CFBX
The X - Thompson Roads Univ.
92.5FM, 106.1 cable
http://www.thex.ca

Kamloops, BC

Monday - 9-10am
Wednesday - 3-4pm

CJMP
Model Community Project
90.1FM
http://www.broadcastwest.ca/jumpfm

Powell River, BC

Tuesday - 11am-12pm
Saturday - 9-10am

CKUW
University of Winnipeg
95.9FM
http://www.ckuw.ca

Winnipeg, MB

Thursday - 1-2pm

CHMR
Memorial University
94.5FM, 103.7 cable
http://www.mun.ca/chmr/

St. John's, NF

Saturday - 2-3pm

CKDU
Dalhousie University
88.1FM
http://www.ckdu.ca

Halifax, NS

Sunday - 9-10am

CHSR
University of New Brunswick / St. Thomas Univ.
97.9FM
http://www.unb.ca/chsr/

Fredericton, NB

Monday - 2-3pm

CHES
Erin Radio
101.5FM
http://www.erinradio.ca/

Erin, ON

Sunday - 7-8pm
Tueday - 7-8pm

CILU
Lakehead University
102.7FM
http://www.ciro.ca

Thunder Bay, ON

Sunday - 9-10am