Program Profile: Melodies in Mind
It's a folk show with a difference. Two hours packed with live performances, interviews and more.
By Magnus Thyvold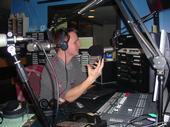 Ryan Fletcher rarely finds
himself alone in the studioPassion for music and for radio seems to have taken over Ryan Fletcher's life. He still has time for a girlfriend and even a day job, but not much else. Melodies in Mind, his weekly folk music program on Vancouver's CJSF 90.1FM (Tuesday 8 P.M. to 10 P.M.), is, he says, "my pride and joy." It's no ordinary folk show. "Each week I have four musical acts in to the show playing live music with a 20 minute combined interview-performance with one of the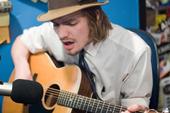 Show guest: Sheepbelly guests who is the week's feature." Four acts, every week!
With so many artists at each show and a small studio it sometimes gets pretty crowded says Fletcher. "There was one time when the bands Headwater, The Sumner Brothers, singer-songwriter Kate Reid, and Drew Farrance were all in the studio at once, it was 7 rough and tumble-like young guys and Kate Reid, who is a lesbian, all in the studio elbow to elbow playing music. It was a strange element to put Kate into, but she ate it up!" The excitement of crowds is one of the dangers Fletcher faces regularly to bring his show to air.
Radio was a natural fit.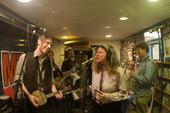 Show guest: Sister DJs Radio Band"I just remember thinking when I learned about community radio that this is really cool and then the next thing I remember is being on air," says Fletcher. He got his start at CHSR in Fredericton before relocating to Vancouver and CJSF two years ago. "It took no time for me to want a show; there really wasn't much meditation on it. I simply knew I needed one."
More than just music, it is a show about community building and consciousness-raising, too. Programs often revolve around themes and the artists are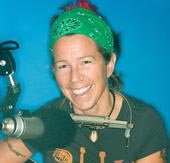 Show guest: Kate Reidencouraged to speak out. Fletcher is pleased with the way the show is progressing. "The show is growing on its own and becoming really popular with a larger and larger audience and it has always been popular with the musicians." Now if only someone would pay him to do this. You can catch Melodies in Mind streaming online or on podcast at www.cjsf.ca. Find out more about the show and its many guests at myspace.com/melodiesinmind or www.unconformed.com. Here are some more shows to check out. You can contact Fletcher about appearing on the show at mufasagoose@hotmail.com.
Morning Folks Shows on CFUV 101.9FM in Victoria BC
Monday to Thursday 8 A.M. to 10 A.M. PT
Online at cfuv.uvic.ca
Roots & Writers on UMFM 101.5FM in Winnipeg MB
Monday 9 A.M. to 11 A.M. CT
Online at www.umfm.com
Folk Directions on CKUT 90.3 FM in Montreal QC
Thursday from 9 A.M. to 11 A.M. ET
Online and podcast at www.ckut.ca
Acoustic Roots on CHUO 89.1FM in Ottawa ON
Thursday from 2 P.M. to 3 P.M. ET
Online at www.chuo.fm
Folkcetera on CJSW 90.9FM in Calgary AB
Thursday 6:30 P.M. to 8 P.M. MT
Online at www.cjsw.com
These are some of the recent releases that caught his ear:
The Deep Dark Woods – Hang Me oh Hang Me,
SunParlour Players – Hyms for the Happy,
Cydney Robinson – Spokeswoman for the Shoeless,
Dominique Fraissard – Tabula Rasa,
Eamon McGrath – All Eyes Fixed on the Boy with the Black Guitar,
Eugene Ripper – Fast Folk Underground 2.0,
The Gruff – The Gruff,
Jon Middleton – After a Trip,
Matt Lo – Acoustic,
Peter Case – Let Us Praise Now Sleepy John,
Sean Hayes – Flowering Space,
Terri Hendrix – The Spiritual Kind,
The United Steelworkers of Montreal – Kerosene and Coal