The Cape May
Haunted Landscapes and High Stakes Poker Games
By Scott Wood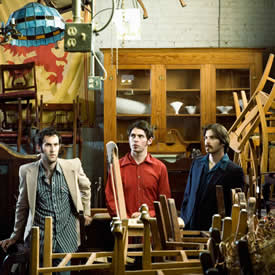 Finding a place to sit down is rarelya problem for
The Cape MayOur hearts pumping and breathless from running down the stairs, two guys from The Cape May and myself search for a relatively quite corner in the alley outside of Vancouver's Railway Club. High school buddies, Clinton St. John and Jeff Macloud have only 15 minutes before they are set to go on stage, but they are happy to leave the booze, cigarettes and their Vancouver pals to jaunt outside the club for a quick chat.
The band is starting on a new adventure with the release of their second record, Glass Mountain Roads. The record has a fine pedigree, being released on the Calgary-based Flemish Eye record label, which is also the home of Chad VanGaalen.
The songs on Glass Mountain Roads definitely evoke a sense of solitude, a lone figure looking across the bleak Prairies. Many critics have described the band's lyrics as 'dark.' Not a word I would use for St. John's words. And neither would St. John himself: "I suppose they are 'dark.' There are songs about death... People are generally afraid of death and talking about it and they shy away from it. When somebody is confronted with that, his natural inclination to say, 'That it's dark music.'"
"I agree with you. Across the board, I don't find them 'dark.' I find a lot of hope in it. I am a pretty hopeful person…" He laughs. "Yeah, I don't really analyze it too much. I like to tell stories. And I enjoy the process. Just creating a new song, writing a new song, drawing a picture. That's the act of creativity that I like the most is the construction of a piece. I don't put a lot of stock into what other people say about it."
The band's current record has many people talking, since it was helmed by legendary producer Steve Albini. Albini made his name producing 90s alternative acts such as Nirvana, The Breeders and PJ Harvey and his signature style was closely associated with the "grunge" movement. Albini's influence on records in that era was so pronounced that it was easy to pick out an Albini-produced record by ear.
Now, The Cape May's music is best described as a long walk through the haunted soundscapes that border Canadiana-indie-rock-land and alt-country-ville—not exactly the loud angsty sound Nirvana are remembered for.
Macloud is quick to point out that since the 90s Albini has gone on to work with acts from a number of different genres. "He's a little bit of an enigma right now, in that he'll record pretty much anything from mathrock to beautiful folk ballads."
Then St. John jumps in to tell the story. He was working in a kitchen and fell in love with a record called The Blackened Air by folk artist Nina Nastasia. He listened to a burned copy of the record for months before buying a copy for himself. "It was then that I saw that it was Steve that had recorded the record." This put Albini at the top of the list the guys wanted to work with on the record. "The short list consisted of Steve and Jim O'Rourke… maybe a few other names. We approached Steve and it was really easy. [We] sent him an email, and his assistant sent one back, 'Yeah we'll come to Calgary'—and that was that."
"He's really more of an engineer than a producer although he does get that tag. He's concerned with getting the honest sound of the band.
I enjoy the process. Just creating a new song, writing a new song, drawing a picture

I think if people had any misinterpretations of what Steve does, it's probably because of the bands he recorded that got famous—bands like Nirvana, The Pixies and The Jesus Lizard. These bands had notoriety so people naturally associate just Steve with these bands, when really he recorded 100s of bands, probably 1000s, but it's tough to say. And he's super open-minded."

"I don't think he has one sound in particular. Though, he probably gets the best drum sound, in our opinion."

While recording the record, Macloud discovered that he and Albini shared a mutual love of poker. In fact, as they finished up the record in Chicago, Albini invited Macloud to a poker tournament.

"Yeah, I beat him." Macloud grins, proud, but is quick to show respect. "I didn't take him out though. He's a great poker player. He made a small error at the end."

"It was like 50 people. I think I came in fourth and he came in ninth. He convinced me to stay in Chicago with him for a couple of extra days to play in this tournament with him and his buddies and it was a hoot," he remembers. I note that Albini's 'buddies' include several rockstar legends. "I think I was just kinda of nervous 'cuz I was a fan of their band—if you know what I mean."

So what other rock stars did he take out, I ask. Macloud goes all Republican-on-front-of-a-Senate-Committee—but with another grin. "I dunno… I can't remember…"