The P.J. Perry, LL.D Interview
With a career spanning almost five decadesa, P.J. Perry shows no sign of slowing down
By Jim Dupuis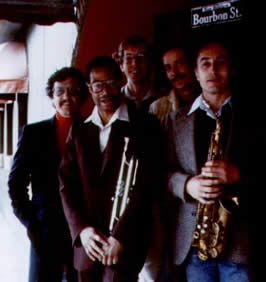 A young P.J. Perry with Jerry Fuller, Woody Shaw,
Neil Swainson and Gary WilliamsonP.J. Perry may be the best saxophone player in Canada. He has won two Juno Awards, a National Jazz Award and has been recognized for a record-breaking seven straight years (1993-1999) by Jazz Report Magazine with their Critics Choice Award. In June another honour came his way. P.J. Perry was bestowed with an Honorary Doctorate of Laws degree from the University of Alberta during the spring convocation. Perry, a multi-instrumentalist, educator and composer started playing in his father's (Paul Perry) dance band at the Varsity Hall in Sylvan Lake, Alberta when he was 14. Over the years he would go on to play in Legions, pool halls, bars, nightclubs, churches, auditoriums and concert halls.
His saxophone would take him to Vancouver in 1959. By 1962 he was off to Montreal and then lived and played in Europe from 1963-1966. He returned to Canada and was a member of Pacific Salt in Vancouver from 1972-1975. He moved to Edmonton in 1975 and played with Tommy Banks, his own group and the Edmonton Symphony Orchestra. He toured Europe again in 1979 and returned to Toronto. From 1981 to 1984 he appeared there with the likes of Dizzy Gillespie, Slide Hampton, Woody Shaw, and the Boss Brass. He then returned to Edmonton in 1984 and still resides there. When I interviewed him in 1995 he said of his long-time friend, "Tommy Banks is the reason that I'm still in Edmonton."
At 65 he still tours and will be performing in Toronto at various venues during the 2007 jazz festival season. He often works in the orchestra pit for Broadway style shows and will sub at a moments notice for any of his many musician friends. In the 90's he crossed Canada with his "Joy of Sax" tour, where he played jazz with local symphony orchestras. He has been an important part of the Toronto Chamber Jazz Septet and Rob McConnell's Tentet and appears on their recordings. It would take too long to list the recordings that he has appeared on, but in the past few years he has recorded a spiritual/jazz CD with Doug Riley called Come Sunday. He guested on the 2006 release by the Prime Time Big Band called For Our Friends … and he put out a CD with trumpeter Bobby Shew called Time Flies. His newest CD simply titled PJ Perry Trio has him back with bassist Neil Swainson, who he admires greatly and the fine guitarist Reg Schwager. Perry plays alto and tenor saxophones and the clarinet on this CD. He also penned some of the tunes. When (and if) P.J. Perry has spare time he likes to fish and golf.
Over the years he has become a spiritual man. P.J. Perry once said, "Playing jazz music is communicating with God." Years later he explained, "Art elevates people's consciousness. If through a medium such as jazz, we can step into pure higher consciousness that ultimately points toward God." When PJ has his sax in hand and is blowing his bebop notes he can indeed elevate your consciousness. Who knows maybe he is communicating with his God. I spoke to him a few days before he was to receive his honorary doctorate.
JD: How are you doing PJ?
PJ: Very good; I'm very busy. I just finished playing six weeks of Oliver at the Citadel Theatre. In the middle of all that I've had to reconstruct my fence around my home, which has taken me three weeks of back-breaking labour, so I'm exhausted, but it's a good tired, Jim. I'm off to Banff soon for ten days. I think I'm going to be doing some playing and some teaching at the Banff School (of the Arts), and a big honour bestowed upon me by the University of Alberta on the 12th of this month. That is that they are giving me an honorary doctorate. So needless to say I'm very proud of that and I think it speaks well for the artistic community in this part of the world. After Banff I'm off to Ontario to play some jazz festival dates and then I'm going fishing.
JD: That's good and after all that, I think you deserve a break. Yes P.J. I was going to ask you about the honorary doctorate. That's quite an honour to be bestowed upon you. Now we have a Senator Tommy Banks out of Edmonton, also a musician and also, Dr. P.J. Perry. Now that's getting to be quite lofty company in the jazz scene in Edmonton.
PJ: Well ya, it's really quite unfathomable to a large degree. I remember quite a few years ago, Tommy, Senator Banks, got an honorary law degree from the University of Alberta. I remember thinking at the time what an incredible thing that was for him and how completely insane it would be that anything like that should ever happen to me and by golly it has happened. You just never know what's coming down the trail.
JD: PJ I think it's well deserved for all the work that you have done in the performing arts field over the years and keeping jazz, basically on the map, in a lot of places where it was disappearing. It's a great and well deserved honour.
PJ: Thanks very kindly.
JD: OK, I'm going to take you back a little bit, then. From what I remember you play almost anything. Alto, baritone, soprano and tenor sax, clarinet, piccolo, flute—gosh, what was the first thing you ever played.
PJ: The clarinet, fondly referred to as the gloom tube.
JD: (laughs).
PJ: I started playing the clarinet—well that's not true. Now that you asked me the question—my first instrument was the piano. I started playing the piano and sadly gave up playing the piano. I wish I had continued because playing the piano would be an immeasurable asset to a jazz horn player. But I didn't. So my first instrument was the piano and then my Dad started me on the clarinet very early and that of course with a mind to the fact that saxophone players who were hoping to earn a living then and still to this day needed to play clarinet because it's written in the music a lot of the times, you know, so the idea was to get the most difficult instrument out of the way and the clarinet is challenging. I think that it is common practice that the clarinet comes before the saxophone because it's easier going from the clarinet to the saxophone rather than vice-versa.
JD: So you mentioned your Dad. Paul Perry? You played in his band back when you were, what, about 15 years old?
PJ: That's correct. I was maybe even younger than that, but I was definitely in the band when I was 15. I took over the baritone chair, but I probably played some of the summer when I was 14.
JD: That's incredible.
PJ: It was a great experience and a most wonderful learning opportunity, not only for myself but for many, many great Canadian jazz musicians and musicians who have gone on to esteemed careers across the country that spent three months playing seven nights a week at Varsity Hall in Sylvan Lake.
JD: You've also played with people like Dizzy Gillespie. We could go on and on and on, and Rob McConnell's Tentet and his big band too (Boss Brass). What was the most memorable gig? Does one stand out?
PJ: You know there aren't any that stand out. I've been playing for over fifty years and there's been many, many nights that I'd like to forget and there have been many, many nights that have been magic for me. One doesn't stand out for me, Jim. On a good night, no matter where you are, in a gymnasium or a pool hall, or playing in a bar or on a concert stage, if all the stars are aligned and you are playing with someone you enjoy playing with and you are in the zone and you feel that you are doing what it is that you wanted to do, those are the special nights. They are somewhat rare; they don't happen all the time, but over a course of fifty years they've happened several times. Those are lovely experiences, when you transcend your own head and you are playing on intuition and sort of feeling just totally free with your instrument.
JD: Someone asked Sonny Rollins, "What do you think about when you are playing your sax?" He said, "I don't have time to think." Do you feel the same?
PJ: Ya, I do. The idea is not to think. Ya, the idea is to play and that takes some time, I think.
JD: PJ, you've had a few albums out in the last couple of years. I think I've seen you on about four or so. Going back to you and Doug Riley (Comes Sunday) and you had one with a quintet.
PJ: With Bobby Shew (trumpet player).
JD: Ya, Time Flies. That was a nice one and your newest one is The PJ Perry Trio. Do you want to tell us about it?
PJ: Ya, I would. I'm very fond of this recording. I play tenor, alto and clarinet on it, which is a bit of a stretch for me. I wrote quite a few of the tunes on the recording which is also unique for me. And another thing I like about this
On a good night, no matter where you are, in a gymnasium or a pool hall, or playing in a bar or on a concert stage, if all the stars are aligned and you are playing with someone you enjoy playing with and you are in the zone and you feel that you are doing what it is that you wanted to do, those are the special nights

recording, apart from the fact that I had two of the greatest jazz musicians in the world, in my opinion, playing with me is that I recorded it in my favourite place to play in Edmonton which is a church in south Edmonton called Ritchie United. It has the most marvellous acoustics. I attended the church for several years and played many concerts there. The minister that was there at the time, Harold Alston, suggested that we start a jazz series there and many hundreds of concerts have ensued since. It's just one of those wonderful places to play. So, I got an opportunity to get Neil Swainson, who's the bassist and Reg Schwager who's the guitarist on the recording out to Edmonton and Calgary to do a couple of concerts and while they were in town I was able to take advantage of the fact that the church was free for two days. So Mike Lent, my very good friend and good bassist brought his recording equipment to the church. Neil and Reg and I spent a couple of days playing music. I'm exceptionally proud of this recording and it's a recording that hasn't been picked up by a record company, ironically. So I'm selling the recording myself, off my website and business has been fairly good. It started off as an experiment to see if someone can sell CDs from a website. But thanks to people like yourself and various radio stations across the country, I get the opportunity to mention that at pjperry.com is a place where my recordings can be had.
JD: A lot of people are doing that now and it's a good idea. It gives more access to people that aren't in big cities and jazz isn't necessarily available at all record stores, so it's good that there is access through the websites and I hope that more people will pick it up. Now, on the CD before that Time Flies or Tempus Fugit, the Latin term, you also had one of the same people on it--bassist Neil Swainson.
PJ: Well I play with him whenever I can. I can assure you that he's an astounding player.
JD: I guess he's in great demand. He's a really busy one. There's no doubt about that.
PJ: He's all over the world--that guy. He's George Shearing's bass player as you would undoubtedly know. He also went on the road and played with Woody Shaw's band for many years. They just don't come any better.
JD: That's definitely true. You played for Woody for a while, too, didn't you.
PJ: Ya, not in the United States but in Canada. We did some touring together.
JD: That must have been fun.
PJ: Ya, it was. The man was a raving genius and full of fire. There was never a dull moment when you were on the bandstand with Woody Shaw.
JD: So, do you run into Tommy Banks much these days.
PJ: Every once in a while. Tommy and I play together when his schedule permits. He's basically retired or semi-retired. He still loves to play and still plays fantastically. Whenever we get the opportunity to play together we do, because we go back many, many, many years, together. It's always a pleasure to play with a musician like Tommy Banks.
JD: So, for jazz festival season, where are you going to end up?
PJ: I'm playing a concert in Ottawa on June 28th and I have a lovely band put together to play at The Pilot Tavern in Toronto on the 31st and then the 1st of July. Kevin Dean is going to come out from Montreal to join me. Are you familiar with Kevin Dean.
JD: Yes, quite familiar.

P.J. Perry works his magic on stagePJ: He's on of my favourite trumpet players, if not my favourite. He plays absolutely, beautifully. And Neil (Swainson) will play bass for one of the nights and Mike Downs will play the second night. Ted Quinlan is going to play lead guitar and Andre White will play the drums.
JD: That's quite a group.
PJ: Yes, I'm looking forward to that. Following that I have three nights at a club in Toronto--a new club that just started up recently called Opal. I'm playing there with Don Thompson on bass and Reg Schwager on guitar.
JD: Is any of this going to get recorded.
PJ: Hopefully, hopefully. They are going to record the quintet at The Pilot Tavern. I doubt if we will record the trio, because that material has already been recorded. So, ya they are going to record one of the nights at The Pilot Tavern with Kevin Dean.
JD: That's good to hear, P.J. I'd like to thank you for speaking with me tonight and many congratulations on the Honorary Doctor of Laws from the University of Alberta. That's a nice honour and well deserved. Once again the CD's are available through your website www.pjperry.com.
PJ: Well thanks, Jim. I'd like to say hi to all my friends in the Kamloops area. There are lots of people there that I've met and enjoyed their company over the years and you as well and thanks for calling.
JD: OK P.J. We'll save some fish for you.
PJ: You do that man. See you later.