Purrs & Hisses from Meow Records
By Bryndis Ogmundson
Purrs and Hisses is all bunked up this month.
You see, I have a situation that requires me to think something is both a purr and a hiss. The situation being the two shows I saw at Deer Lake Park in Burnaby: Björk (May 23) and Arcade Fire (May 24).
Setting the scene: My father introduced me to the music of the Sugarcubes. We're of Icelandic decent, which doesn't mean we have to like Icelandic things right away, but we usually do. And of course, we both adore Björk. So, when I told my pops that she was playing in Burnaby (we're from Chilliwack, although my dad is still there and I live in Prince George), he supported the idea that I should get my ass down to the lower mainland so we could go to the show. A few days later, I found out Arcade Fire was playing the same venue the night after Björk. Both of my parents like the Arcade Fire, I adore Funeral and am either way on Neon Bible, but what they heck, I only see a few shows a year. So, we were all set for some amazing live music…
Björk:
We got to the park about 20 minutes before gates opening, already a HUGE lineup, of course. I knew my father, fiancé, younger cousin and i weren't going to be rushing to the front, so I wasn't upset to have such a setback.
After making our way through the line, we entered the field of plenty. Jesus, were there ever a lot of food booths set up. Crepes to donairs, beer to lemonade (tasty, but too sweet), this park had it all. Bypassing the food temptations, we found a spot and set up our blankets. We were on just enough of a hill so that when everybody felt the need to stand, I could see. Then we gathered food and drink.
I thought I read somewhere that Konono No.1 was to open the show. Instead, we were treated to the ridiculousness that is Ghostigital. Comprised of former Sugarcube, Einar Örn, and

Blurry photo by Ian GiesbrechtIcelandic multi-instrumentalist, Curver. What a fun time…for about 2 ½ songs. After that, I really just wanted Björk to come on. But during Ghostigital's way too long opening set, we amused ourselves. We even spotted Chad Kroeger (We found out later, even after taking a picture and zooming in on him, that it wasn't Chad. It was just some douchebag that wanted to look like the actual douchebag. Way to go).
And alas, Björk appeared. Opening the set with, of course, "Earth Intruders." I have to admit, I don't like Volta. I think it's, by far, her worst album. So, I was a bit sad about coming to the show. But live, she was amazing and the new songs sounded ok. She played "Hunter" and that was the one I needed to hear. I was happy.
Arcade Fire: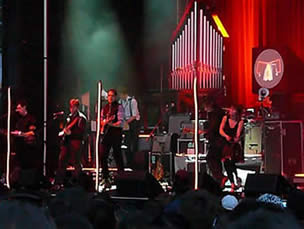 Photo by Jennifer KennedyBecause we were at the park the night before, we were able to learn from our mistakes. We found a different parking spot. The night before we parked in a dirt field, and it took almost an hour to get out. So on Arcade Fire ight, we found a school parking lot half a block away that would be a cinch to leave from.
After getting through the virtually non-existent line-up, I let my pops lead the way. Tonight it was me, fiancé, and mom and dad. Dad took us closer to the stage this time. It was a nice spot, despite the sun's attempts to kill us all. The vibe was decidedly different on this night. There were no earth mothers with purple butterfly wings, no gothed out pixies, no hack circle even! And we were outdoors people. Instead, I saw a few 50+ couples (my folks included), lots of teeny boppers, bar stars, indie rockers, and even some of those guys that wear track suits and deliver your pizza. It was a weird mix. But, I guess Arcade Fire has crossed over into top 40. The other thing that was quite different, was the security. For Björk, I saw barely any guards patrolling, despite lots of weed being smoked and an unsupervised roam-where-you-like beer garden. For Arcade Fire,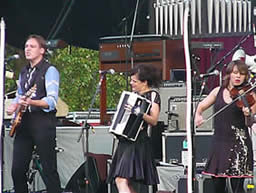 Photo by Jennifer Kennedyevery two minutes a few would walk pass me and bust somebody smoking a joint. Not sure what the difference was.

The opener, St. Vincent, was painful. She played a beautiful and mean guitar, but the songwriting was akin to something a teenager would produce. It didn't matter anyway, this was the part of the evening I stopped having a bad time and began having a shitty time. Arcade Fire came on. Everyone stood up, I couldn't see. My throat became unbearabley sore. I couldn't see. My allergies from the pollen were acting up. I couldn't see. The band sounded incredible. I couldn't see.

Oh well. Both nights the music was great. I just felt as though I would enjoy watching a dvd of the whole thing way more. The best part of the whole trip was watching my dad rock out to the music. I have a pretty cool dad.

Tell me off: music_snob@hotmail.com