These Melancholy Robots: Shout Out Out Out Out
Shout Out Out Out Out Will Still Make You Dance and Split Your Pants
By Scott Wood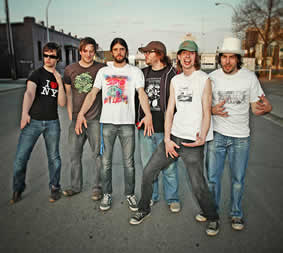 Shout Out Out Out Out take a break from
making downer party musicWhen I sit down with Lyle Bell, Nik Kozub, and Will Zimmerman from Shout Out Out Out Out—also known as the more manageable acronym SO4—I joke that they should get out the vocoder. I feel it is quite appropriate since their debut release, Not Saying/Just Saying, features all the vocals modified with a vocoder—hardware/software that makes the lyrics sound like they are sung by depressed lovelorn robots.
"Oh man!" The guys chuckle like that would have been perfect. Kozub admits he has never thought of doing that for an interview. But we all agree it would be hilarious.
Still the question remains. Why use the vocoder for all the singing? All SO4 members have been in bands before, so it isn't a question of confidence.
"It's one of my favorite pieces of technology." Kozub confesses, "We wanted to do a mostly electronic project. We're all fans of bands like Kraftwerk, Daft Punk and Trans Am - electronic, vocoder-y stuff. I also kinda like the idea of the vocals being obscured…"
Zimmerman jumps in: "You know when people are listening to the record, they can't pick out all the lyrics on the first listen. So then they come back to it, and listen to it again, and then hopefully the music catches them.
Kozub agrees, "I like that if they want to get what the lyrics are about, they have to do a little bit of extra concentration work."
"It's fun." Bell sums it up. "The vocoder is fun and we're all gear-obsessed."
Because of the use of the vocoder, SO4 are often compared to the other Canuck vocoder-lovers, Toronto-based dance act MSTRKRFT.
Kozub is a little pensive. "I don't even know if MSTRKRFT existed when we started this band. I think that those guys do a great thing that is similar in some ways to what we do, and it's different in other ways. It's inevitable that we'll get compared to them since we are both Canadian acts doing dance music. But, I don't think we're all that similar, and I am sure they would say the same thing."
Zimmerman agrees. "On the record there are some similarities people can point out. I think live, we're rockin' double vocoder action and goin' nuts on stage. [MSTRKRFT] mostly throw down DJ styles, which we love too - no slight."
Bell is the comedian of the group. "For me personally, I'm also in a band called Whitey Houston which is a two-piece drum and bass thing. Death From Above (the indie darling drum and bass two-piece that was the precursor to MSTRKRFT) was a Whitey killer. So when I heard the MSTRKRFT record, I was totally taken aback. Trumped twice! So I'm gonna shiv that fucker next time I see him." Everyone laughs. And I will mention here the Bell inexplicably wore a Santa Clause beard through the whole interview. Then he grins, "No just kidding. I like that album and I like those guys."
Comparisons aside, SO4 are unique in that they sing about topics not often dealt with
in party dance-rock. Songs on Not Saying/Just Saying cover never-ending debt, crippling procrastination and self-loathing. Some critics have even labeled it "sad bastard lyrics."
Kozub answers first. "That juxtaposition between bummer lyrics and dance music has been a big focus of the band and the current
What are we gonna write about when we are all sitting on sacks of cash?

record. We all have our bad shit going on in our lives. And I like the idea of going in to a situation where you're playing fun dance music and kinda forgetting about all that crap for a little while but not entirely and still touching on it but in a situation where its like, 'Yeah, let's have fun. Let's dance and have an upbeat crazy time.' But the reality is that we have shit going on in our lives."
Kozub starts to laugh but quickly returns to his point. "I don't feel like we would be entirely honest if we were writing songs that were all 'Woooooo! Party! Have fun!' I just don't think it would be necessarily an honest representation of what is going on in our heads. And regardless of what kind of music we are playing, we are still using music to get something out, you know?"
Zimmerman is concerned that the focus on the serious lyrics will make people think SO4 makes "downer" music. He wants to make it clear the live shows are still all about a good time. "Our lyrics are the way they are, but in between songs the message is clear. It's just party time."
However, Kozub wants to make his point. "Everybody's got these same problems. If we bring that forward, in a way that's like, 'Yeah, this is for all you people that are just like me, that have totally shitting things happening to you.' People can relate to that and in that way have more fun. 'Cuz they know that we're here to have fun and yes, we're all messed up too." Kozub starts to chuckle again. Popular dance music doesn't get too serious for a reason.
Bell rings in: "What are we gonna write about when we are all sitting on sacks of cash?"
Zimmerman laughs, "We're gonna sing songs about how tough it is dating models and the harsh realities of where to spend your money."
One thing is clear, the guys in SO4 take having a good time and putting on a tight show very seriously. Kozub has become infamous for his frenzied high kicks on stage. Sometimes he gets so intense that his jeans have split mid-kick. Kozub admits he has at least blown out two pairs of pants. And he is still looking for a durable pair of jeans.
SO4's commitment to a kick-ass live show is getting this Edmonton-based band a lot of buzz. But any kind of success for a Canadian band not based in Toronto, means the band must consider a move to the centre of the Canadian universe. SO4, however, are dedicated to their hometown - despite the high cost of mounting tours from northern Alberta.
"The overhead means we lose a lot of money." Kozub admits. He even has a tattoo devoted to E-town. "In terms of being in a place that is creative, a comfortable place to live and a good community to live in - I wouldn't trade it for anything. I love being in Edmonton."
Zimmerman is quick to agree. "It's a universal thing across the band. None of us are particularly interesting in moving to make things easier. We love our homies. We love the other
You know when people are listening to the record, they can't pick out all the lyrics on the first listen. So then they come back to it, and listen to it again

artists that are there. We write great music there. We're comfortable there. We're happy there. Why really change that?"

Bell's response is serious this time. "We've been fortunate enough to have the opportunity to go everywhere else, to travel to New York, Austin and Vancouver. We get to be somewhat cosmopolitan. We're not stuck in the hinterlands all the time. It's a really insular scene - in a positive way. So when we go back home, cost of living is low…

Kozub and Zimmerman are quick to interrupt to gripe about how the oil boom is quickly changing the affordability of living Edmonton. And I tell them that any Edmontonian griping about cost of living to a Vancouverite is laughable. Then we all snicker.

Bell sums it up perfectly with another joke. "We were in Saskatoon watching TV. There was a big government TV commercial, 'Don't move to Alberta! Stay in Saskatoon!' Like they're trying to convince everyone not to migrate to Alberta - which is comical to me because everyone in Alberta migrates to Montreal, grows a moustache, carries a around a little bookbag and rides an old bicycle."