Uffie: Attack of The Damn Crazy Brat
Innocent looks don't stop Uffie from being a lightning rod for controversy.
By Scott Wood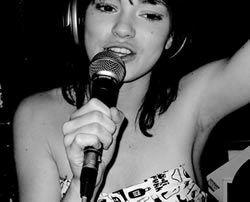 Uffie is in your faceAs I sit down with Uffie, I tell her she looks like that business-savvy but peppy teen ready to sell you tickets to your grade 11 dance. She laughs, "I look like a 12year old kid."
The legend of Uffie begins with some trouble "for going out too much" in Miami. So her mother sent her to Paris to reform under her father's watchful eye. Instead she hit the clubs. There she met producer/DJs Feadz, Mr. Oizo and SebastiAn and they took her under their wings. She chuckles, "Obviously the clubbing paid off."
Barely legal, Uffie was signed to EdBanger Records—the ultra cool French label and home of Justice, SebastiAn, and DJ Medhi—after they heard her first single "Pop the Glock." Pretty impressive at the age where most are still showing everyone their prom photos.
Not that it has always been easy. When her first tracks were leaked on the internet, Uffie found herself a blog sensation, but one who excited both love and hate. Her music tends to polarize; she is not really dance, not really electro, not really hip hop—more a mashup of all three.
It is the hip hop purists who seem to dislike her the most. "No one is ever in between with it." She sighs, frustrated with the reaction. "I am not trying to be electro. I am not trying
I'm not like a feminist at all [but] girls should be able to say what they want

to be hip hop. The people who hate me, it's mostly because they don't think that I respect hip hop. I can't really sing. I don't really rap, but it just comes out that way."
In an era of hip hop where most self-titled 'gangstas' raps are ghostwritten and are filled with ludicrous exaggeration, Uffie is provocative because she is pushing boundaries, much like The Streets' Mike Skinner—a comparison she likes better than being tossed in with Peaches and M.I.A. "because we are all girls who use dirty words."
The follow up single to "Pop The Glock" is "Ready to Uff"—where 'Uff' stands in for the f-word.
For me it was just having fun and fucking around with my friends

This has led to more controversy and to the press dubbing her a 'lolita.' When asked if she can really be surprised at all the attention when someone who looks so girl-next-door sings, "I'm ready to fuck" she looks shocked. "It's like a big issue for people. I did not expect it to be a big deal. Every guy says that."
If Mike Skinner can talk about doing blow and fucking famous people, Uffie wants to know why the standard is different for a girl. "I'm not like a feminist at all [but] girls should be able to say what they want without a girl being called slutty or something stupid like that."
I interject: "I think that is a feminist."
She pauses, "Really? Oh, ok. Well then." and then laughs. "It's stupid that a guy can say that but a girl can't. No girl says these things but everyone thinks it."
She is still amazed at the reaction to her lyrics. "What is the big deal?" Her recording career only started because her boyfriend, DJ Feadz, begged her to do a song with him. He eventually convinced her to record a demo/single. Her lyrics are spur of the moment. They come out quickly as she tries to recall the party last night. "For me it was just having fun and fucking around with my friends."