The Greg Lowe Interview
Guitarist Greg Lowe's new album, Guitar and Bass Sessions, features two bass players and a batch of familiar classics rearranged and made new again.
By Jim Dupuis

Greg Lowe on stageWinnipeg guitarist Greg Lowe just can't sit still. As a musician he has been involved in opera, classical and chamber music, rock, rhythm and blues, jazz and numerous fusions thereof. He scores films, television productions, theatre performances and composes for a number of ensembles. He has been a music director for theatre productions and has played in the pit for operas. A self-confessed workaholic, his life revolves around music and he is happy and thankful for that. As a youngster he talked himself into lessons with some of the biggest names in jazz guitar by simply asking them. His latest CD, Greg Lowe Guitar and Bass Sessions, turned out to be an "accidental musical biography" of his life. Recently I managed to get him to sit and chat about composing and playing music, lost sailboats and breakfast with David Letterman's sidekick Paul Shaffer.
JD: Well Greg, you have a new CD out and it's called Guitar and Bass Sessions. You are featuring two wonderful bass players on it. One gentleman named Steve Kirby and the other is Gilles Fournier. Could you explain the difference in their styles?
GL: Let's see, they are both excellent. Doing a guitar-duo thing you need a bassist with a strong time and really putting down strong foundations, because when you improvise over top of it you want to know where the chords are. They are both good that way. I've played with Gilles longer. Steve Kirby just moved to town a few years ago to become Director of Jazz Studies at the University of Manitoba. So he's kind of a new face around town but an excellent musician. He's played with Wynton Marsalis, Elvin Jones and Cyrus Chestnut and all kinds of great musicians down in the States, so he's really got a strong history of playing with excellent players and I really notice it when I play with him. His time is really solid and his soloing is really solid. And Gilles, I've been playing with for years, so we have an understanding of how to play together. I can count on him to lay the time down and he's really a creative soloist and they are both great improvisers. So ya, they are both great. I don't really have a preference and I'm glad they are around.
JD: Yes, you are really lucky to have both bassists in town.
GL: That's right.
JD: How did you decide which bassist would play which songs?
GL: Initially for the first session I came up with the first seven tunes and it turned out that Steve Kirby was the first guy to be available to come and record and then I filled it out when I got Gilles lined up and came up with the rest of them. They are slightly different choices. The second half of the album is Gilles Fournier's and there are a little bit more of my own tunes; tunes that I had already being performing with Gilles and the first ones are cover tunes that I picked and learned for the album, like the Roger Miller tune "King of the Road" and Willie Nelson's "Crazy." I've never put cover tunes on my CDs in the past. It's the first time that I've done that. It's worked out really well. People seem to like it, especially because they know some of the tunes.
JD: Yes, the CD is a lot of fun. I like your originals. I really like "Yellow Pelican." It's nice to hear "Samba Pa Ti" off the old Santana album. God, I forgot how good that song was. Your guitar playing on that is just wonderful and like you said, "King of the Road" is just classic. You've got some roots stuff, you got a tango happening and some old rock classics along with "Affirmation", the Jose Feliciano tune that everybody knows as a George Benson hit. It's a nice collection of tunes on this CD.
GL: Yes, "The Devil Tango" is an interesting one. I played the Alfred Schnittke's opera with the Winnipeg Symphony Orchestra and I was the electric guitar player with wah-wah pedal and I was doubling the parts with the wah-wah pedal when the singer, who came in from Germany, appeared on stage. She was the devil and whenever she came in, I was there with that sound and the melody that he had which was near the end of the piece just stood out in my mind. I came home and wrote it out and made a lead sheet out of it so I could play it with my small ensemble. It's quite a hoot (laughs) and people seem to enjoy it and it's a lot of fun to play. I also threw in "Ding Dong the Witch is Dead" from the Wizard of Oz. It's quite a surprise. A friend of mine, Richard Hurst, mentioned it to me when I was doing a theatre show and I went home and listened to it and it sounded pretty square. I was going, "Richard, what do you mean, this is kind of a strange tune?" He suggested that I play it as a jazz waltz in 6-8 feel and low and behold it's a great jazz tune. The changes are nice. It has a little modulation in the middle that starts out in C and goes to E flat major and then goes to A minor. There's a lot of good blowing changes there. It turned out to be one of my favorites and I'm calling it on my gigs quite often now and Steve Kirby blows a great solo on it. That's a good one.
But "Samba Pa Ti", that takes me way back. We were talking about the first albums. That was one of them. I think I had it on an 8 track. It was that long ago. I think I let it go 'round and 'round and over again. I loved it.
JD: Oh yeah. There's such a pretty, pretty melody.
GH: So it was an opportunity to dig back into the past and pick tunes that stuck out. Those were some and "I'm Late" from Alice in Wonderland—that speedy tune about the rabbit who's got no time. That was also fun. That was one of the earliest tunes that stuck with me. I think I was three years old when I heard it and it stuck with me. It's a speedy little number and Steve Kirby really keeps the tempo smoking along on that one.
JD: I like both of these bass players. I really do. Kirby can really fly on that instrument. I'm not a musician and this may sound silly but I also like the "fatness" of Gilles Fournier's sound; that thick feel I get when I hear his bass. They both have different styles obviously and their styles really fit the songs that you chose
JD: Greg, it seems that the CD is almost an accidental biography of you. On it you have some rock songs, some jazz songs, movie music, songs that have been used in plays and symphonies and some roots stuff. I was reading your
bio and thinking that this CD is very much a music biography of this man. Do you get that at all?
GL: Interesting, I guess in the sense that I was trying to come up with favorite tunes that stood out to me in different points of my life and I've never thought of it that way but it's true. But tunes like "Something" by George Harrison. It was put out a long time ago and that's one of my favorites and Carol King. That's an interesting way of looking at it, but that wasn't my plan. My plan was to put enough cover tunes on there that maybe I'd get a little more air play (laughs), and it seems to be working in that way because people are working like crazy because people are picking tunes like crazy and "Ding Dong the Witch is Dead" and "King of the Road" are getting a lot of airplay. It was CBC. I guess I shouldn't be mentioning that (laughs).
JD: No. We worship CBC.
GL: Good coverage with CBC and Jazz-FM in Toronto has been playing "King of the Road" (Listen) and "Crazy" (Listen) quite a bit, and "The Yellow Pelican," (Listen) people seem to like that version. It's taken from my previous CD, where it was done with a six-piece band. Then I just tried to do it with a duo and it's quite nice as well.
JD: That's one of the songs that I'm playing on my next few shows. I read the notes and what I got out of this, and I am quite often, is that when the guitar is speeding up, it's like the boat speeding up in the boat race that's mentioned in the liner notes. Is that the idea?
GL: (laughs) It's literally taken from an event on a sailboat. We were looking for a yellow marker, which was the finish line in the middle of the Big Travers, which is a fairly open area in the south end of the Lake of the Woods and we were chasing this thing and realized at one point that the rest of the fleet was heading off in another direction, so we must have been off course. But we salvaged the race and there's a break in the middle of the tune--we play the head and then solo on it for a while, then in the middle there's a break with a bunch of 3-4 bars and some stops, then the shout--the chorus "a yellow pelican" and then we're off into another key. That's supposed to represent the moment we were heading in the wrong direction and had to change course. So next time you listen to it, you can listen for that.
JD: I will. It's fun to visualize things when you hear music. Especially with jazz, where I find I can do that a lot more.
GL: It's interesting, because after the race and I came home and I had a few weeks where I was just sitting on the docks on the lake where I had a cottage. I had to write a few tunes and that one just came up. I went, "Oh yes, an event, let me see if I can score the event," and I used it as the pretext for the tune. It turned out great. It's always fun to play and there's open blowing and if you have a saxophone or anybody shows up to sit in it's easy to blow over and everybody has fun. Ya, it's a good tune I like that one.
JD: Greg, you've been composing for symphonies, theatre companies, ballet companies, film and television. So you are a busy man. What aspect of this is most challenging?
GL: It's such a variety that I don't find if challenging. I find it pleasurable. This year--maybe I've done three theatre shows.
I also threw in "Ding Dong the Witch is Dead" from the Wizard of Oz. It's quite a surprise

One I was composer on; one I was music director on; and, one I was just guitarist in the pit. All three of those were fun and that was a nice variety. I've done an NFB (National Film Board of Canada) film documentary in February. That's always nice. I have a small studio and I can lock to picture here and I scored that one ala Ry Cooder; lots of slide guitar and acoustic guitar. I guess the challenge is that when I get jobs like that is to make sure I stay on the guitar, because you spend a couple of weeks scoring in front of the computer and by the end of that time your chops are (laughs) a little soft. So I think the playing aspect is important to me. I want to keep playing well for the next twenty years or so. That means that you want to make sure that you are on the axe every day.
JD: Do you work well when you have a deadline?
GL: Ya, I think it inspires me to stay at it. It's pretty time consuming do film scores or theatre scores. Usually you are working really intensely for a period of a couple of weeks. Especially theatre; because, you can't really score it until you get in there and see some of the rehearsals and get the rhythm of the play. So, it all sort of happens at once and it builds up until tech weekend when you deliver the tunes and your job is done. Then you get back on to practicing and writing tunes for the guitar.
JD: When you are writing tunes for the guitar eg. say you plan on putting a CD together. What state of mind do you need to be in to get what you think is your best stuff?
GL: (laughs) What comes to mind is that you can't be financially stressed out. I like to go on writing binges when the bills are paid and I've got a little time where I can focus for long periods of time on the same piece. I find it hard to just pick away on tunes when I've got a whole bunch of other things happening. It's nice to just block off some time--two or three weeks or so--and go out to the lake. I have a little cottage that I have access to out there and kind of just spend some time alone with the instrument and come up with some ideas and bring them back to the city and start working them into the repertoire. That's kind of how I like writing.
JD: I understand you started playing guitar when you were around eleven years old. Did you take lessons?
GL: No, I had a brother who was playing. He was five years older than I and he showed me a few chords. My dad played a little, so I just picked up chords along the way. I started to play with bands in school and that kind of thing.
JD: So you are mostly self-taught then?
GL: Ya, until I finished high school and went to Grant MacEwan in Edmonton for about a year and a half. I didn't finish the program, but I certainly got a lot out of it. Then I went on the road with the band as many people who start out in the college do, you know. I ended up touring the west coast in a number of different bands. That's what happened there.
JD: So was it rock bands, or blues bands or country bands?
GL: Rock bands primarily; r&b bands eventually and then I ended up with The Lincolns which is an r&b band out of Toronto and I played with them in the late 80's up until the beginning of the 90's. I played across Canada with them (laughs) and learned what a good r&b band is supposed to sound like.
JD: Well Greg, it says in your bio that your father was a multi-instrumentalist. What all did he play?
GL: He played keyboard, guitar, clarinet, saxophone and violin is the one that he still plays. A lot of old fiddle tunes is what he still plays. There were a lot of instruments lying around the house.
JD: Wow, that's great.
GL: He dabbled a little bit in all of them, but violin was his main focus. He didn't play professionally, mind you, but at least the instruments were around and I developed a bit of an ear for it.
JD: I think you would develop an ear for it with all those different instruments around and access to all those kinds of sounds. Ok, what's the first LP that you ever bought--or 8 track or cassette or ... ?
GL: It would have been an album and it may have been Black Sabbath (laughs), although there were a few back then. It might have been a Guess Who album--the one that has Blue Collar on it or Johnny Winter Live. That was one of the first ones I picked up, too. That was an important one for me. I just saw him. He came through town about a month and a half ago. I really enjoyed that show. He's an elderly man at this point but he's still rocking pretty hard and I really enjoyed the show.
JD: You mentioned The Guess Who and you are out of Winnipeg. It's almost like the Kevin Bacon game; the seven degrees of The Guess Who. How many Guess Who members have you played with over the years?
GL: Just one. Just Randy Bachman.
JD: Didn't you play with Greg Leskiw?
GL: That's right. He joined The Guess Who a little later on. I played in Swing Soniq with Greg Leskiw. That was a good album, Moonglow. That was a good band and the album still gets airplay. I enjoyed that. But Randy Bachman, when he did the Blue Collar thing, when he was hanging out with Lenny Breau and learning a few jazz licks--that album kind of turned me on to jazz a bit. So did the Jeff Beck Blow by Blow album. Not particularly jazz, but good improvisation and great tunes, which led me to Lenny Breau and George Benson and those kind of players and that's sort of what I listen to know and what I try to play like.
JD: I heard you studied briefly with John Abercrombie and John Scofield. Can you describe what you took away from those experiences?
GL: I went to New York in 1983 or '84 and just called these people up and got lessons from them.
JD: That took moxie.
GL: I got the numbers from The American Federation of Musicians. The musician's union had the contact info. I just phoned them up and there's John Abercrombie on the other end of the line. I went to his home and had about a three hour lesson
I like to go on writing binges when the bills are paid and I've got a little time where I can focus

with him and a couple of lessons with John Scofield. And Paul Schaefer, I phoned him up (laughs). I don't think it could happen anymore, but in 1984, somehow I just dialed the number and they were there. With Paul Schaefer, when I was young I lived in Thunder Bay for two or three years, so I called him up on that premise as he is from there, and asked if he wanted to hook up. And he did! So I went over to his place and we had breakfast for a couple of hours and we talked. That was a great couple of weeks. I went out and heard Mike Stern and Ralph Towner and the Gil Evans Band. It really was an eye-opening experience.
JD: That's amazing that you would have the moxie to do that. I had a hard time e-mailing you to ask for this interview.
GL: (laughs) Well, I got lucky. I've been back to New York since. The second time around it wasn't quite the same. Of course it's harder to get hold of people and it was a different time of year. When I went the first time it was January and after Christmas the touring schedules haven't started up yet so they just happened to be around. Ya, New York is quite a place.
JD: The CD is really a nice mix of originals and well-chosen covers. Well you play guitar and seems you get on a boat once in a while. What else do you like to do that isn't musical?
GL: Well I don't really do things other than work. When I have time off I like to learn new stuff, so I'm always looking for CDs and books where I can learn more about harmony. Other than walking the dog and going to the lake I'm pretty much working full-tilt. Right now I'm scoring my brother's film and I have some gigs coming up with Jack Semple. We have a duo called the Chess Club. We toured, mostly, western Canada. We put out a CD a few years ago and I should send you one if you don't have it already. But it's on my website and actually there's a video gallery in there that has some Chess Club stuff that's kind of fun to see. Yes, when I'm not working on a film or promoting these gigs that are coming up in May, I'll be writing some new tunes and the jazz festival is coming up and I'll have some new stuff to play by the time that hits.
JD: You have an amazing work ethic and you are obviously living your dream and that's important. That's good.
GL: Ya, I'm daily astonished that I have this opportunity to just focus on music full time. It's a blessing, so I'm trying to take full advantage of it and I do appreciate it--and I do appreciate you calling and playing my music on your show.
JD: The new CD is called Greg Lowe Guitar and Bass Sessions featuring Steve Kirby and Gilles Fournier on bass. It is a very good album with an interesting and eclectic choice of material. Where is it available?
GL: On my website: greglowe.com and Indie Pool of Toronto does the shipping and receiving on that and it's available on Pure Tracks for digital download and within a month it should be available on iTunes.
DISCOGRAPHY
Albums and tracks are available for purchase from Greg's Website at www.greglowe.com. You can also sample more tracks from all of his albums from the website. For more information or purchase, contact greglowe@shaw.ca.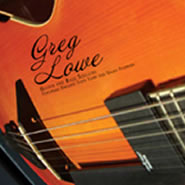 Greg Lowe
Guitar & Bass Sessions (2007)
04 - Devil's Tango
05 - Ding Dong The Witch Is Dead
10 - Samba Pa Ti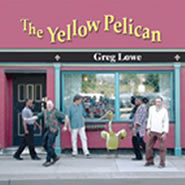 Greg Lowe
The Yellow Pelican (2004)
Contemporary groove based jazz
01 - Cookin' With Cush (Soul Food Secrets)
02 - The Yellow Pelican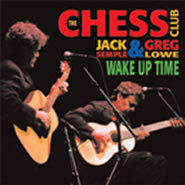 The Chess Club
Wake Up Time (2003)
Duelling acoustics
01 - Salt & Pepper (Full Version)
02 - Spanish Harlem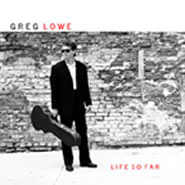 Greg Lowe
Life So Far (2001)
Contemporary groove based jazz
01 - Lowdown
02 - Dear World Featuring John Rutledge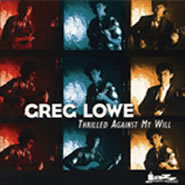 Greg Lowe
Thrilled Against My Will (1996)
Contemporary groove based jazz
01 - Thrilled Against My Will
02 - Springate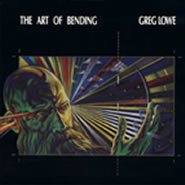 Greg Lowe
The Art of Bending (1991)
Contemporary groove based jazz
Click on song title to hear sample. For more information or purchase, contact greglowe@shaw.ca
CHAMBER MUSIC

Greg Lowe
Big Mossy - Fresh Water Paradise (2000)
Chamber Orchestra New Music
01 - In Off The Bay

Greg Lowe
Seventh Heaven (1995)
Violin and guitar
01 - Seventh Heaven
For more information or purchase, contact greglowe@shaw.ca