Program Profile: The Judy Adams Show
The freedom to range widely and explore genres is one of the
great things about campus/community radio.
By Magnus Thyvold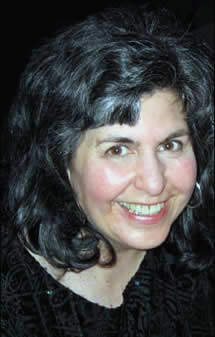 Judy Adams hosts radio programs
in Windsor and DetroitMusic and the love of music permeates every part of Judy Adams' life. Her radio show on Windsor's CJAM 91.5FM is just on way she has found to express her passion but is important enough to have her crossing the border from her home in Detroit every week to share that love with her listeners.
"I've been on a life-long mission to bring great music to people and show them that creative, substantive music does exist in this world of one-hit-wonders and overproduced products designed for selling instead of cultural and personal enrichment," says Adams. She started The Judy Adams Show 33 years ago across the river at Detroit Public Radio in 1974. When her old station switched to a news/talk format a couple of years ago and fired most of their music DJs, CJAM scooped her up. The program features "the ultimate musical expressions and creations from a culturally diverse palate of Jazz, world, blues, folk, roots, and beyond." In other words she mixes it up with the goal of breaking down the barriers between musical genres and expanding people's musical horizons. Interviews, artist profiles and concert listings round out a rich program.
As a trained musician and composer, Adams approaches
I've been on a life-long mission to bring great music to people

the program as a performance or composition in itself. "I use 'compositional' techniques such as staying within the same keys at times or varying the tempo and texture as I travel between various recordings" to create a total listening experience. "I'd call her one of our hardest working and best volunteers," say CJAM Music Director Chris White.
Adams has recently returned to performing and composing and also hosts a weekly live jazz series which is recorded and aired on Detroit station WVMV 98.7FM. You can catch the Judy Adams Show on CJAM91.FM on Tuesday mornings from 9 to 10:30A.M. or online at www.cjam.ca.
Here are some more shows that don't let themselves be bound by genre or convention:
World Spinning on the CKUA Radio Network across Alberta
Sunday from 4 P.M. to 6 P.M. MT
Online at www.ckua.org
Borrowed Tunes on CJSR FM88 in Edmonton, AB
Monday from 6 P.M. to 7 P.M. MT
Online at www.cjsr.com
World Wide Wake Up Show on CIUT89.5FM in Toronto, ON
Thursday from 5 A.M. to 8:30 A.M. ET
Online at www.ciut.fm
Kite Flying Society on CHUO 89.1FM in Ottawa, ON
Tuesday from 2 P.M. to 3 P.M. ET
Online at www.chuo.fm
No, I'm Iron Man on CKUT 90.1FM in Montreal, QC
Thursday from 4 P.M. to 6 P.M. ET
Online at www.ckut.ca