The Carol McCartney Interview
Canadian jazz vocalist Carol McCartney skats and solos with a stellar cast on
her new record, A Night in Tunisia
By Jim Dupuis
I interviewed sax player/composer Bob Brough back in the spring of 2005. He had a new CD coming out called Like a Spring Day that featured a wonderful vocalist named Carol McCartney, so I asked him about her. He said "We met many years ago in Toronto in the music scene playing for various functions and I thought to myself, 'Boy I really like her voice and if I ever had a situation where a vocalist was required I'd give her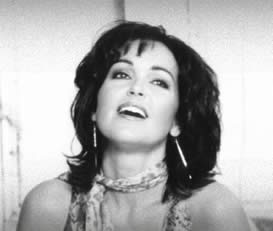 On her new CD, A Night in Tunisia,singer Carol McCartney
teams up with some of her favourite band matesthe first call, as she just has the clearest voice and just sings any song nice and straight and of course this time she's taken on skatting,, which is really a lot of fun." Soon after, a big band came through town headed by clarinetist Bob DeAngelis. The performance was a symphony concert based on the music of Benny Goodman and the swing era, which is some of my favorite music, so I bought a ticket.. Sure enough the featured vocalist was Carol McCartney. Everything that Bob Brough had said was true … and more. I met her after her performance she was busy signing CDs (including my copy), but it was too late in the evening for a chat. Fast forward to 2007 and Bob Brough's partner Sonja Tran tells me that Carol is releasing a CD, and I soon had a copy in hand.
Carol is much in demand and is often the featured vocalist for one of Canada's premiere big bands, the Rex Hotel Orchestra, led by trumpeter/arranger John MacLeod. These performances have included a gig at the Toronto Downtown Jazz Festival in 2006.
Carol's voice has also been featured on trumpeter Chase Sanborn's critically-acclaimed CDs Sweet and Low and Cut To the Chase; and on the JUNO-nominated recording Taking Flight with big band Freeflight. Carol has had a long professional relationship with jazz legend Peter Appleyard and continues to appear with both his big band and quintet. Appleyard, an original member of the Benny Goodman Sextet, played a large role in Carol beginning her career many years ago, asking her to perform alongside the likes of Mel Lewis, Bucky Pizzarelli. Also, comedian Bob Newhart has invited Carol to open his shows on numerous occasions and she has performed extensively in the U.S. and Canada, Europe and Asia. I recently got in touch with Carol and now we had time for the chat we missed in 2005.
JD: Maybe you could tell us a bit about your background. Where did you grow up?
CM: I grew up in northwestern Toronto. One of the few; a lot of people sort of come here, but I was actually born here. I grew up in Toronto and went to Sheridan College, where I had the beginning of my formal training and from there I studied for about thirteen years with different vocal coaches.
JD: Is there anybody that stood out?
CM: I had two favorites. Gloria Ferrer; who I was studying with. She was probably my favorite vocal coach. She died suddenly of a heart attack. That was not too good and I had to find another teacher after that. I ended up with Bill Vincent, who was also a marvelous vocal coach and unfortunately he's gone as well. I had stopped studying with him prior to this death. Now I teach part-time at Mohawk College in the jazz vocal program, just a couple of days a week.
JD: Well that's good that you are giving back.
CM: Ya, exactly.
JD: So, in your family, were your parents musically inclined at all?
CM: My father used to play opera and I have to be honest, I really hated it as a kid. I have much more respect for the form now and have actually gone to a couple of operas, but my mom sang in the church choir and I sang in the church choir for about eight years. I guess that's where I started to sing--in the church choir, from a pretty young age.
JD: Now Carol, this is a hard question. What is your first music memory? What is the first time you heard music that you think you can remember?
CM: Wow, first music memory--talking about singing in church obviously, but my father used to play "Moon River" with Andy Williams and I remember him playing that. That's one of his favorite songs. I can definitely remember the first time I heard Nancy Wilson sing. I think somebody told me to buy a CD. Well it wasn't a CD at that time, it would have been a record and that made a big impact on me for sure.
JD: Ya, Nancy's great.
CM: What a voice!
JD: Your friend didn't lead you astray at all.
CM: You know who it was? It was Mike Murley. It was many years ago and we were all working at a place downtown here. I was working with Bobby Herriot and his Big Band. This is like fifteen years about, probably. You know where we were at? We were at The Old Mill; ya, singing in The Old Mill. It was a ten piece band that Bobby Herriot, who is a trumpet player here in town had put together and it was one of the few steady gigs in town and everybody took their turn hopping and bopping in there every now and then.
JD: You mentioned that you had a couple of great teachers and you have developed your own vocal style over the years, but which other singers influenced you the most.
CM: Well I again, I would say that one of the influences would be Nancy Wilson, Shirley Horn, Ella Fitzgerald. For sure I've listened to her a fair bit in the last few years, because I only started to skat about five years ago. I decided that it was something I wanted to add into my bag of tricks, so if you want to learn to skat you might as well listen to Ella. She's the best! (laughs).
JD: Ya, that's true. She's a good one to learn off of. How difficult is it to skat? A lot of people don't have any idea.
CM: It's pretty tricky. The whole thing with singers; what we hang on to--what we know is melody and lyric and when you're skatting you're taking away lyrics and you're taking away melody (laughs) so it is a strange feeling to be out there hanging in the wind as it were. It's kind of spooky, but once you get your sensibility of where you are in the music and you understand your progressions that are going on underneath you and playing a bit of piano will definitely help you with this. Not that I'm a great pianist by any stretch of the imagination but I can sort of bang out the chords to get a sense of what's going on so that when you're up there skatting it's not the first time you thought about doing it. You can work at home a bit, which is a good idea. I didn't always do that (laughs). I went to start skatting to see what happens, but you can end up with a train wreck, then (laughs).
JD: Yes. I have witnessed a few skatting trains wrecks in my time.
CM: Oh, yea! As you do it more, it's developing a vocabulary for yourself. I think that's the hardest part. If you have good ears and you have a good sensiblity for harmony then chances are good. I mean you are always half a tone away from a good sounding note (laughs) so if you hit on something that doesn't sound great, just move half a tone and you're in a good spot. There are no wrong notes, but there are better places to resolve than others. So that's what I try to think about and mostly it's a matter of just feeling comfortable in the tune and just feeling comfortable enough that you can have fun. I think the whole point of skatting is to have fun. It shouldn't be a hair-raising experience. If it is a hair-raising experience you're probably not ready to skat on that tune yet.
JD: That makes a lot of sense.
CM: ... and if you listen to the Ella (Fitzgerald) recordings, you can tell that she is just having a ball. She's not worried about a thing. She's having a great time.
JD: It seems like the band is, too.
CM: Oh yea, oh yea.
JD: On the Ella recordings you can sense that they are really getting into it.
CM: Oh yea, and the total sense--this wonderful sense of freedom and exploration and everything else. It's the initial steps into that are hair-raising as I say, because you are sort of letting go of everything you know when you let go of the melody and the lyrics--then "oow."
When you're skatting you're taking away lyrics and you're taking away melody, so it is a strange feeling to be out there hanging in the wind as it were. It's kind of spooky.

Those are the things you hang on to.
JD: Well speaking of skatting, you have a new CD called A Night in Tunisia and there are a couple of cuts there where you show your skatting talents. I enjoyed all the cuts, but I particularly enjoyed those. They are "Jersey Bounce" and the title cut "A Night In Tunisia."
CM: Thank you. I particularly had a good time skatting on "Tunisia." I'm not even sure why. I guess it's the progression and I guess I heard a lot of horn players solo on it and that kind of thing helps, too. Listening to your fellow musicians definitely helps you gain a sensibility of what to do and how to do it, especially when you are working with people like Bob Brough and Guido Basso. It helps. That's for sure, they definitely know how to solo over those changes.
JD: That's quite a group you have put together on that CD. You just mentioned Bob Brough and Guido Basso and the great Peter Appleyard. How did you get hold of him? Have you known him for a long time or ...?
CM: I've been working with Peter for over twenty years on and off. He gave me my first big break as it were, doing concerts with him when I was just out of college and really had no business being on stage (laughs) with him and his musician friends, but that's pretty much where I met most of these guys. John Sherwood works pretty much with Peter. He's the fellow that arranged all of the tunes on the record. I worked very closely with John on the record. Dave Young is someone who I met when I was twentyish on a Peter Appleyard job. Terry Clarke I met a little later on, because he was in New York for quite a while.
JD: He was with The Fifth Dimension, I think.
CM: I think so, too, and Reg Schwager, of course. He and I both started out around the same time, so I met him on a Peter Appleyard job as well. Mostly, I have Peter's band (laughs) and Peter's been very good about it and he's even talking about coming down to my CD release. He said, "You're at the Courthouse on September 19th. I'll be there." He's been extremely supportive, and it's such a great thing to have him on the CD. I'm so happy. What happened was that when I decided to make my own record, I decided that I wanted to have all the people on it who have been my mentors over the years. So of course Peter and John (Sherwood) and Dave Young had to be on it. And, that's why I put John MacLeod on a track with me; that I do predominately with Geoff Young on guitar. It's just a little trio song. We do "You Don't Know What Love Is," that we do kind of in our own little way. When I was getting to the end of the record, I think that was the last song that I recorded, I realized that I didn't have John MacLeod anywhere on it and I thought that I have to have John MacLeod on this record because I've done a lot of work with him over the years. I've sung with his big band, The Rex Hotel Big Band, a twenty piece big band; a really fantastic band. So I thought, "I've got to have John somewhere, so I added him into this duet that I had done with Geoff Young at a concert out at Mohawk College.
JD: That's kind of neat.
CM: I'm so glad that I did, because his solo is a real highlight in the tune. I like what he does, a lot.
JD: You have a wide variety of tunes on this CD. There's an obscure one that I recognized. It's in my head and I know I heard it on a folk album, but by whom I don't know. It's the " Dat Dere" tune. Where did you find that?
CM: Geez, where did I first hear that? I think a student of mine did it about five years ago (laughs). I think a student sang it and sang it particularly well. I thought that is was an interesting tune. It's by Bobbie Timmons and I think he wrote it for his son, actually. When I talked to Dave Young about doing it for the record, we were going to get together to rehearse it and Dave got a horrible cold. This was like to week before we did the three days of recording. He called me and told me, "You don't want to see me. You don't want to be anywhere near me. I'm quite sick and you don't want to get this." I think he had played this with Bobby Timmons when he was in Toronto, at some point. He said, "I know the tune and don't worry. Whatever key you do it in is fine." So we showed up at the studio and ran it through a few times and I think the track that is on the recording is our third take of it, because I think it was in G minor and he wasn't used to it that key, but he was flawless every time he played it. So that's "Dat Dere." It's such an unusual tune and I totally thought it would sound great with just bass and voice. I'm really happy the way it turned out. Of course with Dave Young, it's bound to sound good (laughs).
JD: Well it takes a certain amount of bravery to strip it right down to just you and the bass and on the other cut you mentioned "You Don't Know What Love Is" there's just two of you for most of it. That's taking some chances. You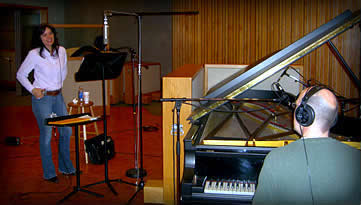 Carol McCartney in the studio with John McLeod.could have gone the safe route and did a bunch of big band songs. You took some chances and I think it really worked. It's good that you did and that makes for a nice variety on the CD.
CM: Why thank you. I actually like singing with just one other instrument. I like it a lot. I like doing things roboto and taking things out of time where we really have to listen to each other and see what happens, and it's different every time. It keeps it exciting and spontaneous. Then I was worried that in wanting to do particular songs like that it just sort of pared down, then the meat and potatoes of the record are more like seven piece arrangements with trumpet and saxophone. Then I was worried about the variety. Was it going to go all together cohesively? But, I liked it. It gives a nice variety as you say. It gives some breathing space. Particularly "You Don't Know What Love Is" is a kind of a very sort of spacious take on the tune. It gives people a chance to sit back for a minute; whereas some of the other tunes are more action-packed like "A Night in Tunisia" is pretty hoppin' and boppin' there. So ya, I'm glad that it didn't take away from the thing as a cohesive package. You worry about it you know.
JD: It's good to have a nice mix, too. If you have too much of the same thing, people will listen and it becomes background after a while. When you have some variety people have to listen. Often when people put on a CD they are reading or writing or doing something on a computer they don't really listen and with a CD like this where you change it up with the tunes that's good. Then, they may be more inclined to listen closely and that is really good. I wish more people would do that kind of thing.
CM: Oh, great.
JD: Well, how do we get A Night in Tunisia?
CM: You can get it on CD Baby which is the easiest way and I'm planning on selling them when I travel around. I don't have any plans to be out west at the moment, but that could change, hopefully. I love going out west. I really do. It's the most beautiful part of Canada.
JD: Thanks for speaking with me. Once again Carol MccCartney's new CD is A Night in Tunisia and it's available on CD Baby and at her concert appearances.