Purrs & Hisses from Meow Records
By Bryndis Ogmundson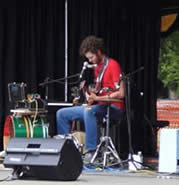 this is chad sporting a meow army
shirt at folkfest 2007You wanna know where I've been? I mean, the three of you that faithfully read my spew of nonsense every month, do you wanna know why there was no August Purrs & Hisses? My store flooded! Here I am open less than a year and one night of downpour and my store floods. Walls were ruined, bags were destroyed, and oh dear, the thousands of rekkids that were lost.
Fortunately I have insurance!
Yes, July was a crazy month. Aside from the flood, Prince George celebrated its fourth annual FolkFest. And I, as in Meow

this is chad being awesome at the
midnight garden party Records (www.meowrecords.ca), sponsored an artist. Who you ask? None other than the very awesome Chad VanGaalen. I hosted a private midnight garden party that he performed at on the Friday night, and then on the Saturday he wowed the folkies in the park.
So, as you can imagine, July was crazy. I barely slept, let alone write my monthly column. But it's all back to normal now.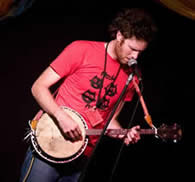 more chad in his meow army shirtPurrs:
M.I.A.'s Kala is probably the funnest thing I've heard in a while. I don't even particularly like each song on their own, but as an album it stands towers above most new releases. In the record store, it gets our asses shaking on a daily basis. If you haven't tried it out, do. She even covers the Pixies in a very M.I.A. way. The best track of all is "Paper Planes." No foolin'.
Hisses:
Wax Mannequin... boooooooooooooo...