Ronnie LeBlanc and His Magic Hat
Ronnie LeBlanc pulls a rabbit out of his magic hat and comes back more solid than ever
By Shelley Gummeson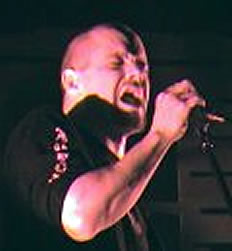 last a lot of Friends in the breakup of his band
An Acoustic SinTeetering on the precipice of the "bigs" with 10,000 albums sold and an East Coast Music Award under your belt, what do you do when it all implodes, leaving shreds of friendships, songs and dreams. This is Ronnie LeBlanc's story of lost and found.
He's pretty relaxed talking on the phone, and there is no evidence of the trance inducing, chaotic, and hypnotic performer that he is reported to be on stage.Right now he's at home, writing songs, planning tours, developing a website, and sharing Mozart with his newborn baby boy.
His passion for song writing, singing, and a connection with the resonance of an acoustic guitar became his sin - An Acoustic Sin, that is. An Acoustic Sin was Ronnie's band from '91-2001. They toiled, toured, terrorized, won an East Coast Music Award, and then broke up. A sizeable offer had put
You know I just want to play music and write albums and get what I've written done

the band in the pressure cooker, and cranked up the heat until they blew. In the process, this songwriters' identity was all but obliterated. So what has happened between then and now? Ron became reflective and had this to say. "I tried to form other bands because I was missing that relationship. Soon enough I found that it was creating the same situations for me. It's very difficult to form a band, to find musicians that will give up everything to do this plus put 100% into it. When one doesn't, it creates so much animosity and problems that you end up losing friends in the process. So I said, "This is something that I cannot do anymore." The only thing I can do is hire my musicians to play my shows. It's a lot easier on your mind, your soul and your friendships. I lost a lot of friends in my life because of bands and I didn't want to go through that any more. So I figured I might as well be alone and I toured Quebec, Montreal and Toronto for four years. Then in 2005 I said, "That's it, I'm going to record my album, focus on it and tour." Ronnie LeBlanc was ready. According to him, he says more than ready. "At the same time it was nice to get away from everything and rethink. I did so and it really helped my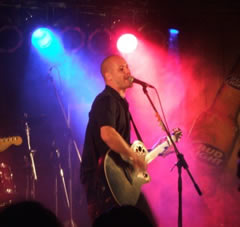 His new album was a chance to say to himself and to
family,friends and fans; I told you so, I can do thissoul. Everything about my music is different now. I have more direction."
In his younger days, Ron had a folder he called "jack slap's" where he put his new songs or songs that kind of slapped you in the face. More recently a friend commented, "Ronnie will have to pull a rabbit out of his hat to be better than An Acoustic Sin." His new album, "Jack Slap's Magic Hat" was the rabbit that came out of the hat.Ronnie is back, focused, ferocious and ready to kick some ass.
"At first I was battling with myself, should I come out with this one style of independent artist or should I do what I've always done and play every style and make it blend in. The album goes from a kind of folkish country style to heavier and darker style starting at song seven. I never wanted to lose that aspect because when I was in my teenage years I was a rebel head banger type of guy, it's a part of me and I wanted it to reflect in my music. Along with that, I'm also country roots, blues roots and rock. I didn't want to lose any of that. So I figure what's the worst that could happen? People could say it's too different. Well you know, so what. I have enough material to do all kinds of music. This album is my ambassador to that."
How does this album reflect Ronnie LeBlanc now? "I'm hoping that it shows the many characteristics of me. I'm hoping that it shows the seriousness in my writing. I'm hoping that it shows that this is my heart and my soul and the world will accept it as is. Most of all it was something to prove to myself. This album was to say, "Here Ronnie, you finally did it on your own. I did everything from the pictures to the designing of the sleeve, to the actual mix down of the album. I felt such a part of it. When I got the first copy, I honestly fell apart because it had touched me so much. It was so important to me because you go through a struggle when you leave a band. The transformation into a solo act
I fall into the story of my songs completely

was hard. There was a lot of animosity from fans, saying you'll never do this on your own.This was my chance to say to myself, my fans, my family and my friends, I told you so, I can do this. I've never been more happy for an album and this is my fourth. My dream is believe it or not, not to become a rock star. My dream is to get every song I've written onto albums. You know, I just want to play music and write albums and get what I've written done."
What is it that Ron wants all of us to know about him? "I want you to know that I'll never let you down. I will always give you 200% of myself. I want you to know that."
Ronnie LeBlanc goes to his soundproof closet at the end of the world, where he writes his songs in solitude. On stage he hands us his heart and soul with utter abandon and emotion. "I fall into the story of my songs completely," he says. We're falling with you Ronnie.
Jazz On The Rocks with Shelley G airs every Friday night from 5-7 p.m. on 92.5 The X, CFBX Campus Community Radio in Kamloops, BC. For the past six years she has programmed great jazz, funk, soul and jazz like substances, as she says, "Purely for your listening pleasure."