They Don't Have It In This Town ... or Do They?
This month earshot's jazz columnist abandons the national jazz scene and muses metaphorically while trying to hunt down jazz in his western town.
By Jim Dupuis
"I've been searching through the libraries and the second
hand shops lookin for Baudelaire "paris spleen"
is it this town or maybe my head that's drivin me mad
give me Paris or give me spleen"
Kamloops poet Paul Liddy from
"they don't have it in this town"
I can relate. I'm a jazz lover living in Kamloops, BC, a town that on the surface seems to have little appreciation for that genre of music and apparently Baudelaire, too. Yet there are pockets of jazz appreciation popping up here and there. The Kamloops Jazz Society brings in around five shows per year, but they have had to move the shows to smaller venues due to poor attendance, with the odd exception. Yet there are signs of strength and vitality in this small town scene.
A couple of small venues downtown have been willing to take a chance on jazz shows and one, The Commodore is a funky looking restaurant/club that is in a building that has gone through a number on reincarnations over the years and features live jazz on Friday nights. Managing Partner and lead vocalist of the house band at The Commodore, Bernadette Creutzlechleitner told me that, in general, she noticed that live music was lacking in Kamloops and that when she and her

Vocalist Bernadette Creutzlechleitner and band
at The Commodore husband acquired the restaurant they thought they would give jazz a shot. "I had never sung jazz in my whole life. Never. I had to come all the way to Canada and immigrate to discover what beautiful and lovely musicians there were here in Kamloops. I wanted to do something with live music here in Kamloops, as I used to sing in Holland. I got together through World of Music, back then, and it took off. Peter Ward (local bassist and music educator) helped me immensely with repertoire choices and all kinds of tools which were so handy for me. I loved it so much and I got hungry for more (laughs)." But why jazz? She explained, "I think that the variety that jazz has for me, as a vocalist—it's very easy to do the pop tunes. You do them ABC and that's it. You can do a little improvisation, but not too much. With jazz, what we do on stage is interact with one another. The way that I play makes me alert.
I think that's what jazz is all about; musicians interacting amongst each other on stage

Hey I can do that here, and I can do that there and that makes it really interesting. I think that's what jazz is all about; musicians interacting amongst each other on stage."
Over time she used a roster of rotating musicians but has recently decided on a set group for consistency and also the need to rehearse was not being satisfied. While her drummer is in Shanghai at the moment the rest of the band consists of electric bass player Neil Brun and guitarist Kris Ruston. Dale Rasmussen is on piano and vocals, and Julian Veres on saxophone and Bernadette on vocals and percussions. Bernadette added, "We are going to try to do a weekly rehearsal and have a really wide repertoire. The focus will be on jazz, but we will do a little more—like modern jazz, acid jazz, jazz rock and music like Jamiroquai. We really want widen ourselves a bit more. Dale Rasmussen is a really good vocalist and he loves to do harmonies. He wants to do more harmony stuff with me. There are some nice possibilities. We want to tackle a couple of Beatles tunes and make them jazzier. That's really nice I think. Ya, so that's the plan." The Commodore has booked Montreal's Julie Crochetiere and her band for late March. She has appeared at a number of major jazz festivals. On other nights the Commodore sometimes brings in people like Bob Wiseman (former Blue Rodeo keyboardist), local musician Brenda Lively. Also, a comedy show or two is planned featuring Joey Jack, with musical backing. Bernadette Creutzlechleitner and The Commodore are an important part of what is a music revival in Kamloops.
Another venue, The Loft, is actually a recording studio owned by musicians and school teachers Mike Turner and Cathi Marshall. The small room is extremely homey and Mike and Cathi treat everyone like close friends. They recently started including jazz shows. Jazz musicians appearing in The Loft last year included Phil Dwyer and, Fraser Calhoun with musicians from Humber College in Toronto. In April local promoter Ray Nyuli is bringing Cuban trumpeter extraordinaire Alex Baro, and also vocalist Julie Michels with guitairist Kevin Barrett from Toronto to The Loft. Amidst the various musical acts poet Paul Liddy read from his most recent book of poetry Whitewashing us all at The Loft and he had the musical backing of local musicians including Sean Luciw.
Luciw has been a part of the Kamloops music scene since he was a teenager and has put out a number of CDs in the electronic and metal fields under his own name and under the name Lex Plexus. He is a composer, musician, educator, producer and author. Sean Luciw is the man behind a music project called Guppy Tyke and has just released a CD called Public Enema #2. He has been teaching at Long & McQuade and has over 30 students.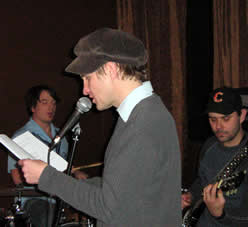 Richard Graham (drums), poet Paul Liddy,
Sean Luciw (guitar) at The Loft I asked him about his musical background. "I started out in grade ten with a guitar class in junior high, where I learned the right way to play a chord and make it sound good and put your fingers in the right spot and do the strumming and stuff like that. After that I was mostly self-taught through magazines and jamming and composing. I've taken a few lessons along the way. It's good to put a new spin on what you are doing. I always change my style of stuff that I've been learning. Lately I've been learning some jazz theory and kind of making a bit of a return to the classical finger picking style. It's always something fresh, eh?
He says that Public Enema #2 would be classified as fusion, "like jazz/rock fusion basically. There are electronic elements on there. Now days, the whole jazz genre is including elements that wouldn't have been considered. Experimental electronics is becoming part of jazz these days. That's naturally a part of what I do. I was in a techno band some years ago and I really go into electronic music. There's definitely a rock element. A lot of the lead guitars are distorted. You know the wailing, screaming kind of guitars and every once in a while it really settles down to some really dreamy, kind of fluffy stuff, like the classical stuff. I guess jazz fusion would be the most accurate, but it borrows from so many different genres, really." The album does contain jazz elements and also borrows from the music of India with sitars on a couple of tracks. But heavy rock is never far away; case in point, the track "Lava Proof Jazz Echo." Sean commented, "Putting guitars through a stereo echo where the sound bounces back and forth has just always been one of my favourite kind of sounds and I wanted to—sort of—get a chance to use some of jazz theory that I had been
Twelve bar blues is one of the most comfortable contexts to improvise

integrating and try to fly with it; try to bring it alive into some improvisation. It's got a real dreamy kind of feel to it and I think it's nice." As to Pink Floyd influences, he said, "Pink Floyd's awesome for all that really spacey, dreamy, nice 3-D kind of effect.
Sean has put out two blues projects in the past that have some neat stuff on them. The Dave MacLean Experiment is mix of electronics and blues and Stretch Alexander is more traditional. I asked him about blues and he replied, "Well, it's funny the way the blues came into my musicianship. At the beginning I was way more into the classical and heavy metal, which I still am, but I think blues came along with jamming; just jamming with friends. Twelve bar blues is one of the most comfortable contexts to improvise, really. So I really like to do that. You mentioned the electronic thing with Dave MacLean. He's a harp player (harmonica) and we did that CD where I put the techno in with the harmonica. That was a lot of fun. And, Stretch Alexander, I wanted to see how well I could sing, you know. I've been putting that off for a long time. Like most people I don't really like the sound of my voice on the tape recorder. Singing was something that was missing. I'd do guitars and keyboards and all that kind of stuff, but I was just shy about the singing, so I wanted to give that a try." Stretch Alexander went to #1 on the CFBX blues charts. The bluesy cut, 'Cruisin'" by Guppy Tyke had Guy Poulin on lead guitar and Sean played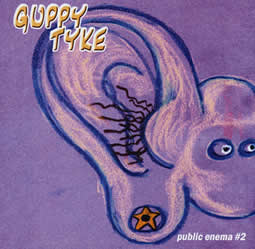 Sean Luciw's project Guppy Tykerhythm guitar, bass, an egg shaker, a marimba and he put together the drum loops. Public Enema #2 is now available on CDbaby.com and should be available in Kamloops music stores, soon. Sean Luciw recently had a book published Chaos in Boxes: Twisted Adventures in Music Theory and it is available at Amazon.com and producepress.com, and is expected in book stores in Kamloops in the near future.
Getting back to Paul Liddy, was Paris Spleen a metaphor for the jazz scene in Kamloops or …? "No. I was writing that in Kamloops actually and just thinking about how this town is so dead and you're searching for something. It could pretty much be every small town. I'm saying that you just can't find it. You have to search for it yourself and if you can't actually find it then I think something is missing and you have to create it yourself.
That's what I'm saying." I think he's right. People like Bernadette Creutzlechleitner, Mike Turner and Cathi Marshall, Ray Nyuli and the Kamloops Jazz Society soldier on. Musicians such as Sean Luciw, Chris Ruston, Peter Ward and Richard Graham may not be well known outside of Kamloops, but maybe they should and perhaps … they do have it in this town.