Birds of a Feather: Shearwater
Austin band is on the road supporting their fourth album Rook
By Nick Pannu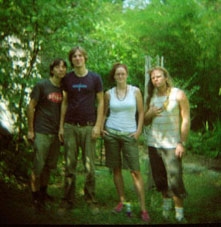 A quiet green moment for ShearwaterEver been a little nervous about approaching a band when you really like their music? It's almost as if you want to reciprocate the envy that they have bestowed upon. You want to say the right things and do the right things so maybe they will think you're alright..You're cool. Walking with sweaty palms as I re- rehearsed my intro to the band inside my head, suddenly I spotted Shearwater unloading their equipment outside of Richards on Richards in Vancouver.
With a little bit of trepredation and foreboding I approached the band: "Hi I'm the guy the guy from !earshot who's been sent to interview you." Thor Harris and Kimberly Burke graciously told me to wait for Jonathan Meiburg (lead vocals) who would do the interview for the band. Equally as cordial, Jonathan Meiburg emerged from the club entrance and greeted me. Feeling a more comfortable and at ease, I proceeded down Vancouver's Richards street with Jonathan Meiburg in search of a café. Eventually finding a comfortable inside a nook and cranny of a café we proceeded with the interview.
Nick Pannu: How are doing and thanks for taking the time to do this interview with !earshot
Jonathan Meiburg: Thanks very much it's good to be here.
Nick Pannu: Shearwater's new album, Rook premiered in the opening show in New York, and almost abruptly after the band headed off to Boston, Chicago, Montreal, Toronto and has made it's way to Vancouver.
Jonathan Meiburg: Yeah, we're really glad to be here. Since we left New York we have been on tour with clinic for the last week and we've had a great time touring with them and happy to be here in what seems a nice summers day in the middle of spring.
N: The touring aspect, yeah obviously artists pick up a different vibe from playing at different venues within the same city, the same town,..but travelling from these you can say distinct regions..performing in New York, going to Boston, to central Canada and then coming to the west coast of Canada..What vibe does the band pick up from the different crowds and how does that effect your playing or your style."

J: It really does change a lot from place to place and it's weird thing to drive from one ocean to the next in a week.
I like to make records that are very welcoming and offer the listener a glimpse into this other world and let you come into it

It puts a zap on your head and you become a little disorientated. Audiences-it's funny we were just talking about this last night- vary in terms of the energy that you get back from them. And sometimes it's the same so when you go to Chicago you know the audience will be like this, but sometimes in the same city but on different nights you'll have different feelings. So it's good for us to play in a lot of different settings, I think it makes us much stronger as a band and it's fun to respond to the energy that you get from the audience in a different way and the way that you are playing."

N: "Shearwater's new album, Rook is just being released.. how long¦ was the whole process with respect to band members writing, and doing production in studio. Band members have obviously been anticipating the album's release."
J: "Yeah we are really glad that it's finally coming out. We worked on the record from the first time I started writing to when we recorded which was about a year. The actual time spent recording was about a 1 ½ month."
N: "Listening closely to the lyrics,.,. it's really interesting the approach the band takes to song writing. There are issues being presented, but they are not necessarily coercive. It's not like here this our position, and this is how it is. It's like you're just presenting it to the listener to think about; and the eloquent soothing nature of your music is able to put the listener in that mindset."
J: I don't want to make art that grabs you by the lapels and yells at you. I like to make records that are very welcoming and offer the listener a glimpse into this other world and let you come into it. It's one of the things that I like most about clinic..their music does that really wonderfully. They suggest this world of musical rules and aesthetic desions that is really unique."
The release of Rook has been eagerly anticipated equally by the band. Jonathan Meiburg commented that the new record really reflects how much the band has evolved over four albums since forming in 1999. He feels it is the most complete and cohesive record that they have made. Shearwater is currently on full tour across the US and Canada and on to Europe. Check out Shearwater's tour dates on their MySpace at www.myspace.com/shearwater.