Electrifying Melodies from a Cellar in Vancouver: The Melody Diachun Interview
Melody Diachun has pulled together some talented players and eclectic influences to together put a stellar album
By Jim Dupuis
Vocalist/composer Melody Diachun (pronounced Day-shun) has studied under some of the great vocalists in the jazz world and has seen much of North America doing it. She and her husband bassist/guitarist/composer, the amiable and 'flexible' Doug Stephenson recently appeared in Kamlooops, BC as part of The Melody Diachun EQ (Electronic Quintet) which was the opening act of a double bill which included the PJ Perry Campbell Ryga Quintet.
Beforehand Melody Diachun commented … "the contrast between these two bands is going to be interesting because the PJ Perry Campbell Ryga Quintet is very high quality, traditional jazz and we're happy to be opening for them with a music that is going to contrast with what they are doing." While Diachun's music may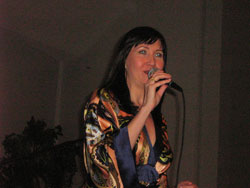 Melody Diachun have contrasted with the music from the quintet of seasoned veterans, it also complemented it too. Both bands contained the fine bass work of Doug Stephenson; electric in her band; acoustic in Perry's. Soprano sax player Cory Weeds showed that he's not just a restaurant/club owner, radio show host and record company executive. As part of the opening act he gave us a taste of things to come before greats Perry and Ryga took the stage. Weeds is really not given enough credit for his talents on the sax, as he often purposely plays second fiddle to the jazz greats he recruits to record with him on his Cellar Live label.
The first half of the EQ show contained mainly originals off Diachun's EQ CD and the second half included cover versions from Bobby McFerrin, Radiohead, and a version of Joni Mitchell's "Free Man in Paris" that had the audience 'hanging on to their hats' as she promised. The mix of pop and jazz was a hit with an audience that was probably much more familiar with the headliners Perry and Ryga's work. I recently talked with Melody, prior to her appearance in Kamloops.

JD: You have a new CD, called Melody Diachun EQ, out on the Cellar Live label, which is run by Cory Weeds, who plays soprano sax on your CD: Tell us about it.
MD: Let's see. It's about half original material and the other half is by songwriters I love. The approach that we have taken is different than what you usually hear from jazz vocalists in that it is not jazz standards. I like music of all sorts, including the standards, but the music is more contemporary. So what we are doing is taking a jazz approach to music written by others. We have a Paul Simon song in there. We have something by Bobbie McFerron, Joni Mitchell, Radiohead and even an R&B singer named D'Angelo. The other five songs on the album are originals. There's a big influence with funk and pop music and also some Afro-Cuban style mixed in there. So it's something fresh and new and we get a really good response from people when they hear it.
JD: Yes you got a good response from me and there is still a definite jazz feel about it. So, you and your husband, Doug Stephenson were involved in writing five of the tracks on this CD, or was it six?
MD: Let's see. One of them we wrote together and a two were written with Chris Andrews, who is a wonderful piano player from Edmonton. I wrote two by myself, so in one form or another we either wrote or co-wrote those songs.
JD: So how does that work? Do you write lyrics, music or both?
MD: Both. So one of the songs, "Little Red Address Book," I wrote years ago when I lived in New York City. That came to me as a melodic idea. The lyrics for that one came pretty fast. Then there are other ones. There is a song named "Lothario" that Doug wrote as an instrumental and decided later that it should have words as it would be a great vocal tune, so he started writing lyrics and I helped him with the lyrics a bit. It was collaboration. I do find it much easier to write when I'm inspired; so lyrics and the melody at the same time, rather than trying to apply a lyric to a melody that's already been written. That's kind of like a game of Tetris. It's a lot of shoving around and seeing what rhymes and it's not as elegant as a process when it all comes in one big inspiration.
JD: Either way the results are very good. If anyone wants to get Melody Diachun EQ how do they go about it?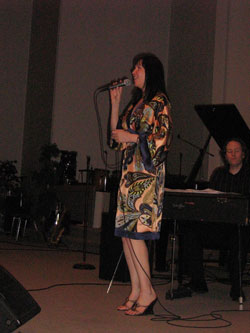 Melody Diachun
MD: I would suggest that you go to the Cellar Live website www.cellarlive.com and the album is available for purchase as an actual CD. You purchase it as a CD or individual tracks and it's also available on i-Tunes and CD Baby. So you could look it up under my name, which is pronounced Dayshun but spelled Diachun.
JD: You're obviously embracing the technology and peoples have a lot of options to be your music.
MD: I just thought of another way to do it, Jim. You can come to our shows and I'll bring my Sharpie and sign it too.
JD: That would be really cool. Melody, I understand that you come from a musical family. Wasn't your father a musician?
MD: Yes, my dad is. He doesn't perform anymore. He is a retired English teacher. He also played gigs on the weekends. He brought me up singing. I remember the first home that I lived in he was always playing piano and he would say, "Melody, come and sing with me," and I do remember that from a very early age. My mother isn't a musician but she was always trying to encourage me (laughs) from the sidelines. I think they call that (laughs) stage Mom. She tries to sing though. She phones every year and sings Happy Birthday and laughs about (laughs). I appreciate it.
JD: Well, I know you had music education starting out as a child. Would you tell us about your music education background and maybe one or two of your favourite teachers?
MD: Yes. I started out when I was about six on piano. I am by no means a piano player though. I use the piano as a tool to write music and help me communicate with musicians I work with. I also started in the school band when I was a kid. I played the French horn in grade seven and I learned electric bass and sang with the jazz band in school and then I went on to university and one of my favourite teachers there was Ranee Lee. She's a wonderful vocalist in Montreal. She is great because she took the approach with me, where she didn't want to mess with my actual singing apparatus. She didn't actually teach me technique, in other words. We just talked about the jazz idiom and she tried to get me to sing a lot of new jazz repertoire, as I wasn't very familiar with the jazz repertoire at that point, as having grown up on pop music. Then I got to take some lessons with Sheila Jordan, when I lived in New York City for a while. I was there for a year and Sheila Jordan is a very cool lady. I don't know if you've had the chance to meet her, but she's wonderful. She's in Calgary now and I'd recommend anyone to go see her. She is a great singer and a cool lady. She's the real deal, as they say. So that was great and she was very encouraging. She was like, "Oh I heard you were going to be good …". She was very surprised that we even have jazz in Canada, I think (laughs). That was several years ago and she's since been up to teach a lot since then. She used to have a jazz vocal camp in Banff and she's been back and forth across the border a lot. Go hear her. She's wonderful.
JD: I won't have a chance to, but I wish that I could. One of the elderly divas that I saw was Betty Carter in Vancouver at the Commodore. God, it was just the voice as an instrument. Actually that leads me to my next question with you. You don't just sing, you use your voice as a musical instrument and you kind of go beyond written lyrics at times. How did that all come about? Now we know Bobby McFerrin can do that and Jon Hendricks with vocalese and Louis (Armstrong) and Ella (Fitzgerald) back in the day with skat; good versions of skat. How did this all come about with you?
MD: I never thought of it as any different as singing with lyrics. That's a very good question. I think I started doing it when I was in Montreal. I was asked to sing with a big band—the Montreal All Star Big Band—I think it was called. They did music by Kenny Wheeler and there's a beautiful suite that's called "Music for Large and Small Ensemble." There's one piece where the vocal part uses the melody, but the rest of it uses the voice as an instrument within the big band. In another case we had a singer with the big band and the singer is up front and the focal point of the band, but in this music it carries the same weight as any of the other horns in the band. You know what I mean? You're not supposed to be louder or out in front singing the melody. You are just part of the colour—the whole colour of the band. I think that was the first time I was introduced to that idea. I did perform that piece with Jill Townsend's Big Band in Vancouver, since, which was great fun, one the CBC recording years ago. And, Bobby McFerrin, of course, has been a big inspiration to me over the years. There's one piece on the album EQ called "Invocation" that I thought would suit our band really well, so I transcribed parts from the Bobby McFerrin CD and tried it out with the band and I loved it so much that we decided to record that piece. They call that vocalese and basically what that is, is a melody with no lyrics.
JD: Yes, it is. In fact I just played your version on my show and I played it along with Bobby McFerrin and Chick Corea's version of "Autumn Leaves." It was a nice mix putting them back to back. I really enjoyed it. I hope my listeners did, too. Ya, I caught that; you, choosing a Bobby McFerrin composition for your album. Another cut on here I listened to and thought that it had to be a Stevie Wonder tune. And of course, I was wrong. The track called "Spanish Joint!" You do a wonderful job, but you have to tell Stevie Wonder he should record it. It is so Stevie Wonder.
MD: (laughs) It's not Stevie Wonder. The composer of that is D'Angelo, the R&B soul singer and he plays piano, too and Roy Hargrove, the jazz trumpet player. I'm sure D'Angelo worships Stevie Wonder, because every singer I know that sings in that style does, including me. So it's not that far off that it reminded you of Stevie Wonder because certainly he's in everybody's heart when we sing. Ya, that's a really cool tune isn't it? (laughs)
JD: It is a very cool tune.
MD: I'm still trying to figure out what it's about. I think it's about marijuana, but I'm not sure.
JD: You never know the vernacular for the term joint. With younger people it now means something else. People my age think of it as marijuana and older people think of it as a run down place. It has a lot of different connotations.
MD: If you figure it out, let me know.
JD: (laughs) I think you better ask Mr. D'Angelo. He would have a better angle on that.
MD: Ya, maybe I should hunt him down on Myspace and get an explanation.
JD: Bob Murphy is one of my all time favourite musicians. I noticed he was on one of your previous CDs. Could you tell us about working with Bob?
Bob is an incredibly inspired musician with a very distinct, robust "voice" on both piano and organ. When I hear a recording of Bob playing I know it's him right away, and I hear only Bob Murphy (whereas with some piano players one might hear a bit of Bill Evans here, a bit of Oscar Peterson there…) And when I get to sing with him he makes me feel like I'm a good musician. He encourages me to take chances, or sing with subtlety, or belt it out. Above all Bob encourages sincerity from the people he plays with. He has a very low bullshit threshold.
My first CD Lullaby of the Leaves (2002) was recorded with Bob on piano and Doug Stephenson on acoustic bass. I wanted to do "In the Wee Small Hours of the Morning". Doug suggested that he sit that one out and Bob and I record it as a piano and voice duet. Bob played a very patient, complete chorus of the melody before I ever came in. What he played was so stunning! All I wanted to do to follow him was sing the song very simply, with no adornments. We got something lovely and poignant on the first take. When it ended we all knew that was the take we wanted and decided to move on.
Have you heard Bob's CD by the way? Downtown East Side Picnic It's all his original music. You gotta hear it! I can't say enough about Bob. He's a close friend of mine as well as a major musical influence.
JD: What has Cory Weeds meant to the Vancouver music scene and you personally?
MD: I moved to Vancouver in 2000, right around the time Cory took over The Cellar. I love going to hear live music, especially jazz, so naturally I went, and still go, to The Cellar a lot to hear other people play. I got to know him through the club and mutual friends. He, like many jazz musicians (especially young ones) has a reputation for not liking singers. (As to whether or not singers deserve that dislike, well, let's not get into that here… I'll just say I understand where that comes from.) I eventually approached Cory about doing a CD release for Lullaby of the Leaves at the club in 2002. He gave us a date and it's been my favourite place to sing in Vancouver ever since. I've done a number of shows there with Bob, Doug, Tom Keenlyside and Buff Allen. In late 2003 I decided to change things up, add more original music and a funky, contemporary edge. To my surprise Cory said he wanted to play with my band! This was the beginning of" Melody Diachun EQ" or the electric quintet.
I wrote in the liner notes of our EQ CD: "Special thanks to Cory Weeds not only for your playing, but for being the catalyst behind the music. Through the club and the label you have provided us all a home…" I can't imagine the jazz scene in Vancouver without The Cellar. It's the only real jazz club in the city, and Cory is the guy with the enthusiasm behind it all. He is one of those people who envisions a project and starts doing it, instead of thinking of all the reasons why it will never work. With that comes the odd mistake, or forgotten detail, yes, but he's a "big picture" person. I'm a detail person, so I appreciate what he possesses: guts and spontaneity. We've become good friends, especially over the course of the last year. I'm doing my part to change his mind about singers.
Jim Dupuis hosts Jazz Notes with Jim on 92.5 the X, CFBX-FM Kamloops, BC, heard Wednesdays from 5-7 PM. You can listen to Jazz Notes with Jim online on from the CFBX website. Jim is interested in interviewing jazz musicians of all kinds. You can contact him via the radio station.