Instructions for making a song: Be blunt; be brief; be gone
Christine Fellows' simple instructions allow her to keep the album viable in the digital age.
By Rob Pingle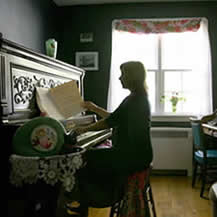 Although able to play the part, Christine Fellows'
marriage to John K. Samson of The Weakerthans
means she will never be a spinster.With each passing day of this digital age it seems that the full-length album is fading into the dark ages. Why create something that is so costly when it can be downloaded for free, minutes after releasing it? Christine Fellows sees the conundrum that is facing the music industry as something interesting. "It is a little distressing when you find people are downloading your stuff and not buying it and [not] supporting art. But part of it is actually a really exciting idea, that you can have ideas and there is an instant exchange of ideas and the idea of ownership of ideas is changing," Fellows says. Despite the uncertainty of the long-playing record Fellows' creative drive continues to push her to create music in this format.
The title of Fellows' latest record Nevertheless seems to describe her approach to the changes in the music industry. "The idea of how we conceive of our creative output is changing. For me I like making things that are unified. I'll probably always do that in some way but it may change if I'm not making records any more."
Besides the changes to the music industry, Fellows' own listening habits have changed as well. "I don't actively listen to music as I did when I was a teenager. That's the most exciting time to be listening to music when you are a young person and your biases aren't built up."
While she was a teenager the album was still in its heyday and Van Morrison's Astral Weeks left a lasting impression on her.
The idea of how we conceive of our creative output is changing

It was the first time she realized that musicians would purposely try to capture the place where the album was recorded and the essence of the people who contributed to the creation of it. Her understanding of communicating songs as a unified narrative was expanded to include the extra little moments found within the recording process. The idea that a time and place could be captured on record, along with the music and lyrics the artist had brought to the session, has continued to influence her and can be heard increasingly on each album she creates.
Although her records contain unique instruments (cello, xylophone, glockenspiel) that are more typical to genres of music with longer songs, Fellows creates music that is structured like songs found in the pop genre. "I don't need to hear a chorus more than twice myself," Fellows says. Yet within these short songs Fellows' lyrics create characters

When creating the characters found on Nevertheless
Christine Fellows included small parts of herself. and stories with great depth that can be enjoyed on their own but create a larger entity upon listening to them together in an album format.
The lead single, "The Spinster's Almanac," from Nevertheless is a great example of Fellows' ability to create rich characters. With descriptive lyrics such as, "I learned to drive when I was 65 years old and I sit poker-straight behind the wheel," Fellows succinctly defines an image of the spinster that, although universal, is unique to her point of view. "When you are creating characters they are kind of an amalgam of different people that you know, yourself and this creature that has its own characteristics that came out of nowhere and in this case … people that did exist." The people she is referring to are poet Marianne Moore and artist Joseph Cornell, whose correspondence with each other created a basis for this project.
From the liner notes to Nevertheless it can be seen how she builds upon this base to create the album as a whole.
I don't need to hear a chorus more than twice myself

The title for the opening instrumental was something Marianne Moore's mother said to her after recovering from a cold, while the songs "To a Prize Bird", "Nevertheless" and "What Are Years?" are responses to Marianne Moore's poems of the same names respectively, and the song "A Pantry Ballet" is named for Joseph Cornell's "A Pantry Ballet (for Jacques Offenbach)."
Fellows speaks highly of the letters written by Moore that she found during her research and laments that people no longer write that way. When asked if she corresponds with anyone Fellows replies in the negative. "I have no attention span and my penmanship isn't very good either so no one would be able to read them." With the loss of the handwritten letter in mind, and how records of those letters managed to produce a new a unique work of art, it is inspiring to think that future artists may refer to the works created by Fellows in the dying days of the album to create their own unique art form.
Tune in to Home Game with host Rob Pingle, every other Tuesday at 5:30pm on CFUV 101.9 FM for new music and interviews from emerging Canadian artists. You can also listen online at cfuv.uvic.ca or visit Rob's website at homegameradio.com
Words of advice for touring musicians and young spinsters.
While discussing the fate of the album and the use of a ukulele on some of the songs found on Nevertheless, Christine Fellows revealed that she was a germaphobe and would never play a harmonica because they harbour bacteria. She also confessed that she was a chronic hand washer, especially on tour and especially in the United States. "America has the most spectacularly dirty bathrooms ever. Although I must say Call the Office in London, Ontario is the dirtiest club in North America. The band room is terrifyingly vile. It was an awful moment of my life seeing my beautiful shiny parents there," Fellows says.
An avid reader and cat owner, Fellows also revealed something of interest to any potential spinsters or cat owners in general. "I was reading a terrifying thing about the cat lady syndrome. There is a theory out there that the cat ladies are crazy because of [the parasitic disease] toxoplasmosis and it goes into the brain of the cat lady. The reason why they can't smell cat pee is because that virus in their brain doesn't let them smell it so that it can keep propagating. Eventually the cats will, if they get their way, eat the lady because the virus has to go back. Are you ever going to look at a cat in the same way again?" It's a good question and most likely something that will surface in one of Fellows' songs soon.