Break on Through to the Other Side
The Laila Biali Interview
By Jim Dupuis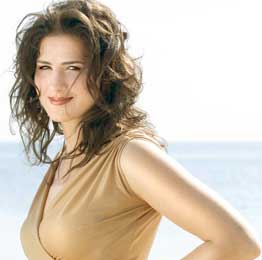 Laila Biali brings her own stamp to an
eclectic group of songs on Sea to Sky.Laila Biali's first album, Introducing the Laila Biali Trio, took the Canadian jazz world by storm. That album included vocals and piano but the emphasis seemed to be on her piano playing. She won two National Jazz Awards and proceeded to play at many of the big jazz festivals across Canada, including opening for Diana Krall at the Orpheum Theatre in Vancouver. She added saxophone player Phil Dwyer to the trio for a live recording at the CBC on Laila Live. With this project her vocals moved to centre stage, but there is no denying that she is still a wonderful piano player. Many wondered if she would be going the route that Ms. Krall has travelled. Recently, I reached her in Vancouver where she was recovering from a brief illness. Laila is wonderful to speak with and I enjoy conversing with her, but for a while I think she had a hard time getting a word in. A colleague accused me of gushing during this interview—rightfully so. What can I say? I'm a fan. Our main point of focus was her latest release Sea to Sky. For this project she has enlisted some of Canada's best jazz musicians to help her cover some of the best Canadian composers, mostly from the world of –dare we say—pop! Given a chance to let loose from the constraints of mainstream vocal jazz, she has flowered. Her interpretations of songs by the likes of Feist, Leonard Cohen, and Bruce Cockburn rock! Laila recently completed a tour playing keyboards for Paula Cole and then, with hardly a break was back on the road playing for Suzanne Vega. Is the jazz world's loss going to be the pop world's gain or can she straddle both worlds ….?
JD: You have a new CD out and it's called Sea to Sky. It is a beautiful CD and you look very, beautiful on the cover.
LB: Why thank you Jim.
JD: I really like the choice of music on it, and the playing and ... I should let you tell us about that stuff.
LB: We were doing an interesting project. Claire Lawrence, the producer of the CD, who worked for Jazz Beat for a very, very long time, approached me when he was still at the CBC about doing this recording. It really wasn't defined in terms of content and context. He approached me as an artist and said, "I like what you do." He had done some work with a group that I formerly played with called Without Words, an all female Canadian jazz quartet, and also my octet, and I think he heard some of my trio work as well and he said, "I'd love to just do something with you that features what you do," and then after we talked with the guys at CBC Records over the course of the next few months, they kind of put their spin on what they were looking for and out came this recording basically featuring Canadian standards; songs written by really well-known Canadian artists. In some cases I chose really well known tunes and in others I tried to find repertoire that was a little bit more obscure and in all cases songs that I really adore and love.
JD: Yes, you have quite an eclectic collection of composers and it really turns out good. Now you are known to me primarily as a jazz musician
LB: Uhuh
JD: ... and this is an album that leans on the pop side. What's the story there?
LB: That's funny. I've been playing over the past year with Paula Cole and now with Suzanne Vega and pop in the jazz world tends to be a dirty word and they use that expression, 'That musician sold out." In other words they've gone mainstream and I've actually developed a real appreciation for singer/songwriters and I guess that's more of a
These tunes are already so brilliant. So, what in the world can one add to them. I just tried to essentially infuse the tunes with my own voice as an arranger and of course as a pianist and a singer.

pop oriented genre whether it has folk leanings or funk leanings or rock leanings. I mean, there are so many different sub-genres and categories that you can try and slot music into. The way I see it good music is good music and I love all of these artists. In fact they've influenced my very specific jazz writing in that their music is what I live on from day to day. I listen to, you know, certainly to straight ahead jazz artists and I listen to Joni (Mitchell), and I've listened to her for a few years now and all the artists that I covered, some more than others. They've formed my musical upbringing and who I am today as an artist. So, it wasn't as much of a departure as it may seem to some people, to go this route. But of course some of the purists comment, "Well, this is pretty poppy," (laughs). There's an open-ness when they say that, but traditionally I've known there to be a negative connotation to that word in the minds of jazz fans and aficionados. Did I answer your question, Jim (laughs).
JD: You certainly did and maybe a few other ones too. Getting back to the jazz thing. You play one of my favourite jazz standards on Sea to Sky and I love the liner notes. The one thing about downloading a CD off the Internet is that you don't get the liner notes. I think you should pay the extra for shipping and get the whole package.
LB: I totally agree.
JD: I want you to tell a story for me, that you included in the liner notes. I love the song "I'll Never Smile Again." You know what I'm a middle-aged guy and I let a tear fall every now and then and for this one I did.
LB: Aw.
JD: Could you please tell the story behind that track.
LB: Absolutely. So, Ruth Lowe, was a Canadian composer, who is really well know because of Frank Sinatra's interpretations of some of her songs. She's actually from Ottawa and she penned this tune. Phil Dwyer suggested to me to sing this tune on a previous project and once I was approached about doing this album of Canadian material, she arose again as an option. Of course I checked out this song. I checked out Frank's (Sinatra) version of it and I thought, "That's an awfully sad song about love lost," and that's how I connected with it. Then I did some research and I of course, unearthed the true story behind this tune, which is that she lost her husband. He was ill and I believe passed away while being operating on during some surgical procedure and I believe that had only been married, something like a year! She wrote this tune basically expressing that her spirit had ceased to smile in the absence of this love of hers, who certainly was not in her life long enough. You know, you marry somebody and you say, "'til death do us part," and you certainly don't expect it to happen that soon and it's really actually a very tragic heart-rending song.
JD: You portray it very well. I get it anyway, but I get it even more when you sing it. You get that feeling and it's "Hol-y-y-y." It's sad, but it's such a beautiful, beautiful song. It's from the Tin Pan Alley days when songs where crafted at such an incredible level.
LB: I know.
JD: On the other hand you have a song by a man that has had some negative connotations and he comes up with one of the neatest lines I've ever heard in my life, with Leonard Cohen.
LB: Oh my gosh! He's incredible.
JD: Anthem--that's just a great song to pick. So did you and Claire Lawrence just sit down and decide what songs you were going to use?
LB: I did. I actually confess that of those artists, there were only a handful that I was really, really intimately familiar with. So once the CBC said that this is what we would like you to do, I had to really do a crash course in Canadian songwriter/repertoire. I went to the West Vancouver Public Library, because I was in Vancouver over the holidays, when this all came about last year. I took out as many CDs as they would let me take out; some obscene number of CDs. It was in excess of 25--30 or something like that. I then listened, and listened and listened and poured over the lyrics and poured over the songs and eventually arrived at some favourites. It was very hard though; because, while I was listening I had to already in my mind I had to picture, or hear rather what I could do with these tunes and how I could create some diversity, but also some continuity between the selections so that the songs weren't completely disparate from one another. The process reminded me almost of an interior decorator walking into a room and seeing what can be done with it, but there's all this empty space, not to say that those tunes--I guess that's where the analogy falls short. These tunes are already so brilliant. So, what in the world can one add to them. I just tried to essentially infuse the tunes with my own voice as an arranger and of course as a pianist and a singer. But the primary focus was as an arranger, without I think destroying the original beauty of the song; wanting to honour what the original composer had done. Do you know what I mean?
JD: Ya, the integrity of the song. You made it perfectly clear.
LB: Ya.
JD: I just love the line. I've been a Leonard Cohen fan forever. I'd forgotten about that line. Sometimes Leonard Cohen can be negative, I don't know. The line goes, "There is a crack in everything," That's so negative and then he follows with, "That's how the light gets in."
LB: It's stunning!
JD: Who could think of that??
LB: It's stunning! A very deep man, who has been through a lot and has a profound ability to express that with justice. It's stunning imagery. It's incredible. It's such a profound visual. Oh, yes. I'm totally with you 100 per cent on that and that's why I chose to end with that tune because it's so real, as you said. It's a depiction of our brokeness, but there is this beautiful note of hope and I thought it was really appropriate to end on that.
JD: Getting to the instrumental part. I think you used a variety of keyboards. I'm not a musician but I think I hear a Rhodes, a Wurlitzer and a piano?
LB: Jim, I'm amazed. Your musical imagination has done something with the music. I didn't use any Rhodes or any Wurlitzer. But there's vibes. Don Thompson's playing vibes.
JD: Ok, I was wondering in spots whether it was Thompson's vibes or any number of keyboards.
LB: The combination of the vibe and piano together and the guitar and he's using distortions and pedals and all sorts of things to create sounds that you wouldn't expect to hear from the guitar. So truly, other than the guitar it was a very acoustic recording.
JD: Well you really came up with neat sounds.
LB: Ya (laughs).
JD: So you've been doing the big rock and roll arenas with Paula Cole and Suzanne Vega. What's that like?
LB: I enjoy it so much. I really felt like I'm somebody that's having their cake and eating it, too. I always thought that I can't possibly straddle both worlds, not to put it rudely, but my jazz and pop--there's no way I can live in both worlds, but in fact I've really enjoyed bouncing back and forth between those worlds of music and I've also seen that they're closer than one might think. For example, Suzanne Vega is a Blue Note recording artist, which traditionally is a major jazz recording
I've been playing over the past year with Paula Cole and now with Suzanne Vega and pop in the jazz world tends to be a dirty word.

label and her music is so lyrically clever and harmonically--it's simple but there is still a richness. Being a jazz musician I'm thrilled with what she does and I've been playing with her and I've been playing a lot of keyboards. Funny you should bring up Wurlitzer and Rhodes. That's the beauty of having played with Paula Cole. I'd love to take a moment to talk about Paula, because she is such an inspiration. She actually has her roots in jazz. She went to Berklee as a jazz singer. So she can do it all. She's cultivated this very unique voice as a singer/songwriter, but again, her music kind of crosses over into other genres and one of those genres is definitely jazz. I think that's one of the primary reasons I was selected for the group. She recorded her most recent album with Herbie Hancock on piano; Billy Childs on piano, so those are really large shoes to fill (laughs) with her and its really incredible playing with her musicians, so as I said learning, really what is essentially a new instrument, the keyboard; the synth and getting inside of that world and actually finding it very stimulating. You know some pianists. again, are purists and they hate to play keyboards and I traditionally have been that way, but in branching out and entering into this other world, I've discovered a new toy (laughs) and a new means to expressing myself musically. It's very exciting and the possibilities seem limitless and I think they are these days. I mean they are constantly coming up with new things and it's very hard to stay on top with all the progress that's being made technologically in the world of "beer" (laughs).

JD: Getting back to Sea to Sky, I have to mention "Mushaboom", the Leslie Feist track. Feist was around here a couple of years ago at the Salmon Arm Roots and Blues Festival. I didn't even know who she was. I was 'festivaling' and having a good time and she just blew the place away. I was wowed by her! So "Mushaboom" was a really good choice for this CD.

LB: Yes.

JD: ... and I'm missing somebody. Ron Sexsmith--what a beautiful cut you picked from Ron, "Secret Heart." A lot of people may not know his music that well, but the people in the campus stations like him a lot. And also the Marc Jordan cut "Tears of Hercules"--a beautiful, beautiful cut.

LB: Oh my gosh! He's a treasure and not enough people know about him.

JD: Thankfully more and more are. His music has been covered by many different artists recently and hopefully he'll get more credit.

LB: And Jim I have to tell you--Stephan Moccio, who co-wrote that song with him--the two of them together are a dynamo combination and I feel that Stephan should have been more credit for that track, so I just wanted to mention that.

JD: So Marc writes the lyrics and Stephan the music?

LB: Exactly.

JD: Recently went to see Molly Johnson in Kelowna and she used one of Marc's songs, also.

LB: Oh, ya. They've been cronies for a while. I actually heard her on the CBC the other day and she is sounding great. I find that she's always doing something kind of progressive with her CDs. She is always does something unusual like using unusual configurations. I really dig her.

JD: Say I want to get "Sea to Sky." Where is it available?

LB: Well you can go into your local music store. I know that HMV and A&B Sound carry it. If they run out you can them to special order it for you and they will, we didn't send boxes and boxes to them, so another way is through my website (, which is lailabiali.com. If you go there you can hear a couple of tracks and I also have a MySpace page (http://www.myspace.com/lailabiali), but you can't get the CD there. You can get it online on iTunes, Amazon and CBC Record Shop and all these different places. It's great.

JD: Good. Lots of options and as I said it's a lovely, lovely CD.

LB: Thank you.

JD: I know you are very busy and haven't been feeling that well, so thanks for taking the time to speak with me.

LB: The pleasure is mine.

JD: ... and the best of the season to you and have a good time on the Suzanne Vega tour.

LB: Thanks Jim. The same to you and I will.