God Made Me Funky - In Full Effect
From the wedding circuit to the Juno circuit, God Made Me Funky takes their cue from the people
By Shelley Gummeson
"God Made Me Funky is not a Christian polka band," laughs PHATT al, the emcee for GMMF. PHATT al, (an acronym for people having a terrific time always), laughs a lot and no wonder. God Made Me Funky has been riding high lately with a was nomination for the 2008 Juno for R & B/Soul Recording of the Year for their second album We Can All Be Free, They also have made it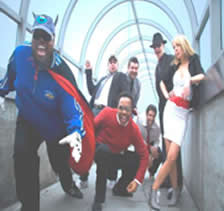 God Made Me Funky just wants to party with the peoplein the movies with have a scene in
We are a self sufficient and proudly independent band. We make music the way we feel like making music, we put on our show the way we feel like putting on our show

the American Pie Presents – the Beta House, as the Beta Band, featuring their songs "Won More Time" and "Luv T'Day". Their music has been featured in a national campaign for Parmelat Group (of Dairy Products), and currently in a Coors Light media campaign. To top it off they have just released a blockbuster third album, Enter The Beat.
It may appear that GMMF have been driving in the music express lane for only 3 short years, but they have been throwing down their mash-up of sound since 1996. Using a name from Herbie Hancock and the Headhunters, God Made Me Funky started out as a funk fusion instrumental band. "Along the lines of Brand New Heavies without N'Dea Davenport", says PHATT al, "then we added vocalists." Joining him on stage is Kaybe and most recently Lynzie Kent, backed up by some equally funky musicians. "We were playing a lot of weddings and a lot of cover gigs, oh… for about eight years. Basically we decided in 2005 that we had enough experience and we wanted to take it to another level. So we recorded and released our first album entitled God Made Me Funky and from then on it's been about the journey of building nufunktonia and meeting people and having a great time."
In three years GMMF has released 3 albums. It was the second album We Can All Be Free that brought the Juno nomination to their doorstep. PHATT al explains what that honor was like for the band. "It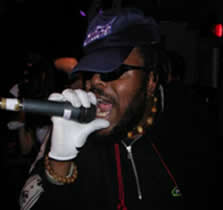 PHATT al, spits out live rounds on stagewas amazing because we came from being a cover band. Normally it takes years to convince people that you are not just a cover band from Toronto. It came out of the blue and we were absolutely humbled that the industry would consider us for anything. We are a self sufficient and proudly independent band. We make music the way we feel like making music, we put on our show the way we feel like putting on our show. So we kind of had tunnel vision in that we hadn't ever thought of industry accolades. We just wanted to get out there and party with the people. When it happened we went "Oh, you know who we are?"."
Going to Calgary and meeting the people that they looked up to was remarkable for GMMF. PHATT al, a rap artist, has some surprising heroes in the Canadian music scene. "Being able to meet Triumph was...wow! I've been listening to Triumph forever. We got to speak to Rik Emmett and Gil Moore in regards to doing a song with them. We'd really like to do "Lay It on the Line" because we are such fans. I think they were kind of taken aback. A hip hop, funk fusion, rock, pop band…you guys like us? I said dude..look." On PHATT al's iPod is his 80's rock collection, including Triumph and the song "Lay It On The Line". According to him, "A dope song, is a dope
We're like a little village on stage, but we're only part of a bigger picture when you include the nufunktonians

song, is a dope song." His excitement was barely contained. "Anne Murray was there. A lot of people don't know this but my parents are Jamaican, and Caribbean people love Anne Murray. I don't know if it is a well kept secret but when I say that, people go "Really?" Man…you don't know. I grew up on Anne Murray. When I told my mom that Anne Murray was going to be at the Juno's she freaked out. To see that amount of Canadian talent that is internationally known and appreciated, in one room, is overwhelming."
The Nu-Funk sound of GMMF is an amalgamation of all kinds of music. Hip Hop, R &B, Soul, Rock and Pop swirl in the entity that is God Made Me Funky. "We do have too many cooks in the kitchen, you know, but for us it makes for a better stew." God Made Me Funky previews their material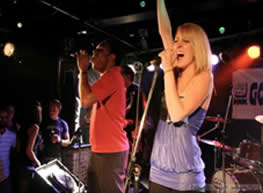 Lynzie and Kaybe ramp up the energy with the nufunktonians with the people. "If the people don't like it we scrap it. We're like a little village on stage, but we're only part of a bigger picture when you include the nufunktonians. We wouldn't be anything without the people, so we are very respectful of that. When people come to see GMMF we want to make sure they have a good time and get their money's worth. Our core belief is you just got to be who you are. Our pledge to you is as long as you want to have some fun in your life, we'll be there to have fun with you."
God Made Me Funky is known for high octane shows that are practically urban legends. The band stopped putting breaks in between their songs in order to keep the energy ramped up and will play a two hour set, leaving everyone, the crew, the band, the audience, even the bartender in a funky lather. Every performance is a celebration and
Our core belief is you just got to be who you are

in the end the band leaves it all on the floor.
Despite the industry accolades, movie shots and ad campaigns, GMMF still takes their cue from the people and the people say that nobody brings the Nu-Funk quite like God Made Me Funky.
Jazz On The Rocks with Shelley G airs every Friday night from 5-7 p.m. on 92.5 The X, CFBX Campus Community Radio (http://www.thex.ca/). For the past six years she has programmed great jazz, funk, soul and jazz like substances, as she says, "Purely for your listening pleasure."