Noise Anoize!
Luke Meat likes to get under your skin with a little noise.
By Magnus Thyvold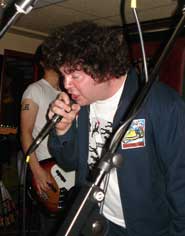 Luke Meat knows how to make some noise
fromthe stage or in the studioNoise is probably one of the least understood genres of music. Many people don't even realize it is music when they hear it. And when you tell them, they don't believe it. You could say it is an acquired taste for committed aficionados.
It is not something you are going to find a lot of on the radio, not even on community radio. And there's a reason. "I once had a caller complain that I was making his cats freak out when I played "Buncha Hair That Long" by Borbetomagus," says Luke Meat of Anoize on CiTR 101.9FM in Vancouver (Wednesday 11:30 A.M. to 1 P.M. PT). "Another time, I was playing a John Cage loop record and a lady called to tell me that my record was skipping. When I explained that it was supposed to sound like that she said 'Ok thank you, I guess I'll just turn to another station then.' " So, yeah, it's not for everyone.
Luke's interest in noise goes way back. "I guess the first so-called "noise" track I ever heard was "Revolution 9" by The Beatles.
I once had a caller complain that I was making his cats freak out

I was 10. That scared the living shit out of me. The same year, I rented Pink Floyd at Pompeii on Beta and their performance of "Saucerful of Secrets" really made me go "whaaaa?!" By Junior High I had heard Throbbing Gristle and I guess the rest is history. I like anything that has an intentional irritating effect that attempts to get an artist's message through.
"There used to be a killer noise show on Friday afternoons but after it retired no-one seemed to pick up the reins," Luke remembers. "I had freshly returned from the No Music Festival in London Ontario, with a stack of noise albums i had picked up there and I was taken on at CiTR. That was in 2000. It took me about a year to play all the stuff that I had picked up there."
These days Luke is also the Music Director at CiTR and when not doing radio, plays in the Value Village People (http://bleek.sensoryresearch.net/). Anoize is also available by live stream or podcast from the CiTR website at www.citr.ca.
Noise and other extremes:
The Wasteland on CJSF 90.1FM in Burnaby, BC
Monday from 3 P.M. to 4 P.M. PT
Online and podcast at www.cjsf.ca
Soundscape on CFRO 102.7 in Vancouver, BC
Wednesday from 9 P.M. to 10 P.M. ET
Online at www.coopradio.org
Victorious and Invincible on CKUT 90.3FM on Montreal, QC
Tuesday from 12 P.M. to 2 P.M.
Online and podcast at www.ckut.ca.
Noise on CJSW 90.9FM in Calgary, AB
Thursday from 9 P.M. to 10:30 P.M. MT
Online at www.cjsw.com
Some of Luke favourite recent releases:
Curia-S/T (Fire Museum)
Fond Of Tigers- Release The Saviours (Drip Audio)
Les Rallizes Denudes- Live '72 (No Label)
This Heat- Deceit (This is 2)
Summerlad- City Of Noise- (Saved By Radio)