Altering Musical Laws with Tom Terrific
Jazz flutist and saxophonist Tom Keenlyside has seen international success,
done sessions for pop stars and now runs his own label.
By Jim Dupuis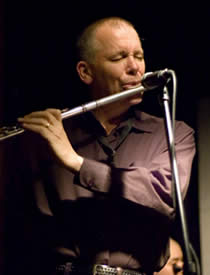 Tom Keenlyside first gained international
acclaim with SkywalkWhat do Aerosmith, Motley Crue, Shania Twain, The Temptations, Mel Torme, Tom Jones and Dizzy Gillespie have in common? Give up? They've all played or recorded with Vancouver musician Tom Keenlyside. He may be been under the radar to the average pop fan, but with international success with jazz-fusion combo Skywalk, solo and session work and new projects with the Altered Laws Jazz Quartet, he has been a mainstay in the Vancouver jazz community for years.
Still it is amazing that there would be such a demand for one guy in just about any music genre that you can envision. How did this all start? He started playing trumpet in school band. At the age of fourteen he would sneak out of his bedroom window, climb down the trellis and hitchhike or catch a bus to the coffee houses of Vancouver. There he would play with and listen to other musicians until the wee hours of the morning. "My parents couldn't figure out why I was sleeping in until four in the afternoon all the time." he says." He started off with the trumpet in school band but later switched to flute and saxophones. He studied trumpet at UBC and later flute with Don Dorazio of the Vancouver Symphony Orchestra. Still a youngster, he managed to get his union card in 1969 and his first big gig was playing in the band that accompanied superstar comedian Bill Cosby. Since then, it seems like the gigs never stopped coming. If you look on his website (ajrjazz.com) you will be amazed by the list of artists he has played with. There are some pretty cool photos, too! I've said that he's played with everybody but he's also played in most venues imaginable. He's played in symphony halls, television studios, night clubs, bars, strip joints, supper clubs, festival sites and huge arenas.
In the late 70's he started playing with keyboard player Graeme Coleman and bassist Rene Worst and others. Eventually the band Skywalk was born. Skywalk was loosely modeled after the first jazz fusion superstar band Weather Report. They started making a name for themselves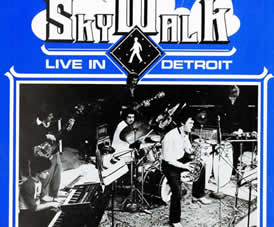 Skywalk's Live in Detroit album with Tom Keenlyside
playing saxophone in 1980.around Vancouver and were more or less the house band at the Landmark Jazz Bar. They did not escape the notice of the CBC and in 1980 they brought Skywalk to Detroit to appear at the Montreaux/Detroit International Jazz Festival. There they opened for Oscar Peterson. Skywalk's performance was recorded and the resulting album Skywalk Live in Detroit on Radio Canada International caused a stir.
While they were fairly popular in Canada, it was in the U.S. where they gained their biggest acclaim. In 1982 they recorded Silent Witness and released it in Canada on their own label, Skywalk Records. It was picked up by Zebra records in the U.S. in 1983 and immediately garnered significant airplay rising to #12 on Billboard's jazz/contemporary charts and has since become a classic of the contemporary jazz-fusion genre. The Bohemians was released in 1986 on Zebra/M.C.A. and fared even better than their first effort, reaching #3 on Billboard. With a record deal and the album Silent Witness rocketing up the Billboard Charts, they were off for an extensive tour of the U.S. in 1986. Tom recalled setting up for a show in Florida when fans started calling out for "First Snow", a track off Silent Witness. A rare occurrence for a jazz band, indeed!
Tom also put out a solo album in 1982 called Returning. It was recorded in Vancouver and Los Angeles and featured guitarist Ted Quinlan, keyboardist David Pickell and others. It was a bit more mainstream than Skywalk and stands as a good example of west coast jazz from that decade.
Many more albums followed. The Skywalk website tells us that 1988 saw the release of Paradiso and in 1991 Skywalk recorded Larger Than Life for Mesa/Blue Moon. Larger Than Life scored high on the charts, breaking into the national top ten and remaining there for over two months. In 1994 the group released Great Northern
Larger Than Life scored high on the charts, breaking into Billboard's jazz top ten and remaining there for over two months

in Canada only on the Lions Gate label. A Best of Skywalk album was assembled in 2003 for a limited run. Estimates are that the band sold over 200,000 albums in total. Pretty good numbers, but according to Tom, with the miserly artist cut of the day, not enough to get rich.
In the 90's things began to wind down with Skywalk. They continued to make made sporadic appearances at jazz festivals but after years of touring and numerous personnel changes the band has more or less dissolved. Always considered a consummate musician, Tom Keenlyside has become known for his arranging and his versatility. It didn't hurt that the saxophone started appearing in more and more genres, so the phone kept ringing. BTO one week, Shania Twain the next …
Eventually, Tom set up his own studio and he recently started his own recording label, Artist Jazz Recordings, that has allowed him or release some of his recent projects. AJR has put out four CDs on in the last couple of years and Tom tells me that he has more music recorded and in the pipeline. His most recent offering is Synergy: Jazz Duets for Piano and Flute with Tom on flute and Miles Black on piano. He really enjoys working with Black, he said, and that they are often of one mind when composing. He likes the way Black works; they would barely finished a song when he would already have the basis for the next song that would fit chronologically on that album. Tom did some name-dropping and told me that the jazz community world wide had contacted him about that CD and he got particular praise from Lee Konitz and fellow flutist Paul Horn. Another of Tom's projects is Altered Laws Jazz Quartet, also with Miles Black along with bassist Miles Hill, and Dave Robbins on drums on their CD The Outsiders andBernie Arai was on drums on the second recording titled Metaphora. Tom and Miles Black are the composers on both CDs. Tom mentioned that when they play live in places like The Cellar,

they often have totally improvised sets and the band members really feed off each other. After listening to these CDs you can understand where he is coming from. Both CDs are an eclectic mix of jazz styles, with superior musicianship. A couple of weeks after I interviewed Tom I learned that Metaphora had been nominated for a Juno Award in the Contemporary Jazz Album of the Year category!
The other CD Artist Jazz Recordings released last year was lead by the great Vancouver pianist, Bob Murphy. Murphy has also played just about everywhere in Vancouver, and has plenty of television credits. The CD is titled Downtown Eastside Picnic: Jazz Dialogues with The Bob Murphy Quartet. Tom Keenlyside plays an assortment of flutes and saxophones on this CD along with Doug Stephenson on bass and long-time Murphy accompanist, Buff Allen on drums. I caught their show at the Performance Works on Granville Island at last year's Vancouver International Jazz Festival, where they blew the full house away. Murphy eloquently stated the plight of the people in his neighbourhood, the Downtown Eastside of Vancouver, and wondered out loud why there was not help available for the people who can not take care of themselves. One critic reported, "It is a lesson in listening, but most importantly, it is music from heart and spirit. It speaks to both the streetwise and the sophisticated, the downtown and the uptown. I enjoyed immensely listening to it." I couldn't agree more.
You can check out tunes from all these CDs at www.ajrjazz.com. Compared to many other musicians' websites, this one is well organized and gives a lot of info without any pain. Tom credits his son with this. You can also listen to and purchase the CDs at CD Baby.
So what else is happening with Tom Keenlyside? He recently survived a rash of family accidents and hospital trips and has been busy doing music for television. He has quietly been involved in the music end of the European cartoon industry for two decades and has also composed for the North American television and movie industries over the years. Altered Laws bassist Miles Hill is presently touring with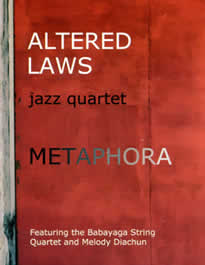 Metaphora has beennominated for a Juno Award
for Contemporary Jazz Album of the YearVan Morrison and is scouting out touring venues for the Altered Laws Jazz Quartet. Tom said, "I think the Europeans would really like the way this group plays," and he wouldn't be surprised if they end up touring over there. What about those rock stars? How did he like working with Aerosmith? Tom said that Steven Tyler was probably the most professional one that he dealt with. Tom arranged music and played on many of their albums including Pump, Permanent Vacation and Get a Grip. He said he always appreciated Tyler's professionalism and the way he was treated. I couldn't resist asking about his gigs with The Temptations. Tom said he played with them at Expo 86 in Vancouver. The band had re-united and only one original member was absent. It was just magic, he recalls When he was on stage and actually playing it with The Temptations he was moved to tears.

Tom Keenlyside can make wonderful music on the huge array of saxophones, flutes and other interesting reed instruments he has collected over the years. If you've ever heard a Tom Keenlyside solo on sax or flute you'd understand. His passion for his music permeates his performances. He may have shed a tear when he performed with The Temps, but the beautiful sounds coming from his saxophones and flutes have caused their share of tears, too.