The Rhythm of Shane Philip
Coastal pied piper gets everyone doing the subterranean groove
By Shelley Gummeson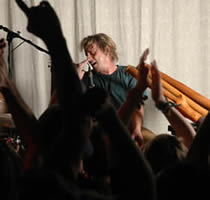 Fans dancing at a Shane Philip concertWith the last notes of "The Situation", a song from his new album In The Moment, hanging in the air, I felt oddly connected to the ground that my size eight's were planted on. Shane Philip has that effect on people, whether it is while sharing an impromptu performance in an intimate studio setting, or playing for huge crowds at outdoor festivals. He is a one man troubadour, who, in any combination, can sing, play the didgeridoo, guitar, and drums. It is an intuitive, choreographed dance between the instruments and the innate rhythm that lies within the artist. At the end of a recent tour, Shane Philip stopped in Kamloops for a coffee and a chat.
Shane started banging out his musical signature on floors and tables shortly after he was born. "I've always been into percussion and rhythm," he says. While in elementary school, he added his first strings - a ukulele. As a teenager he was given a Yamaki
The didgeridoo is one note. When I heard what he could do with one note, it changed my life

guitar, with which he promptly mastered the songs on the album, Harvest by Neil Young. Later, a high school band experience laid the percussive path more solidly. "I remember very clearly getting the clarinet. I also heard rumors that if the music teacher didn't like what you were doing and you showed no signs of any musical talent, she'd put you on the drums. I really wanted to play the drums so I purposefully played the clarinet as badly as I could. So when she was looking for a drummer, I was her boy."
He went on to graduate from teachers college, with a background in phys.ed. and kinesiology, and fell into a job teaching social studies to volatile ninth grade students. In an effort to make the course material more interesting, Shane collaborated with another teacher who was also musically inclined. Together they wrote songs that put the curriculum to music.

Impromptu performance at Perry's Recording
Studio, Kamloops BC "If you want to learn the prime minister's, just listen to the "Prime Ministers Are People Too" song," he said with a smile.
The mix that would make up the Shane Philip sound continued to add layers. "I was attending a show on Quadra Island; it was a group that was called Island Rhythm. They were masterful drummers and in the middle of the show this guy comes out with a didgeridoo. When he played that didgeridoo with those drums, it just blew my mind. A didgeridoo is just one note, but when I heard what he could do with one note, it changed my life." Shane ended up buying a didgeridoo and began to teach himself to play. According to Philip, "Every didgeridoo player goes through that…they make horrible noises. You go through all your bathroom noises, but eventually if you stick with it you get a nice smooth note. Then you need to sustain that note through a process called circular breathing. Playing the didgeridoo is kind of like playing the drums with your breath."
"After that", he says, "I realized that this music thing is a heck of a lot more fun than teaching. It didn't take long for me to realize that my interests and my creativity weren't being completely fulfilled teaching, so I knew I had to move on to something else. I left teaching behind cold turkey. I've been writing songs all my life so I made the decision to follow my passion completely. Boy did it work out. I'm happier than I've ever been."
Three albums have marked Shane Philips' musical journey. The first album, Om Cooking, is what he cheerfully describes as "Nothing but an experiment in self indulgence." The second album Earthshake was Shane Philip playing solo and was recorded live off the floor. "If you were to label Earthshake, it would be world folk," he comments. The latest release is called In The Moment. "With In The Moment,

Shane Philip third album releaseI tried to mix up styles. There is reggae, country, blues and folk. I wanted to come up with something for everyone."
The songs that Shane writes are products of the environment that he lives in. "Music is an expression of who you are. I have an ocean to look at every day. I kayak, I run; nature is such a big part of my life. It can't help but appear in my music intentionally or unintentionally." With the song "Push On Through" on In The Moment, Shane asks the question, What would make your world a better place? What can you do? People phoned in their ideas and comments, which were recorded and set against the backdrop of his music.
Shane Philip has a unique connectedness to his environment and to his audience. Whether you hear the music as world folk or folk world, Shane Philip is able to intuitively harness the sound of the earth - the om - then weave the magic of his melody into it. It is a musical dance that captures all; it is the subterranean groove.
You can see Shane Philip in these communities, as he tours this summer
Shane Philip Tour Schedule
May 3rd, 2008
Sugar
Victoria, BC
May 17th, 2008
Garibaldi Lift Co
Whistler, BC
May 22nd, 2008
Communitea Cafe
Canmore, AB
May 23rd, 2008
Elkford Motor Inn Pub
Elkford, BC
May 24th, 2008
Kananaskis Whitewater Festival
Kananaskis, AB
Jun 15th, 2008
Maffeo Sutton Park
Nanaimo, BC
Jun 20th, 2008
North Country Fair
Jul 5th, 2008
Organic Islands Festival
Victoria, BC
Jul 17th, 2008
Folk on the Rocks
Yellowknife, NWT
Jul 18th-20th, 2008
Folk on the Rocks
Yellowknife, NWT
Jul 23rd, 2008
Cardboard Bakery
Hornby Island, BC
Jul 26th, 2008
Canmore Nordic Center
Canmore, Alberta
Jul 30th, 2008
Hornby Island Bakery
Hornby Island, BC
Aug 3rd, 2008
Artswells Festival
Wells, BC
Aug 4th, 2008
Concert Series in The Park
Kamloops, BC