Calexico charts is own course
Calexico's Joey Burns talks about the bands new album, Carried to Dust
By Nick Pannu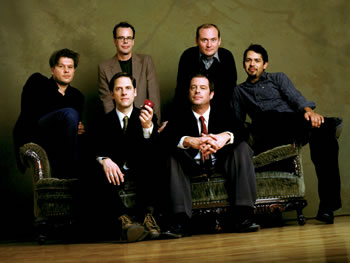 Calexico draw more from the inspiration of various influences
than from specific techniques. The fusing of different styles, instruments and genres seldom creates a sound that is unpleasant to the ear. The mosaic of different musical genres for some reason is often enticing to the listener. Rising on the national charts, the band Calexico has an ensemble of many performers incorporating several musical styles. Calexico's mixing of Folk, Spaghetti western, Portuguese Fado, 50's jazz, Romany music and an offshoot of 60's surf and twang is coaxing many DJs to repeatedly give their new disc a spin. Over the years, through extensive touring of North America, Europe and playing such events as the Sundance Film Festival Calexico has been able to nurture and evolve its vast repertoire of instrumentals and fused sub-genres.
Listening to Calexico's new CD, Carried to Dust is a unique experience. How often can one listen to an exclusive acoustic melody, switch to a salsa track and then mellow out to a fused jazz-pop sound? Thus, this aspect of Calexico's music - diversity and the fusion of different genres- was what I delved into immediately as soon I got the chance to interview lead vocals and guitar, Joey Burns.
Having musicians from so many different backgrounds allows you to tap into so many different influences both musically and culturally.

Nick Pannu: "The band has not only a distinct, but also a very diverse sound. how did this style evolve?"

Joey Burns: "After playing together for a couple of years with drummer, John Convertino, we later started the band Calexico in 1996 in Tucsan, Arizona and involved a lot of different instrumentalization; not only had we started off in a rhythm sections for a lot of bands, but we also started collecting vibraphone, mandolin, cello and Rurymbo and started embodying all these instruments as well as a very wide electrical musical taste into the songwriting style. Calexico's first album was released in 1998 and the core group of 6 band members have been together since that time touring. Having musicians from so many different backgrounds allows you to tap into so many different influences both musically and culturally. It's a lot of fun and there's a lot of fresh ideas that come to the table"

NP: "Was it still a challenge in the very beginning to fuse all these different genres?"

JB: "No, it wasn't really that difficult, we're not try to profess something that we're not..we take influence from a lot of different styles of music and we're certainly not proficient and technically trained on the accordion, but sometimes a few notes can add a lot to the song. What we try to do is bring in minimal amount of these instruments and styles of music and really try and keep it true to our own sound and who we are as musicians. We're not trying to replicate anything note for note. We're really being more impressionistic in a way, drawing more from the inspiration more so then the technical descriptions of where some of these traditions come from."

NP: "In one of the band's press releases it was stated that "the band is moving forward with its new album, Carried to Dust but not forgetting the past." Is that statement implying that you don't lose the basic foundation of your music as you incorporate these different elements?

JB: "Yeah..like most musicians you're more apt to learn something new rather than repeat yourself endlessly, it's kind of the basic ingredient and musicians are very open to playing with other musicians…at least a lot of the people I meet on the road, here in town or just in my neighborhood. It's really kind of a natural inclination to want to play together and musicians do that. Collaboration has really made this new album, Carried to Dust different than a lot of the records that we have done in the past. We've invited a range of musicians and singers to join us-such as Amparo Sanchez from Barcelona-which has helped accentuate that diversity that is in the core of our sound."

NP:" When people come to your shows there might have been the folk or acoustic sound that appealed to them. Have you ever had the chance to see fans evolve with you where they are exposed to different genres of music like jazz or salsa when they otherwise would not have listened to it too much; and they pick up on it and get interested in that kind of music?"

JB: "I think so. I can only hope. I've looked out, I've seen people and talked to people that come to shows here in North America or Europe. They're really happy to get to see different musicians or guests that we have brought on tour, whether they are rock or folk etc. Then there are other times people will say they didn't like so much that element to the music but appreciate that we took the chance and that we didn't play it safe; that in essence says it all. You have to challenge yourself and doing that you are going to challenge the audience. It doesn't mean that it's going to always going to be about success. It's more about the heart and passion that you pour into the music…and you know that it could be the last tour or last album; I'm not going to prevent myself from trying something that I've been dreaming about or something that is really special..or might be risky and it's going away from what we normally do. We always kind of encompassed a lot diversity in our style and performing and I think people understand that when they pick up a Calexico record or go see a show of ours."

Audience members will get the chance to engage and share that passion as Calexico kicks off its tour beginning in Europe and concluding with an extensive tour of North America, including dates in Canada. For information on Calexico's tour dates and how to get a copy of their new cd, Carried to Dust visit these links:

http://www.myspace.com/casadecalexico;
http://www.casadecalexico.com/index.php

Nick Pannu hosts Inady Arts Crossroads on CJSF 90.1FM, www.cjsf.ca