Sir James Galway Just Wants To Be A Good Flute Player
World renowned classical flutist gets his mojo working with some Cuban rhythm


Sir James has a
collection of over 100
flutes,some of which
are solid gold
By Shelley Gummeson
Sir James Galway is a man with a long list of notable accomplishments. He has recorded over 60 albums, sold over 30 million, has received the Order Of the British Empire, been knighted by Queen Elizabeth, was given the President's Merit Award from the Recording Academy at the Grammy 's 8th Annual Salute to Classical Music, and had a rose named in his honor. These are only some of the accolades heaped upon him during a long and distinguished career which shows no sign of slowing down. In fact it is heating up on his latest release O'Reilly Street.
Galway, the world's greatest interpreter of classical flute has collaborated with Grammy nominated Tiempo Libre, Miami's hottest Cuban timba band, to bring to life this unique version of Claude Bolling's Jazz Suites. O'Reilly Street is an exciting and progressive accomplishment: Latinizing the "Bolling Suite's," which were composed for flute and jazz piano trio and first recorded by flutist Jean-Pierre Rempal in the 70's. Says Galway of the recording, "You know when the "Claude Bolling Suite" came out with Rempal, I had the impression it was a fairly good record, but I felt it was a bit dated already. I had made crossover records before,but with an orchestra. I decided I still wasn't going to use a piano trio, I was going to use a band. Why not get the hottest Latin band around, Tiempo Libre."
Practice for me is intriguing and it is always a work in progress.

He was familiar with the Cuban band's music and wanted to incorporate the Latin rhythm, creating a cross genre of classical, jazz and Cuban music that you hear in O'Reilly Street. Sir James, who is also known as Jimmy to his friends, explains, "The way it happened was like a fairy story. Every kid you know, always wants to send a record to a recording firm, and get a call back saying 'Hey you're great, we'll record it', but of course they never hear from the record company. With us it was different. We had a rehearsal scheduled in Miami for 10 am. By 10:30 we said, why don't we record one of these numbers and send it to Sony. They came straight back and said 'Listen, we're going to do this but we need it in a hurry.'"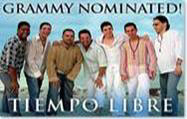 Tiempo Libre are all classically
trained musicians"That put the gun to our heads", Jimmy says. Trying to finagle the schedules of two very hard working artists was tricky. One month later they had a 3 hour rehearsal, then with just several other rehearsals and a run through performance at a jazz club, they found themselves at The Glen Gould Studio, recording. "The guys [Tiempo Libre] were prepared like you wouldn't believe", says Jimmy. "This was better than recording with a symphony orchestra. They knew all the music for memory." He was thrilled at the outcome of the project. "It was the most exciting thing. It was something I had never really done before or experienced."
Sir James, doesn't just travel in classical circles. He played on the Academy Award winning soundtrack for "The Lord of the Rings: Return of the King." He has shared the stage with many notable musical luminaries, like Stevie Wonder, Paul Simon, Elton John, and the iconic band Pink Floyd. When asked what it was like to play with Pink Floyd at the Berlin Wall, he shares the story. "It was amazing. I had been there a couple of months before and I saw the concert advertised. I thought Oh I'd come back here and bring my kids and my godson to the concert. When I got home, there was an invitation on my phone message machine, inviting me to play at the Wall in Berlin with Pink Floyd. The kids loved it." Was it shocking for Galway to play with a rock band? "Oh sure, are you kidding me" he says, "That's one of the biggest rock bands in the world. Anyone who doesn't get excited about that needs to get their hormones examined."

The new album O'Reilly Street
with Sir James Galway and
Tiempo Libre In a lifetime of playing the flute, what keeps Sir James Galway looking forward? He ponders the question and says, "I guess it's trying to get it better than it is. You always strive for something better. I have this built in mechanism that makes me want to practice and play the flute better each day." Galway does practice every day and it is not a chore, like so many young students think. "Practicing for me is intriguing and it is always work in progress. I always figure something out to get better. It's almost like I practice performing, not to get the notes or anything. I practice to get it to sound better, to get it to sound really great. I practice with the attitude that this is how it is going to sound at Carnegie Hall when I get there."
There are so many things that Sir James Galway has achieved, and there are so many ways that he has given back to the musical community. What does he want to be remembered for? "I would be happy if they just remember me as being a good flute player. That'll do me."