There's live and then there's LIVE: Live from Thunderbird Radio Hell
Vancouver's best up and coming bands have been playing live on the Thderbird Radio Hell for more than 20 years.
By Magnus Thyvold
For the first 30 or 40 years of radio broadcasting, live musical performances were a common feature of many programs. Since the 50's, live music on the radio has become increasingly scarce. Live from Thunderbird Radio Hell is one place you can find bands playing live on the radio every week. Airing on Thursdays from 9 P.M. to 11 P.M. on Vancouver's CITR 101.9 FM. (www.citr.ca). Thunderbird Radio Hell has become a regular stop for Vancouver's up and coming bands of all genres and even gets the occasional visit from touring bands. More than two years of past shows are now available from the CiTR website as podcasts and, of course, you can catch it live on streaming audio as well.
A band knocking over furniture or drinks and then freaking out over it live on the air is always hilarious.

TRH is not recorded live for later airing. It's live on the radio – right now live. And that can mean things don't always work out as planned. Sometimes this is a problem but more often than not it provides unique and unexpected moments and gives the show a special energy. "I always secretly enjoy all the mishaps", says host Ben Lai. "A band knocking over furniture or drinks and then freaking out over it live on the air is always hilarious. One night the singer from a band (which will remain nameless) couldn't stop laughing during a song." In some ways, the unexpected is an essential part of the show.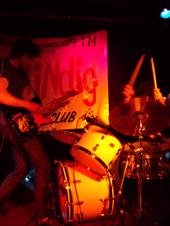 Japandroids at Shindig
trained musicians"A few mistakes here and there make our show seems more real, just regular folks having a good time." More often than not it's smooth sailing and a great perfomance. Recent programs are available as podcasts from the CiTR website - (http://playlist.citr.ca/podcasting/xml/thunderbirdradiohell.xml) including Japandroids, Collapsing
Ben is also the current manager and MC of CiTR's Shindig battle of the bands contest. Shindig has become a bit of a Vancouver institution, running for over 20 years on Tuesday nights from September to December at the Railway Club, with everyone from Vancougar to The Choir Practice to They Shoot Horses Don't They gracing its stage. Check out the Shindig website for videos, photos and winners (http://shindig.citr.ca).
Here are some more shows built around live in studio music.
Melodies in Mind on CJSF 90.1FM in Vancouver BC
Tuesdays from 8 P.M. to 10 P.M. PT
Online and podcast at www.cjsf.ca
The Wolf's Den on CJAI 92.1FM in Amherst Island/Stella, ON
Wednesdays from 2 P.M. to 5 P.M. ET (replays on Friday and Sunday)
Online at www.cjai.ca
Live and Let Live on CJLY 93.5FM in Nelson & 96.5FM Kootenay Lake, BC
Saturday from 7 P.M. to 9 P.M. PT
Online and podcast at www.cjly.org