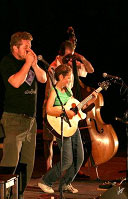 The Dana Wylie Band forms
a special connection with
their audience
Alley Chat with the Dana Wiley Band
The Dana Wylie Band takes most things in stride, including midnight ice cream in a Prince George back alley
The Dana Wiley Band, on their way to headline the Kispiox Valley Music Festival, stopped in Prince George to treat listeners to their unique brand of music. Dana Wiley, songwriter/ vocalist/ guitar/ keys and head honcho, along with Jeremy Hellard (Jez), drums/ guitar/vocals/harmonica, Nye Parsons, double bass/electric bass and Matthew Ord, guitar/vocals, put on an intimate show that had you feeling like you could be in your own backyard with them.
When the oil runs out, all gigs will be this way
The mostly acoustic performance started with the stellar guitar playing of Matthew Ord, who commented, "When the oil runs out, all gigs will be this way." He sang traditional English folk songs, some upwards of 300 years old. He was then joined by Dana Wiley, who stood demurely, hands clasped together, singing gently, not giving away the razor wit and 10 foot voice in her tiny five foot frame. Eventually the other wandering minstrels made their way to the stage: Jez Hellard, who demonstrated that playing harmonica is a full on body experience, and Nye Parsons who had no words but spoke through his fretless bass, his long fingers finding their home without fail. Singing traditional folksy songs, Dana teased us with her powerful, expressive voice before launching into well received favorites like "The Money Song", and "The Ballad of June and Dougie", and then Jez with "Hometown Boy". . With fans across 3 continents, It was easy to see and hear what all the hullaballoo was about.
Around Matthew, you could hear a circle of men burning their guitars, you can hear the flames
Since the 2008 release of The Unruly Ones, the Dana Wiley Band's sophomore album, they have spent most of their time touring. Says Jez when asked how long they've been touring in Canada "Well, it's not just in Canada. In the last 10 weeks, we've done 43 gigs, 24 of them in England. Every night we are not playing, we've ended up in somebody's backyard playing. Every day off we've had, just gets filled with more playing."
With so many travels under the belts of these uniquely-natured troubadours, a little madcap scene in a back alley certainly does not fizz on them and seems almost fitting in a funny sort of way.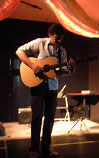 Matthew Ord, the
newest band member,
adds an electric
presence as well as
acoustic and vocals
After baking in the soaring temperatures, and playing a warmer than usual venue under lights, the Dana Wiley Band was ready to have a little chat…outside in the cooler night air. Having been assured there was spot suitable; our little troupe sauntered outside, round the corner, to the back of the venue. In the back alley was a bench and a bit of light illuminating the darkness of midnight. A concrete ashtray/planter was found and dragged over to the bench and Jez placed his harmonica case on top creating a table for the recording equipment. The band bunched themselves on the bench. I began the interview.
When Dana was asked about her first musical memory, she responded, "Oh gosh, well, ah, it would probably help if everyone else got off the bench, so I could lie down. I think I was 3 or so, my parents had a party and there was a record playing by the Nitty Gritty Dirt Band which I now know was called Will the Circle Be Unbroken. It was a song called the "Lonesome Fiddle Blues". I didn't know what it was at the time. I actually found out a few years ago. I remember hearing that noise, that certain syncopation and mixture that is bluegrass. I ran around the living room for the entire duration of the song and then spent the next 23 years trying to figure out what that sound was."

The Unruly Ones - The Dana
Wylie Band's second album
Fast forwarding to how Dana and Jez came together in Taiwan, Dana goes on to say, "Well, we met in a music shop. We would have met eventually anyway. It's a small expat music scene there."
Jez continues the story, "I was told about Dana, before we met. I met her quite randomly in the music shop, and halfway through the conversation I realized she was the girl I was told about."
So what drew the two together musically? Dana laughs and says, "Well, Jez's cockiness, basically. I had just done a demo and got him to listen to it. He said it would have been better had he been playing drums on it. I said well okay, how about that then." This dynamic duo eventually moved to England and managed to get the elusive and very good double bass player Nye Parsons, to fill in on a gig. Nye stayed on with them. Today rounding out the band is newcomer Matthew Ord. Jez says of Matthew, "We were in awe of Matthew's playing as many have been. Around Matthew you could hear a circle of men burning their guitars; you could hear the crackle of the fires. We thought he was far too good to join our sorry little band."
About this time a black Volvo station wagon comes down the back alley and stops beside the interview scene. The guy in the car is shouting "Hippies!" from the window. He gets out of the car and walks towards the group, shouting "Go get haircuts hippies!" As he reaches the group, he asks what is going on. Jez calmly, says "We're doing an interview here, right now. You can hang out if you like." Dana says, "Yes, everything you say will be on the radio." He is told to introduce himself being that he is already captured on the recording. The Volvo station wagon stranger, stammers" I think I will just leave." He then asks if we will still be in the alley in five minutes. He jumps back into his car, and takes off at a high rate of speed, gravel flying, prompting Matthew Ord to ask, "Should he be driving like that?" Jez comments, "He'll be fine he's in a Volvo. Interesting what you encounter in a back alley." The interview progresses, when all of a sudden the black Volvo station wagon guy, comes whipping down the alley once again, breaking heavily in front of the group. Jumping out of his car he comes walking up to everyone with a box in his hand. "What do you have?" asks Dana, "Is that drumsticks?" The Volvo guy proceeds to hand out Nestle caramel ice cream drumsticks to everyone. He then gets back into his car and drives away. He has not said a word the whole time. Everyone is stunned but appreciative. As we tear the paper off of the treats, the midnight interview in the back alley, in downtown Prince George draws to a conclusion, with much lip smacking, and laughter.
This is just one more adventure, song fodder for an extraordinarily talented band of individuals who make and share good music with good people everywhere. For more information on the band www.danawylie.net