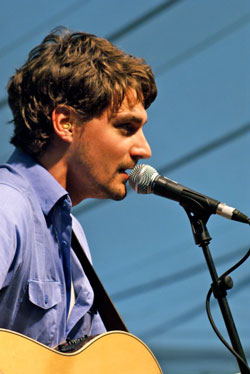 Tim Baker of Hey! Rosetta
Hillside Fest 2009 - Field Notes
The Hillside Festival is one of Ontario's premier summer music festivals and pretty much a guarenteed good time.
Ok. So I didn't get invited to the sex tent by Patience Hodgeson but, like every year I have attended the Hillside Festival, I still had a fantastic timeand annual affair, . During the festival at the Guelph Lake Conservation Area, I kept a detailed log of goings-ons, and things I saw.
Depending on who you watch, and what you do, you are either going to have a very relaxed time at the festival, or you are going to dance and party with many of the indie bands who played. Here then, is my Hillside 2009 experience:
Thursday, July 23rd:
I went up to the conservation area to pitch my tent for the weekend the night before the concert was starting to ensure I got a good, and shady place to stay for the weekend. The actual campsites have been sold out for months, so I have to set it up in the overflow area, which is essentially a field that has been converted into mini sites. Every other year we have been allowed two tents per site, but this year they have changed their policy. As of now, we are only allowed 1 tent, and one car, per site. The price for the weekend has not changed ($84), and the sites seem about the same size as years past. This screams of a cash grab. Certainly not the start to the weekend I was hoping for.
Friday, July 24th:
6:42: It has been raining today. Not a lot of rain, but seeing as the forecast is calling for thundershowers most of the weekend, I stayed at home most of the day. I arrived at the site to find that my tent leaks, which I hopefully fixed with a repair kit (It thankfully worked). I picked up my media pass, but there seems to be an issue. Unlike years past, where members of the media are given a lanyard, or a separate wrist band, the volunteer working in the ticket tent give me the same colour wrist band as everyone else. This means I will have no access to the "Calm Tent", which is where most interviews are done. This could pose a problem as I have an interview with Hey Rosetta! set up for tomorrow night. I figure I will have to talk to the person running the tent to see if they will let me in.
7:47: Roti Time!!!! For those who have no idea of what I am talking about, a Roti is one of the best epicurean delights on his planet. It is a Jamaican dish, which is essentially curried vegetables (or chicken) stuffed into a chickpea flatbread. It is served with a slice of watermelon and chutney. There is a lot of food at this festival, but this is likely the dish I will eat the most. Last year I ate seven and this year I am looking to top this. Gluttony, at times, can be both fun and delicious.
7:52: Sorry Mexico, but salsa is not the best condiment in the world; Lime and Mango Pickle is.
8:02: After clearing my plate and putting it in the appropriate area, it is time for some actual music. There are a swarm of hippies dancing at the Main Stage while watching Xavier Rudd. This is too much for me to take on a full stomach. I quickly head to the Lake Stage to check out Australia's The Grates.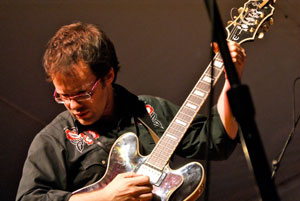 Chris Eaton of Rock Central Plaza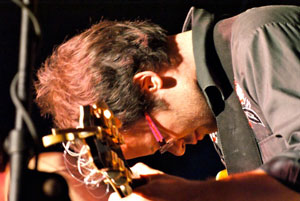 8:11: Lead singer Patience Hodgson is spending as much time singing from the audience as she is onstage. They are putting on an energetic and frenetic show, and the crowd seems to be really enjoying it.
8:39: "I'll meet you in the sex tent", Hodgson tells the crowd. The festival offers many of workshops, and one of them is about the illusive female orgasm. "No guy's invited" she says "No one has to teach you how to pop boners."
9:06: Toronto's Rock Plaza Central start their set at the Lake Stage. Songs about mechanical horses who develop their own feelings and attempt to carve out an identity are always welcome.
10:04: After a great set by Rock Plaza Central most of the crowd seem to be at the Island stage, lining up for USS. This never happens at Hillside. I have been coming here for years, and this is the biggest line up I have ever seen. In fact, I think this is the only lineup I have ever seen, outside of the food tent.
10:23: After not getting into the tent, I decide that my friends inside are on their own, and do the only logical thing possible: Roti number two.
10:36: After eating, we finally the USS lineup had died down, so I decide to check out what is left of their set. Upon getting in, the first thing I hear is the band doing a cover or Outkast's "Hey Ya", which people seem to be really enjoying.
10:42: These guys have some idiotic lyrics. "You're like two and 15/16th" raps the frontman. The next song is about stealing from the dollar store. Seems these guys only tackle the hardest of topics. I am positive that Robert Van Wrinkle can out rap these guys. People are really enjoying them, but I cannot say I am one of them.
11:00: The music ends for the night, and now it is time for the late night drinking and the campfire songs that make up overflow camping.
Saturday, July 25:
1:47: After running a ton of errands in the morning I finally make it back to the festival just in time to see the last song in Bruce Peninsula's set. I was really hoping to check this set out, but sadly I got a later start then I wanted this morning. The rain has started again, and from what the Weather Network is saying, it is not going anywhere soon. The tent I am in has good music, beer and food, so I am not going anywhere.
2:04: Bahamas start their set, and they have this chilled out, electric-folk vibe going for them. It certainly suits the atmosphere.
2:30: The Bahamas set is about halfway done, and I find myself drifting into thought, and not paying too much attention to the band. This is not meant to be an insult at all, as I quite like them, but I am still trying to figure out how I am going to get into the "Calm Tent" tonight for my interview. A friend just returns to the table with a coffee. In fact, it is a large coffee, with two shots of expresso added. He says it is like "A Jagerbomb, only made of coffee." He seems instantly alert.
2:39: Bahamas invites Owen Pallett, members of the Great Lake Swimmers, Rock Plaza Central, and Bruce Peninsula on stage to do a cover of Prince's "Purple Rain." It is both outstanding, and very weather appropriate.
3:14: Toronto's Ohbijou start their third song, and while it is quite beautiful sounding, it is lulling me to sleep. That coffee bomb is sounding better and better.
3:25: The tent is too hipstery for my liking. It is hot and about half of this crowd is wearing some sort of scarf, so I decide to leave.
3:31: One of the best parts of this festival is the fact that hydration of the H2O variety is free. The City of Guelph brings in truck loads of tap water, so no one has to be dehydrated. After drinking a few glasses, I seem to be more awake.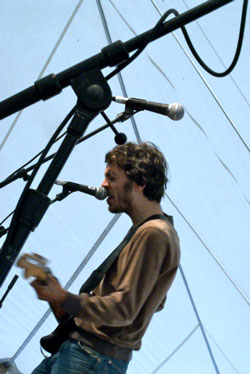 Daniel Romano of Attack in Black
3:55: I finally get my media pass sorted out by talking to the nice people working the "Calm Tent". They explain that there was some confusion about the media access this year, and they then give me the correct wristband. The interview is a go!
5:30: One of the other things I love about this festival is the fact that naps are always welcome. My friends and I headed back to our tents a while ago when the coffee was not working. A quick reset is always in order.
6:00: Welland's Attack In Black hit the Lake Stage. I have been looking forward to this set since it was announced that they would be playing the festival. I love their latest record Years (By One Thousand Fingertips) and think they got robbed of a Polaris nomination this year. The crowd is really young. Like 12-15 young. I think I am the oldest person within ten metres of the stage.
6:22: Julie Doiron joins Attack In Black on stage for "Birmingham" to polite, yet indifferent applause. I attribute this to the fact that most of the crowd were in diapers, or liquid form when Eric's Trip was around.
7:02: Newfoundland's Hey Rosetta! start their set at the Island Stage. While the rain is holding off for now, I am thankful I am in a tent (Note: It rained the second I wrote this)
7:52: After watching Hey Rosetta! put on one of the weekends best sets, I learn that one of my recorders is broken. This kids, is the exact reason why you always plan for the worst, and bring a backup.

Erin Auerich of Hey! Rosetta
8:00: Canadian legend Buffy Saint Marie takes the Main Stage, and the crowd is much younger then I would have guessed. Perhaps people are getting their spots for Tokyo Police Club who are up next.
8:03: I stumble across the Sun Stage, which primarily is used for spoken word performances. Tonight however, Bahamas, along with members of Fred, and others are playing Bruce Springsteen's "Atlantic City". They then follow it up with a cover of "Im on Fire", as their encore. Looking at my schedule, I realize their set is called "Everything That Dies Some Day Comes Back" and was an hour of Springsteen covers. I am an idiot for missing this.
8:30 (From Backstage, waiting for Hey Rosetta! to finish up their other interview): Being backstage really gives you an idea of how much work is put into each set. The crews are running around everywhere making sure that Buffy Saint Marie's set goes off without a hitch, and that Tokyo Police Club is all set up and ready to go. I see the band going over their set list, and checking over their instruments one last time before their show.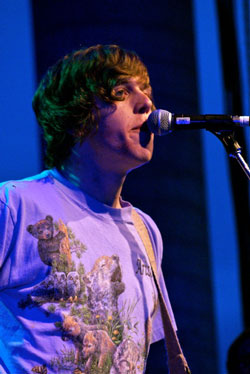 David Monks of Tokyo Police Club
8:40: The Hey Rosetta! interview
9:01: The sky seems to be clearing after a mostly rainy day.
9:18: Tokyo Police Club cover Tom Petty's "American Girl", and I can't help but wonder how many covers of this song are out there. Not counting the thievery by The Strokes, I know of at least a half dozen other versions. It is the United States answer to Leonard Cohen's "Hallelujah"
10:18: Most of my group head to the Island Stage to check out The Arkells, but my girlfriend and I opt to check out Leamington's Sunparlour Players, who play a strange mix of country, folk and indie rock. Imagine Elliott Brood and the Arcade Fire wrote songs together about farming in Southern Ontario.
10:32: The band announce they have merch for sale, including their own line of preserves. Mustard, here I come.
10:52: I have seen the Sunparlour Players before, so I knew what I was getting into by seeing them, but I am still surprised how good they are. This has been my favourite set of the festival.
11:03: I just walked past two girls kissing. And while standardly, this is hardly a newsworthy event, one was dressed like a pirate. You do not see pirate lesbians everyday.
11:24: I just finished my first non-Jamaican dish of the festival, which was an outstanding baked potato. For $5 it was covered in cheese, sour cream, onions and vegetarian chili. Late night eats have never tasted so good.
Sunday, July 26th:
10:00: After a rather late night I am awoken by another thunderstorm. From the inside of my tent it sounds like the world may end. The rolling thunder is intense sounding, and while I may have wished for more sleep, it is not too often you can be caught in this type of storm, and not get wet.
1:17: After packing up my campsite, and having a breakfast of champions (Gatorade and beer) I head back to the festival, just in time to miss the two hour long, Sunday Morning Gospel at the Island Stage. Every year I plan on going to this, but every year, I am up too late to get out of bed. This year, I blame the rain. Instead of gospel, the Dancehall Free For All, are entertaining the crowd. It is not really my thing, but they aren't bad.
2:18: Every year, my girlfriend and I have a little tradition. At about this time, we always take a small nap near the small stage by the lake, which is used for drum circles. The percussion is always a nice thing to fall asleep to. This year, however, Jah Youseff, was playing the Main Stage, and putting on what sounded like a really good show. It kept me awake enough to know that we were about to get one hell of a storm.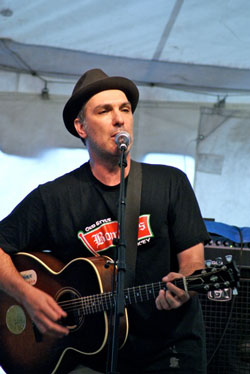 Tiempo Libre are all classically
trained musicians
2:44: We make it to the Lake Stage tent just in time, as a viscous storm hits the festival. I think this is the fifth heavy thunder storm this weekend, and I doubt it will be the last. Surprisingly, I have been in a tent of some sort for each one, so I haven't been wet once!
2:56: The guitarist in Dave Bidini's band is setting up for their 3:00 show. While tuning his instrument, he is mildly electrocuted, and jumps back quite a bit. Smartly, the power's that be turn off the power, as the stage is surrounded by water, and metal beams. A stage hand takes the mic before the power is disabled and asks the crowd to stand back from the beams, which hold the tent up, because of "lightning and shit". Stupidly, people are not really listening.
3:10: The power's turn the power back on, and Dave Bidini, and his band, can finally start their set. "Fuck the Weather. Let's Rock", says Bidini, before his first song.
3:16: A song about how Tim Horton's, Stephen Harper and Chad Kroeger are killing us is really brightening up the sallow and wet looking crowd.
3:34: Bidini invites children from the crowd onto stage to dance while the band plays "Song Ain't Any Good" from their album The Land Is Wild. I just realized that this is the most fun I have had all weekend. The band is hitting every note, and people are really making the most of the weather. I have had many chances to see Bidini over the years, but somehow never has. Next time he comes to town, I am making sure I go..
4:12: Most of my group has gone home. As of now, only my girlfriend and I are left standing. We swim our way to the Island Stage to check out Montreal's Winter Gloves who are doing their best to cheer up the soggy crowd. Musically, they are pretty good, but I can't get into their sound. The crowd, who is mostly younger are all dancing, and it looks pretty fun.
5:00: Gentleman Reg hits the stage. It would not be a Hillside Festival without some appearance from the local boy. I have watched him play with The Hidden Camera's, Broken Social Scene and others over the years, and it is finally nice to have him headlining.
5:19: I get a phone call that puts an end to my festival. My friend, who we actually found wandering around the festival has to go urgently, and we decide to go with him. There is no one tonight that I have not seen before, and it looks like more rain is coming. All of tonight's headliner's are on the Main Stage, which is not tented, meaning, if it rains, there is no shelter. Goodbye Hillside. See you next year. (by the way, it thunder stormed two more times that night)
And with that, it was over. I was damp, and muddy, but had a belly full of food, and a mind full of memories. By the end of the weekend, I had saw a dozen or so really good acts, hung out with friends and ate some amazing food. The rain was an irritation at times, but people made the most of it. It sounds cliche to talk about the vibe of the festival, but really, at Hillside, people seem to forget their problems, and just relax. Whether you are swimming, napping, or dancing, it is one of the best festivals in the country, and one of the best weekends of the year.
Thanks again to everyone who puts it on. From the organizers to the people washing dishes, you really do something special.