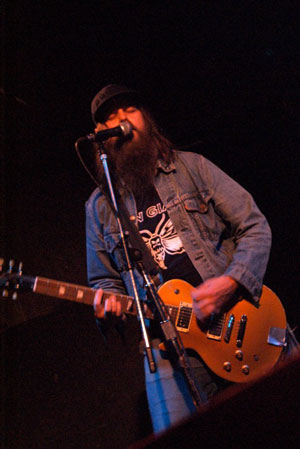 Ian Blurton of the C'mon
North By Northeast 2009 - Field Notes
You can learn about more than just music at North By Northeast
Well, another North By Northeast (NXNE) festival has passed. Much like years prior, it was a weekend filled with music and food. The City of Toronto is such a large and cultural place that it is easy to lose yourself if all of its burroughs. Whether we were waiting in line to see Matt and Kim in Little Italy, or $100's in the Portuguese district, we were enjoying every minute of it. This would be a very long column if I were rehash everything, so instead, I will present you with my field notes, as they were written on the weekend on June 20's, 2009.
Thursday, June 18th
3:48: I arrive at the Hyatt Hotel on King St, which is the home base of the NXNE festival, and end up spending $15 on parking. I just realize that this is going to be an expensive weekend.
4:16: Winnipeg's The Details open my festival, playing a stage inside a conference room at the hotel. This is a strange place to see a band. The hotel is filled with media and bands checking in and picking up their goodie bags. There are at least a half-dozen tables filled with nothing but stickers and pamphlets.
4:22: The Details sound like a cross between Death Cab For Cutie's lead singer Ben Gibbard, singing with The Weakerthans. Oddly, it's not my cup of tea.
5:05: Parlour Steps at the Hyatt. Lisa Loeb's glasses play bass in this band. They are pretty good. I'll Stay (Lisa Loeb humour is always a good idea.)
6:33: Dinner at Fresh, a vegetarian restaurant on Spadina. I like food. Food tastes good.
6:52: Still at Fresh. Some music nerds beside me are trying to dissect "The Long and Winding Road" by The Beatles. Seriously, they are sucking all enjoyment out of this song. I feel like telling the guy doing most of the talking that perhaps not everything the George Harrison did was premeditated. Perhaps he just like playing guitar.
8:00: At the Kathedral on Queen St. West - O Pioneers have the cheapest merchandise ever. I just picked up their last release, Black Mamba, on vinyl, along with a sticker, a button and a patch and my bill was $7. Toronto's Junior Battles hits the stage.
8:20: Melodic punk rock can be such a great thing when it is done well. Lucky for us, Junior Battles is good at it.
8:34: I am willing to bet that I just saw the oddest fashion accessory of the weekend; A roll of duct tape looped through a belt.
9:40: Orphan Choir finish an unspectacular set. There was nothing overly wrong with their set, but I just didn't dig it.
9:48: There are a lot of beards here.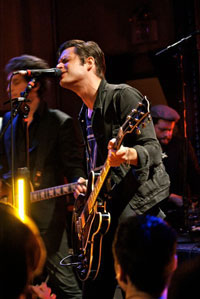 Tim Fletcher of The Stills
10:03: O Pioneers hit the stage, and bring with it the energy that was missing from the last set. This is their first show in Canada. Lead singer, Eric Soloman, has this strange habit by talking to the crowd by screaming at us, and not using the microphone. Perhaps mics word differently in Texas.
10:33: Last night Broken Social Scene (BSS) played a surprise show with Feist that has this city talking. Rumour has it that it is happening again at the Courthouse, so we decide to leave the Kathedral and head over there.
10:50: The Courthouse is the most beautiful club I have ever been in. It has marble floors and tapestries. I feel shamed that I used the bathroom at the Kathedral.
11:15: Milton's The Most Serene Republic are putting on a great show. This lighting here is great due to the fact that they are recording this performance. Two girls beside me must think this is Woodstock because they are dancing on air. DOES THIS SOUND LIKE CARLOS FUCKING SANTANA?
11:17: They get bored and head to the bar. Thank God for small miracles.
11:20: There are a lot of mustaches here. Who would willingly do that to their face? I wonder where all the hipsters parked their fixed gear bikes?
11:48: Turns out BSS are not playing tonight, though I see a few members in the crowd. Tonight it's Montreal's The Stills headlining.
11:50: Would it be rude to tell the band to play some Undercover's songs?
12:30: The Stills play "Love and Death" and I'm spent. It is going to be a long weekend. Time to take the 401 back to Waterloo.
Friday, June 19th:
4:23: "A person holding a cup gets more respect than I do" - Squeegee Kid in chinatown.
7:53: We get to Little Italy and there is some massive street festival going on. College is shut down for blocks. We walk right past the Whippersnapper Gallery, where Brooklyn's Matt and Kim are set to play. When we finally find it, the lineup is huge. The club is full, and there are still about 100 people waiting in line. We decide to not be one of those people and head to the next venue.
8:22: This is not going well. The Dakota Tavern is presenting us with the same fate as the last venue. $100 are set to play in 45 minutes and the bar is packed with about another hundred outside. There is no chance we are getting in.
8:40: On Dundas - We were walking back to the car when we came across The Stills walking down the street with some friends. I am not sure who said it, but I distinctly heard "I had Mr. Sub last night. I remember. I puked it up."
9:25: Back on Queen St. West. A homeless man, who somehow scored a NXNE goodie bag just stopped to point at my bag and say "Hey, you have a bag like mine!."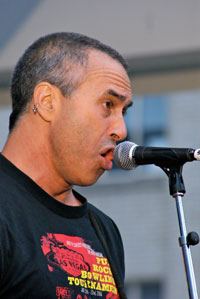 Shawn Stern of Youth Brigade
10:00: Finally, some music. Niagara Falls' The Ghost Is Dancing takes the stage at the Velvet Underground. Having seen them before I am expecting some good moody and energetic indie rock.
10:42: Well, I just witnessed the best set of NXNE, hands down. The Ghost Is Dancing were outstanding. About halfway through the show they decided they wanted more people on stage, so about half of the crowd hopped on. The band, and some of the crowd, stripped to their underwear and kept playing. The show climaxed with a fantastic cover of TLC's "Waterfalls". They even included Left Eye's part. That may have been one of the best sets of music I have ever seen.
10:56: We stop for some late night pizza and are asked by some guy if he could take our picture for some wine company. The pictures are then projected on the side of a building in downtown Toronto. After giving us two free bottles of wine to take home, I am now a billboard on Queen St.
11:47: Hey look, another line. This time it is at Lee's Palace for the No Age show. Today is not working out. I am going home.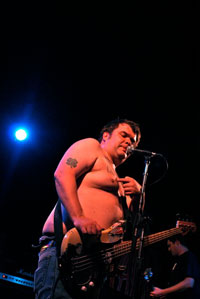 Paddy Costello of Dilinger 4
Saturday, June 20th
6:17: I arrive at Young and Dundas square just in time to see punk legends, Youth Brigade. Nearly 30 years into their career, they are still fantastic.
6:25: "That was unnecessary." says Youth Brigade's Shawn Stern, in response to a bouncer who was a bit too aggressive with a fan who hopped the barrier in order to get closer to the band. "Punk rock in the daytime is always strange"
6:47: "Apparently real music isn't as important as video game music" says Youth Brigade's Shawn Stern, who has to end their set for a Rock Band competition. Sadly, the winner of the tournament gets $100,000. I wonder if Youth Brigade, legends, have ever seen that kind of money.
7:40: Eating fajitas at The Pickle Barrel on Younge Street. Youth Brigade is just seated at the table next to ours. They order soup. Soup!
10:33: I'm having a pint of 50 at a bar just down from Lee's Palace when Thrush Hermit's "From the Back of the Film" comes on the stereo. I wonder if this will be the best song of the night. I am fairly certain it will be, no disrespect to any of the bands tonight, but I really love this song.
11:22: Having another 50 at Lee's Palace as LA's Burning Brides are playing onstage. For some reason I thought they were more Black Rebel Motorcycle Club, and less hard rock. Either way, they are entertaining.
12:07: Toronto's C'Mon are halfway into their second song when it hits me. Ian Blurton's got the best beard in Canada.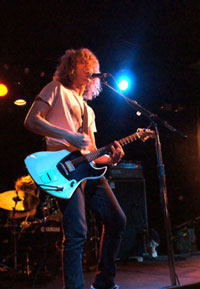 "Burning Brides' Dimitri Coates
12:23: "Remember, we're not in Toronto. We're in Heaven" says Ian Blurton to a happy crowd.
12:45: C'Mon just finished a great set and I decide to hit the bathrooms before Dillenger Four. I use the urinal to the left of the guy wearing bright pink spandex tights and a purple sequenced vest. He also has a headband on. "I'm on at 3:00" he says.
1:48: Minnesota's Dillenger Four win. They were equally as good as The Ghost Is Dancing. When bassist, and singer, Paddy Costello took his shirt off, he unleashed some of the biggest man boob in North America. Tattooed on his chest were the words "How Much Tit Can You Take?" A question for the ages really.
Sometime after 3 in the morning: The Lovely Feather's just ended their set at the CBC Radio 3 party, held annually at the Horseshoe Tavern on Queen St. They weren't as energetic as I have seen them in the past, but that could have to be because of the time of night. A friend suggest its less drug intake. Either way, it was a good closing to another fantastic NXNE.
4:23: I get home. I am sleeping through tomorrow.