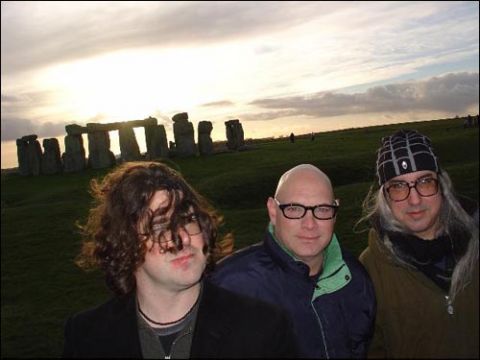 A reformed Dinosaur Jr is releasing it's first studio album
with it's original line-up album in nearly two decades.
(Lou Barlow, Murph, J Mascis)
Dinosaur Jr takes it back to the beginning
Twenty years after a bitter split, Dinosaur Jr's orignal line-up has put the bad blood behind them.
When Dinosaur Jr reformed in 2005, consisting of the original lineup of J Mascis, Lou Barlow, and Murph, many fans of the band didn't expect the reunion to last long, most viewing it as a quick one-off tour to capitalize on the re-issue of their first three albums on Merge Records. Not to mention that Lou Barlow had parted ways with the band on notoriously bad terms in 1989 and then written countless songs slagging J Mascis and Dinosaur in Barlow's legendary lo-fi outfit, Sebadoh. When the news came that the reunited Dinosaur Jr had a recorded a new album, they were again met with skepticism.
Lou Barlow had parted ways with the band on notoriously bad terms in 1989

Sure, it was great to hear the old classics but how good could their new material possibly be? However, upon its release, any remaining doubters were permanently shut up, through either how great the songs were or by the pure volume of the album. Beyond proved to be a quality record, capturing an energized band recording some of the best material in their broad catalogue. And now, with a legion of fans new and old, the mounting anticipation towards the release of Dinosaur Jr's new record, Farm, has reached a fervor pitch. So, was the band just as excited about the new material and the album as the rest of the music community?
"I don't think excited is really a term that can be used to describe Dinosaur Jr," laughs Lou Barlow, speaking out of Charlotte, North Carolina during Dinosaur Jr's current tour. "Cautiously optimistic is probably how I would word it." Consisting of the lineup that so infamously dissolved in the late eighties, its easy to interpret the remark as words that seem to imply the band still exists in the confines of somewhat tenuous relationship. However, Barlow's obvious enthusiasm for Farm quells any notion of Dinosaur Jr calling it a day again anytime soon. "I think we have a lot more energy on Farm than we did on Beyond," says Barlow, referring to Dinosaur Jr's 2007 release. "We recorded it a lot quicker. On Beyond we sort of took our time a little but with Farm it was more or less done in a week. I still actually haven't heard the whole album yet.(laughs)"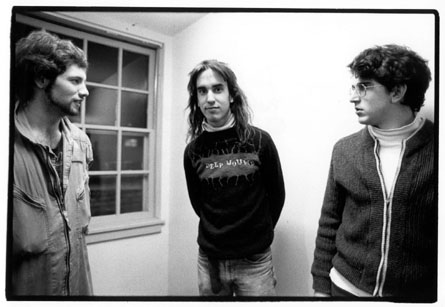 Dinosaur Jr in 1987
Farm sounds like a vintage Dinosaur Jr album, mixing blistering guitar solos against crunching riffs and gorgeous melodies, while encompassing many different styles and genres. For Lou Barlow, Dinosaur Jr's sound didn't come from any one place. "We always had a lot of influences and, even coming out of a hardcore scene, we never really wanted to sound like any one band. We really loved the Rolling Stones but we didn't want to sound just like the Rolling Stones. We loved the Ramones but we didn't want to sound just like the Ramones. We sort of were going for that big seventies power trio kind of sound."
Barlow contributes two new songs to Farm, "Your Weather" and "Imagination Blind" respectively and admits his writing process for Dinosaur Jr is certainly a lot different from his writing process for Sebadoh or his work with the Folk Implosion or from J Mascis' songs either. "Dinosaur Jr sort of has this distinct sound and I'm very aware of that. J usually has his songs worked out completely when he brings them in. I usually get together with Murph and sort of work on different ideas and see what works and build things up from there."
Due for release on June 23rd, 2009, their first for Jajajuwar Records, Farm, is sure to impress longtime fans and newcomers alike.
Dinosaur Jr Discography
Dinosaur (1985)
You're Living All Over Me (1987)
Bug (1988)
Green Mind (1991)
Where You Been (1993)
Without a Sound (1994)
Hand It Over (1997)
Beyond (2007)
Farm (2009)