Divine Brown holds a yellow belt in
the Brazilian martial art Capoeira.
Divining Miss Brown
Divine Brown digs into the memory vaults, adds a little shoobe do wop, and comes up an unforgettable soul contender.
By Shelley Gummeson
Everything is aligned for Divine Brown to become Canada's soul diva. She is currently tearing it up on her Canadian tour in support of her latest release The Love Chronicles. She recently opened for the Backstreet Boys on the Canadian leg of their tour in November. A soul diva, touring with the Backstreet Boys? It is not a stretch of the imagination at all, given that Divine Brown has taken every reasonable opportunity all her life, to exercise and hone her considerable vocal instrument. Talent, energy and focus are in abundance with Miss Brown.
I just followed the direction my creative spirit was taking me in

To set the record straight, and clear up any possible confusion, we are absolutely not talking about the infamous Divine Brown, who was arrested for giving Hugh Grant a blowjob. We are talking of the incredibly talented, Canadian singer/songwriter with a jaw dropping vocal range, Divine Brown. We are talking of the Divine Brown who has paid her dues on the grueling soul and R&B circuit in Canada and can bring the house down with her old soul voice and a shimmy and shake in her high heels. Finally, we are talking of the Divine Brown who was recently nominated for a Juno Award for Single of the Year, for "Lay it on the Line" and R&B/Soul Recording of the Year for The Love Chronicles. Divine has taken us on a sonic tour of soul throughout the 60's and 70's with her new album. She went back to her memories and the rawness of her emotions of the time and set them to a backdrop of what she heard growing up.
Performing professionally since she was 12 and writing songs since the age of 14, Divine was asked if she remembered what she wrote about at that age.
There was nothing I could do about having a voice that was mature.

With a smile in her voice, she replied, "I remember writing stuff inspired by African history, and I remember writing about whatever my teenage ideas of love were at that age."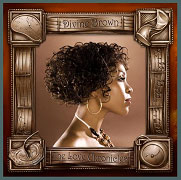 Divine Brown is nominated in two
Juno Award categories
Fourteen years is a very volatile age in a young woman's life. Going back to that point could very well stand the hair on your head. "Yeah, but in a good way," Brown says. "I don't know man, I was really in that deep poetic mode, it was crazy." Has Divine ever thought of dredging up some of those songs and reworking them? "Absolutely," she says. "I think I will be going through some boxes and me being like, oh…that was a great song. On my first album there is a song called 'My Crying Eyes'. I wrote that when I was 16 years old." Like many of the soul and R&B performers from bygone days, Divine Brown writes and sings from an emotional level. She recalls listening to the Skeeter Davis song of the late 60's "The End of the World". "My step mother had a Skeeter Davis album, and I was listening to that song and I remember thinking, that it was such a melancholy song but the melody was amazing. At age 12 I was thinking, damn that's a great song. I could picture a young girl experiencing love for the first time and standing there and looking out at the sea, you know. That song inspired a feeling like on "Sweet Surrender" on my new album. It is the feeling and essence of the emotion I felt listening to the Skeeter Davis song and the memory I have that is attached to a song like "Sweet Surrender". That's the place that I wrote from for the entire record."
Divine Brown's is an old soul voice, beautifully channeling the emotions and sound of soul back when Toronto had a thriving soul community in the 60's and 70's. "Once the first few songs started hitting me, I just followed the direction my creative spirit was taking me in". She goes on to explain: "As for the voice, there was nothing I could do about having the kind of voice that was mature, I think that has something to do with my soul, my spirit, you know. All I ever wanted to do was to go out there and sing so my voice would get better and get stronger. I used every opportunity, gospel choir, school choir, musical theatre." Even the Backstreet Boys tour was an opportunity to stretch her voice.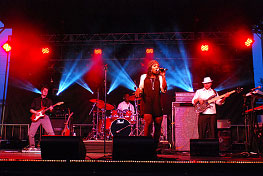 Divine Brown has a youthful energy on stage and
connects to her audience with her old soul voice and
cheeky attitude
In an industry that can chew people up, you need a pretty strong faith and belief in yourself as an artist. What keeps Divine Brown focused and moving forward? Without hesitation, she replies, "My 10 year old daughter." Divine is a working, single mom, with the challenges of maintaining a balance that a lot of women face in the same situation. "It's hard to be organized, I'll tell you that. It's a challenge and every day I feel like I'm kicking myself in the butt trying to be organized. She [my daughter] propels me to keep going, to keep reaching different levels of growth. It is tough, but I have a great family, and her father is great at being supportive and understanding. She respects and loves her mommy and sees how hard I work. That's another aspect that keeps me going. I'm really blessed to have the respectful little girl that I have."

Divine Brown describes herself as a super-sensitive but strong woman. "It's definitely a cool dynamic, "she says, "and I think it reflects in my music". Not a one dimensional artist, she fast forwards herself to what she would like to see in her future. "I think maybe films and mentoring other musicians, and radio isn't out of the question either." Until then, Divine Brown shares with us her gift of soul.