Gaslight Anthem takes the road to bigger things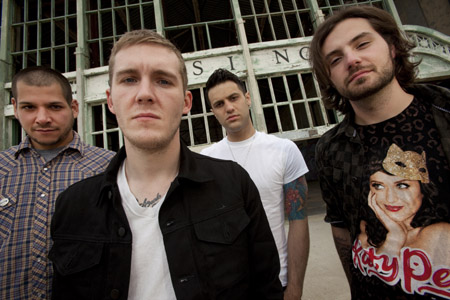 The Gaslight Anthem wear their influences on their sleeves.
The hard work of constant touring is starting to pay off for New Brunswick's The Gaslight Anthem
Since forming in 2006, New Brunswick, NJ's The Gaslight Anthem have quickly gone from playing house shows and small clubs, to some of the worlds biggest stages.
"I love touring" says the band's drummer, Benny Horovitz. Seemingly, they are a band always on the road, and willing to play.
"It is our life." he says. "We have done a minimum of 250 per year, for the last three years. You just forget what the normal life, you used to have, was like. Now, this is life."
The band is back on the road, doing another cross continental tour, which will be their final one before heading back into the studio to record a follow up to their much lauded, 2008 release The '59 Sound.
The record will again be released on SideOneDummy records, and produced by Ted Hutt. Horovitz says it should be released by mid-summer of 2010.
"We are collectively working out (our sound) right now, in terms of the direction." he says. "I would definitely say the distortion is coming back. It (the new record) is going a little more aggressive then it has in the past, so far."
"The direction we are staring to work on is Social Distortion meets The Animals."
One of the very recognizable traits of The Gaslight Anthem is the fact that they wear their musical influences on their sleeves, much more so then other modern bands. Whether making lyrical allusions to Counting Crows or Bob Seger, or writing music in the vein of many bands before them, they play a style of rock music that not many others do today.
We are very directly influenced by what we are listening to.

Sure, there is the obvious Springsteen references, but beyond those, you can hear bands like The Replacements, and The Clash sneaking their way into the songs.
"We are very directly influenced by what we are listening to, but a lot of times it (the influences) are pretty unconscious and a subtle process." Horovitz says. "I don't think we have ever walked into the studio and said "Today we are going to write a Clash song."
The band, who has released two full length records, and one ep in their three year existence, says they are "surprised" by the success they have achieved.
"It was a total and utter surprise." he says. "Me and Brian (lead singer Brian Fallon) literally made a pact that if we sold more then 10,000 records, we would get knuckle tattoos."
"The idea of the size of what this record has done wasn't even in our scope. We almost didn't even know this world existed, until we got put into it. We did not expect it at all."
The current tour features a lineup the band picked themselves. Bands and artists like Murder By Death, The Loved Ones and Frank Turner are providing the opening slots.
Our shows were so interactive, with the crowd, where you could see the faces of people. You would sweat together and sing together.

"We picked bands we are really good friends with and bands we enjoy seeing every night" Horovitz says.
Unlike past tours, this is their first on a tour bus, and headlining larger venues. "We always tried to make it that we would not wind up in larger venues until we belonged in larger venues." Horovitz says. "Instead of underselling a larger venue, we would rather sellout a smaller venue and then come back again soon."
He says playing bigger venues is "cool, but a totally different thing all around."
"Our shows were so interactive, with the crowd, where you could see the faces of people. You would sweat together and sing together." He says. "When that's the case, there is no problem whatsoever in trying to muster up the energy to play. It just comes naturally."
"When you are on a big stage and 10 or 15 feet away from the kids, you have to find a new way to make it exciting for everyone. It was something to took us a long time to get used to."
Fans expecting to hear new material on the tour will be sadly disappointed, as the set lists are all comprised of their older material, as well as some cover songs mixed in.
"It takes us a while for us to be convinced that a song is a keeper." He says. "These days, with you tube, you can't just play a song and just throw it out because someone is going to record it. They are going to listen to it. We have to damn sure a song is something we stand behind before we even play it live.
For now, we will just have to sing along to "Angry Johnny And The Radio" one more time. Something that is fine by me.
This is the band's second full trip through Canada. They initially played two shows in 2008 with Rise Against and The Alkaline Trio, before doing a national tour in the spring of 2009. Horovitz says playing Canadian dates are always "special".
"We don't get up there as much, so it may be a little more of a special experience, for both of us." he says. "Everybody is a little more excited because it doesn't happen all the time. The fact that this many people are interested, and singing along, is really good for us. We are really happy with what is going on in Canada."
Horovitz shared a story about one of the bands first trips across the border. They entered Canada, through the beginning of the prairies. "It is pretty barren out there. Worse then America." he says.
"The middle of the country in America is rough, but Canada, we almost ran out of gas last time." Horovitz says. "We crossed through at Emerson, above North Dakota and we were a little low on gas. When we got over (the border) it was barren. There was nothing there, for miles. We very nearly got stuck."
This time, however, they are crossing the continent in their new tour bus, and playing sold out show. Naturally, I asked Horovitz whether he and Brian Fallon got their knuckle tattoos, as The '59 Sound has sold more then 10,000 copies worldwide.
"We didn't (get them)." He says, "Brian did get knuckle tattoos, but not for that reason."
"I guess we are sellouts."
The Gaslight Anthem Tour Dates:
| | | | |
| --- | --- | --- | --- |
| October 3, 2009 | Minneapolis, Minnesota | The Cabooze | Murder By Death, Loved Ones, Frank Turner |
| October 4, 2009 | Milwaukee, Wisconsin | Turner Hall | Murder By Death, Loved Ones, Frank Turner |
| October 5, 2009 | Grand Rapids, Michigan | The Intersection | Murder By Death, Loved Ones, Frank Turner |
| October 6, 2009 | Detroit, Michigan | St. Andrew's Hall | Murder By Death, Loved Ones, Frank Turner |
| October 7, 2009 | Rochester, NY | Water Street Music Hall | Murder By Death, Loved Ones, Frank Turner |
| October 12, 2009 | Buffalo, New York | Town Ballroom | Murder By Death, Jesse Malin, Broadway Calls |
| October 13, 2009 | Toronto, Ontario | Kool Haus | Murder By Death, Jesse Malin, Broadway Calls |
| October 15, 2009 | New York, New York | Terminal 5 | Murder By Death, Jesse Malin, Broadway Calls |
| October 17, 2009 | Boston, Massachusetts | House of Blues | Murder By Death, Jesse Malin, Broadway Calls |
| October 18, 2009 | Philadelphia, Pennsylvania | The Trocadero | Murder By Death, Loved Ones, Broadway Calls |
| October 21, 2009 | Richmond, Virginia | The National | Murder By Death, Loved Ones, The Measure [SA} |
| October 22, 2009 | Washington, DC | 9:30 Club | Murder By Death, Loved Ones, The Measure [SA] |
| October 23, 2009 | Nashville, Tennessee | Mercy Lounge | Murder By Death, Loved Ones, The Measure [SA] |
| October 24, 2009 | Atlanta, Georgia | Masquerade | Murder By Death, Loved Ones, The Measure [SA] |
| October 25, 2009 | Charlotte, North Carolina | Tremont Music Hall | Murder By Death, Loved Ones, The Measure [SA] |
| October 26, 2009 | Columbus, Ohio | Newport Music Hall | Murder By Death, Loved Ones, The Measure [SA] |
| October 27, 2009 | Chicago, Illinois | House of Blues | Murder By Death, Loved Ones, The Measure [SA] |
The Gaslight Anthem Discography
Albums
Sink or Swim (2007)
The '59 Sound (2008) US #70, UK #55
Singles and EPs
Señor and the Queen EP (February 2008, CD & double 7" vinyl)
"The '59 Sound" single (July 2008, 7" vinyl) Billboard Modern Rock #35 [16]
"Old White Lincoln" single (December 2008, CD & 7" vinyl)
"Great Expectations" single (March 2009, CD & 7" vinyl)
"The '59 Sound" single (June 2009, CD & 7" vinyl) UK #115 [17]
Other releases
"Sink or Swim Demos" (7" vinyl)
Live at Park Ave. EP (April 18, 2009, 10" vinyl - Record Store Day exclusive[18])