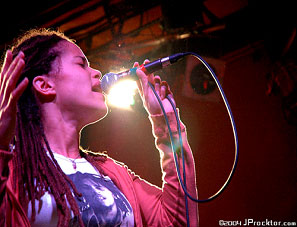 As a youngster Sista J was a member of her
fathers' steel band, the first in Edmonton, AB
Souljah Fyah is Tasting Their Dreams
One good thing about music, is when it hits you, you feel no pain" Bob Marley
On and off stage Souljah Fyah front woman, Janaya Ellis also known as Sista J, exudes a high voltage, positive energy. "The stage is where I let everything go, I just put it out there, it's what I want to become", says Sista J. Unfettered without setting limitations is precisely the attitude and energy that has propelled Edmonton, Alberta's Souljah Fyah to become Canada's top reggae band. They were nominated for a 2009 Juno Award, and won the 2009 Canadian Reggae Music Award for best band. The accolades just keep piling up. "The band is just regular people, who really, want just to play music," says Janaya, "And by some wonderful coincidence we all agree that it's good to put out good things." Sista J, attributes at least some of this success to friends. "When I say friends, I mean people that will drive for hours to come support us at a show." She goes on to say, "We keep digging deeper for lyrics, we just keep going in the direction that our dream takes us."
We hope we�ve that we have put some good into the mix of this world

More than just chance, It takes hard work and vision to achieve the level of success the band has enjoyed. With some excellent guidance of fellow musicians, Ellis keeps things on track. "Marlon Wilson, who is the leader of Politic Live out of Edmonton and one of the founding members of Music for Mavericks, is constantly sending me deadlines and timelines. You need to get this grant in, or if you finish your album by this date, it might coincide with the date of that album award. The planning of it is important for sure. You need to know what goes on in the industry. I am so thankful for Marlon because he generously gives this information to those who will listen."

Sista J relaxing at Salmon Arm Roots and Blues Festival in Aug.
As in the Steinbeck saying, "The best laid plan's o' mice and men…" You can plan and plan, but there is another part to the equation according to Janaya. "When you've done all the work, you've prepared, you've practiced your instrument, you've taken your voice lessons, you've written some heartfelt lyrics, then you just surrender to whatever may happen, and be happy in your everyday moments."
Souljah Fyah can extend that vibe of inclusion, to their audience because they are so very trusting and close with one another. Janaya describes the other band members, without hesitation: Tribesman, one of the founding members, is referred to as a bright presence; Saint can be a joker, but is really a tender guy; Paul is very intellectual and brilliant; Norm is a very skilled, deep guy, who loves music from his heart. So how would Janaya describe her part of the whole? "I've got these huge dreams that I want to taste. Sometimes you can feel limits, but I don't see limits. I come across as stubborn at times. Fortunately the guys get that I'm not trying to squash any ideas, but if it's a limiting idea, then let's move this way, I move fast."
The group has since recorded an EP as well as having their nominated LP Truth Will Reveal out. Sista J explains the difference she feels is notable between the two. "Truth Will Reveal was our first effort as the new Soulja Fyah. It took a long time and we went through a lot of trauma and joy making it. The new EP is the other side of what we've been through. Tears of a Fool is about domestic violence. These are truths that I have witnessed. I still think we are on this path of seeking out truth."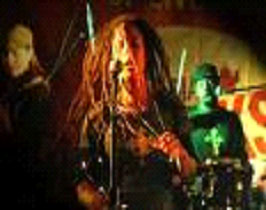 Souljah Fyah Canada's top reggae band The climate of the songs has changed somewhat as well. Truth and Reveal had more political overtones and Tears of a Fool is more from inside according to Janaya. "It's more personal, it's braver," she smilingly says. "It takes a little bit of courage to say what is true for you, rather than what you think is true for other people."
Soulja Fyah is well known for leaving it all on the floor at their live shows. They capture their audience, creating a synergy that carries everyone to the last note. "We hope that we have put something good into the mix of this world" Sista J says. "You know the saying it only takes one small candle to light up a room, if we have triggered the lighting of candles, then we're good with that."
Janaya has taken some time to get married this summer and then Soulja Fyah are looking towards another recording and hopefully a video in the future. Until then bassist and front woman Janaya Ellis is continuing to take a big bite of her dream.
Log on to www.souljahfyah.com for all the latest information and to purchase merchandise.