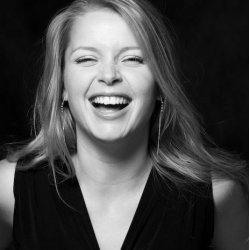 Bria Skonberg
Keeping It Fresh - The Bria Skonberg Interview
At 25, trumpeter Bria Skonberg has benn performing on stage foe more than 20 years.
I first noticed Bria Skonberg at the Chilliwack (Dixieland) Jazz Festival in 2005. She was part of a band of exuberant high school and college students then called The 51st Eight. She sang and played trumpet with both youthful enthusiasm and quite a bit of savvy and power. Over the next few years I saw her perform with the legendary Dal Richards and his Orchestra. Richards, the dean of Canadian big bands has been known to show a soft spot for the younger members of his band and introduced her with fondness and pride in his voice. Another senior member of the BC jazz world Lloyd Arntzen has seen it fit to include Bria in his Yukon based quintet New Orleans North. They appeared in Kamloops a few years ago to an unusually large crowd for a jazz concert. While she is only 25, she has been performing for over 20 years and has appeared all over North America and Europe, as well as China and Japan. She has been the recipient of numerous awards including the CBC Jazz Award of Merit (2006), and the coveted Kobe Jazz Street Friendship Award, presented at the Breda Jazz Festival in 2007. She co-leads and manages three jazz bands based in the Pacific Northwest: The Big Bang Jazz Band aka The 51st Eight, The Mighty Aphrodite Jazz Band and Bria's Hot Five and is a member of numerous other ensembles. She has worked as a teacher and counsellor at many jazz camps and has worked as a clinician at Sacramento State University and the University of Colorado. She has been part of quite a number of CD releases, but this is the first time that she has put one out under her own name. It's called Fresh and it includes some fresh arrangements of pop and jazz standards, along with a few compositions from Bria.
JD: Tonight I'm speaking with Bria Skonberg from Vancouver who has a new CD out called Fresh. We'll talk about the CD in a while, but let's start off with a bit about your background. What is your hometown and where did you go to school?
Bria: I am proud to say I'm from Chilliwack, which is about an hour and a half east Vancouver and I graduated from Chilliwack High School.
JD: Do you have any teachers there that were memorable?
Bria: Sure. I had a couple of very influential teachers at the high school. The director there was Rob Hopkins and Gary Raddysh who are very, very good at getting students for the program. There are actually extremely versatile programs. There are jazz band, concert band, jazz choir, a steel drum band, a percussion ensemble, a couple of Dixieland bands, which is where I got my start in jazz and an R&B band, now. All sorts of things.
JD: It does have a good reputation. I remember being down there a few years ago at the Chilliwack Jazz Festival. I liked the fact that they had students in from all over the place including California and lots of hometown people. There were stages for everyone. The students mixed with the famous artists from different bands. It was just excellent and it was a really well set-up program.
Bria: That festival is celebrating it's 22nd year this coming year and you can talk about that if you like (laughs).
JD: I had a feeling you might want to as I heard that you are on the Board of Directors.
Bria: I am. That's where I cut my teeth playing in bands and going through school programs there and I'm still performing there. My dad is now the Director and there's a good group of us that is now a part of the Committee. That festival will take place April 30-May 2 next year:
JD: I guess I have to go now, or I'm going to be in a lot of trouble (laughs).
Bria: You come on in. Do whatever you want. (laughs).
JD: I'm pretty sure I'll be down there. You also went to school at Capilano College. Who were your teachers, there?
Bria: I studied trumpet with Vancouver players Kevin Elaschuk, as well as Alan Matheson and wonderful teachers like Rejean Marois, who led the big band, and Grace McNab. There are many wonderful teachers, there. But those are my trumpet teachers. I also studied voice with Kate Hammett-Vaughan and Mary Jo Bischoff.
JD: That's some pretty good people. You're just dropping names on me, aren't you?
Bria: (laughs) I'm not trying to drop them. That's just the way it was. Lucky!
JD: That's good. That's just excellent. Bria, you've won a number of awards and one of the awards that you won (CJAM Award) got you to sing with the great Dal Richards Orchestra?
Bria: That was fortunate to win that award and then it was being in the right place at the right time. Right after I graduated I won the CBC Jazz Award of Merit which was presented at the college by the Coastal Jazz and Blues Society and I got a spot in the festival (Vancouver International Jazz Festival) and it was just an amazing thing from the CBC and Coastal Jazz and Blues Society and Cap College. I received that and I went to accept the award and Dal was invited to the reception, so I met him there and a week later he called me and we went for coffee and he gave me a bunch of dates to appear with his band and I've been with him ever since.
JD: That's great. Dal has been opening one of the days for the jazz festival over at David Lam Park for the last few years. I did get to see you with the orchestra a couple of years ago.
Bria: Yes, I've been there. That's one of my favourite days of the festival. The weather has been immaculate the last couple of years and it's always a great event to open up that day. Jim Byrnes always come by on that day and it's a lot of fun.
JD: Ya, it's always a whose who in that band. I think I saw Jamie Croil. You know Jaimie Croil, I assume.
Bria: Jamie's great and Diane Lines, who plays the piano and sings and Jennifer Hastings and Derry Byrne plays trumpet. Right now I'm getting ready. We're going to start the PNE (Pacific National Exhibition) pretty soon, here.
JD: So another big gig for Dal and the gang. I think I saw Evan Arntzen with the orchestra once, too. Evan's one of your buddies, too?
Bria: I've known Evan since 2001 when he was still in high school. I met him at the Vancouver Dixieland Jazz Festival. We actually met on stage. We were both alumni of these camps. We both had scholarships at these camps through the Vancouver Dixieland Jazz Society, so they put us together on stage to sit in with the band and I was just totally blown away; even when he was just sixteen years old; just an amazing, amazing player. So I went home to my own band which was just starting out of Chilliwack Senior and is now The Big Bang Band I said, "I don't know who this kid is, but we got to get him on reeds right now and I've been playing with him ever since.
JD: In fact you have played with other members of the Arntzen family. I've seen you tour with his grandfather Lloyd Arntzen and the Red Onion Rhythm Kings.
Bria: Yes, and Alan Matheson plays trumpet in that one. That was my teacher, so it's kind of neat to be out of school now and fielding gigs with Alan. But, the Arntzen family is just a group that all Vancouver can be proud of. Grandpa Lloyd, Evan's dad Tom Arntzen is an amazing piano player and singer and he's got a group of brothers that play together. Ya, and they even have a group called the Three Generations Jazz Band and Evan Arntzen's brother Arnt is starting to work his way into the mix. He's a great folk singer and guitar player and is trying to work his way into the mix, so there's lots of them to come still.
JD: That's amazing. At the Jazz Festival this year on one of the Gastown days, Lloyd had one of his boys from New York and that guys son guesting with the Red Onion Rhythm Kings. The kid was drumming and the son was playing trumpet. They had three generations of Arntzens on the stage.
Bria: Oh, yea. They've done regional concerts. But that group included Leif, who's a trumpet player and lives in New York and his son; I want to say his name is Myles. I haven't met him yet, but I hope to. It's amazing. It's in their blood. It really is.
JD: So, Bria, what about the Skonberg blood. Are there any other musicians in the Skonberg family?
Bria: Yes, my family, we love music. We have a big positive disposition towards it; musical hobbyists, I'd say. We always had a lot of musical instruments around the house. Whether or not we played all of them—but they came in handy for the young and were used at birthday parties and everything. I had an older brother Eric and he played saxophone and old time fiddle and my sister Dana played flute and piano and mom played piano and my dad played trumpet in high school, which is pretty much the reason I ended up playing trumpet when I got to it. My family is amazingly supportive and we've played a lot of music, but not usually professionally, but sometimes.
JD: That's good. While we are getting to the past, not that you it is that far back for you, can you possibly think of your first musical memory—perhaps a song or an incident that involved music.
Bria: I'm pretty sure it was with my brother Eric. I mentioned he played old time fiddle and he would actually go to competitions in B.C. and the east. The whole family, the five of us would go to fiddle competitions. A fiddle player would go up and play a waltz, a jig and a reel. Usually there was a piano accompanist or a guitar and the rest of us would get to dance or waltz around. I remember I would dance on my dad's toes and I have a mean polka (laughs) and those would be my earliest memories for sure.
JD: Sounds like they would be a lot of fun.
Bria: Ya, and I think that folk style of music and all those melodies kind of segued into the love of music that I like to play now.
JD: You have a love for a genre of music now, and my guess is that is more traditional jazz than contemporary jazz. Would that be accurate?
Bria: Well, as for my love for it, I love all kinds of music, especially jazz for different reasons, but the amount that I play the most is from 1900 to 1940 or so and if that counts as traditional jazz, yes.
JD: I think it falls in there definitely and you go a bit beyond that, too. That's pretty cool. Now you have a new CD out called Fresh. I guess this is your first solo CD?
Bria: Ya, I've put out several CDs with groups that I'm a part of or that I've led, but this is the first time I've went out on a limb.
JD: Well we have it here and I'm sure enjoying it. I've listened to it a number of times—in fact what I do before an interview is I put the CD on over and over again, which can pretty much make you hate it and that didn't happen, so that's a good sign.
Bria: (laughs) Like when your mixing it and recording it.
JD: Exactly. On Fresh you have a variety of jazz standards and some pop covers and some original compositions. How do you feel about writing music?
Bria: I really enjoy it. Again, this is the first thing I've ever done under my own name, so I'm going out on a limb in a bunch of ways. So writing songs is always something I've been interested in but I've never had the opportunity to explore that option because I cater so much to a style that is mostly covers, but this album is such a creative process to me and I learned a lot about myself with writing and arranging—I did a lot of the arranging and stuff. Overall I found it to be really fun and a really humbling experience to create something and put it out there into the world. I think if I got anything out this experience doing that has really pushed my confidence to a new level.
JD: That's good. It is very difficult to compose music. I read somewhere on the Internet that you write using the piano. Is that correct?
Bria: Yes, I definitely find it easier using the piano, because you can hear the harmonies and from there I can possibly sing along with it. The trumpet is a one note instrument, so.
JD: So, how's your skill level on the piano?
Bria: Not worth playing (laughs). No I enjoy it. Actually I started on the piano before playing trumpet and I played a couple of years on piano and when you are in Cap College you have to take couple of years of harmony on piano and I really, really enjoy it. It's something important to have when you go into writing. I think it's the secret to the universe. Anything you want to know about music is on the piano. You just have to find it, so spending time trying to find it was really fun.
JD: That's good to hear. You wrote a number of songs on Fresh and you chose some covers, too. Considering your repertoire, there's got to be hundreds of thousands of songs you could have picked and you chose some of the great lyricists and composers like Cole Porter and Lerner and Lowe. You also chose some pretty good musicians such as Michael Kaeshammer. How do you know him?
Bria: I want to say I met him in 1999, because he was a performer at the Chilliwack Jazz Festival. He and a wonderful drummer, Damian Graham appeared at the festival and as it turned out, they home stayed at my parent's house, so that was pretty exciting to get to know them first hand. I just kind of followed him throughout the years, (laughs) not followed-followed him, but we just kind of became friends and we ended up at the same festivals at different times. I really wanted to put a stamp on this recording by having a couple of heavy hitters involved, so I asked him to be a part of it and he said yes, thankfully. He was just amazing. The energy he brings is so inspiring. He came in on some of the other days just to have a listen and I really trust him as a friend and as a musician.
JD: We know you aren't stalking Michael Kaeshammer, but I think you might be stalking Micheal Buble. Is that it? Is that a possibility?
Bria: (laughs) No. No, I'm not.
JD: Are you sure? The audience is going to have to listen to the CD to find out what I'm talking about.
Bria: (laughs) I can't afford to stalk Michael Buble. The thing behind that is I live in Burnaby and he used to live in Burnaby. I don't know. That song ("Won't You Come Out and Play") was just about bringing some humour back to the music and I've always loved lots of different music. Even before I got into jazz I went through a huge pop faze and a punk faze and I thing a lot of us girls at some point have a teenage infatuation with somebody, so that's what that song was about.
JD: That was cute. It rhymes so well.
Bria: I couldn't help it. Paul, the producer and I went over it and decided to use it.
JD: I'm glad you kept it in. A lot of your music contains a sense of humour and that was the kind of thing that was done through the 1920s to the 1940s. Also, on one of the tracks you substitute a cuckoo clock chime for the word mad or crazy and it fits really nice.
Bria: Ya, you know that's what I love about music and performing, engaging humour is one of the fastest ways to bring people in. Just having a sense of humour is inviting.
JD: It really is. Just a little aside here, I was just at the Salmon Arm Roots and Blues Festival and I saw a gentleman named Ben Waters, who is from England and plays piano along the lines of your friend Michael Kaeshammer. He has that English sense of humour and changes the lyrics to some songs, or intentionally writes funny lyrics and he had the audience just eating out of his hands; although he is very talented, too.
Bria: I find that I love listening artists that way humour, but also a sense of wit and to be able to throw kind of a curve, so that the element applies in other settings. That's just kind of another level of music for me and that's what I kind of strive for.
JD: Another thing I liked about Fresh was that on a couple of cuts, "Lovefool" and another you used the background vocalists Sapphron and Camille Henderson. Are they sisters?
Bria: Yes they are. Do you know who they are?
JD: I know of Sapphron; she's Bill Henderson's (Chilliwack, the band) daughter. I am not familiar with Camille.
Bria: They both are. I met them through my producer Paul (Airey). What beautiful women and so funny. Sapphron does a whole bunch of voice-over work in cartoons and in between each cut she was saying something in another voice and I was just busting up. Camille is very beautiful and she sings some background vocals for people like Sarah McLachlan. She works a lot. To have two professional vocalists like that at work was really cool for me.
JD: You were brave to end the CD with the Janis Joplin classic "Mercedes Benz". Did you have any misgivings about doing that?
Bria: In what way?
JD: Well, you didn't do it a cappella. To me you did kind of a gospelly version of it. You also have Kaeshammer's piano coming in later. How did you come up with this arrangement?
Bria: I'll definitely give some credit to a Swedish jazz band that I saw in Enkhausen, Holland last year at a jazz festival called the Second Line Jazz Band. I saw them do a version of this song. It was kind of really crunchy, old New Orleans style. I thought it was so great. I talked to them about it and decided to put it on my album, too. It's supposed to have kind of a New Orleans lilt to it and the arrangement goes on and it sets up the piano solo, which just rushed into a big boogie woogie in the key of C, which of course is one of Michael Kaeshammer's main specialties. Of course that was kind of exciting to write that arrangement with that and those players in mind. It might have even been that I thought I had to get Michael Kaeshammer to play it, because I just couldn't hear anybody else doing it. So that's the story behind that one.
JD: It works really well. Say I want to buy your new CD Fresh; how do I get it.
Bria: It's available from the Portland company CD Baby which is at cdbaby.com and search under Bria Skonberg or if you go to my website briaskonberg.com there is a link on there and I have a Myspace page, too. If you are worried about spelling it wrong Google 'Bria and trumpet' and something will come up (laughs).
JD: Thanks for speaking with me, tonight. What do you have planned for the rest of the summer?
Bria: Ya. I'm hoping to get one day to go out to Chilliwack to my folks' place and relax, but pretty soon I'll be starting at the PNE and I'll be there every day until Labour Day doing shows with Dal (Richards) at 11:30-12:30 and 1:00-2:00 PM with on the main stage. I'm really looking forward to that. I live really close to the park and it's always a delight to get to play. You know the PNE is such a wonderful part of the summer and everybody is out to have a good time. There are great night time concerts and that's what I'll be doing for the next couple of weeks. You can check out my site to see what I'm doing, too.
Bria's website: www.briaskonberg.com