Young & Sexy
Young & Sexy: It Started As A Botched Romance, But Became Something Beautiful
10 Years In The Game, Young & Sexy Still Find That Elusive Adrenaline Rush
"It's not THE Young & Sexy." Lucy Brain, their vocalist, is quick to correct me when I introduce the band as 'THE Young & Sexy.' "It's just Young & Sexy."
Paul Pittman, vocalist and songwriter, wonders aloud: "I wonder how many times the Pixies got that. 'Cuz they're actually just called 'Pixies' not 'THE Pixies.'"
We are sitting on stools in the backroom at Vancouver's Railway Club. Young & Sexy's record label, Mint Records, is having a showcase tonight, so The Railway Club is warm and full of music fans—not to mention Mint brother and sister bands, like Shane from the Awkward Stage, country queen Carolyn Mark, and fresh-faced Albertan kids Hot Panda
The rumors are true. The whole thing began when these two, Lucy Brain and Paul Pittman, broke up.

.
This backroom is empty and appears to be off-limits, except for a guy and a girl, who are embedded in a booth, locked in a deep, passionate make-out session. They are completely unaware of us as we set up across the room. It is a nice touch that this couple seem determined to live up to the name as well.
While I find my notes, Paul and Lucy peer over at the couple curiously.
It is one of those coincidences life tosses at you. As it happens, Young & Sexy started with a romance between Paul and Lucy. Lucy was working at a Bread Garden. Paul made her a sandwich and they started to talk aboutmusic. She said that she liked Smashing Pumpkins type rock 'n' roll. And he was like, "Uhm… Have you ever heard of Pavement?"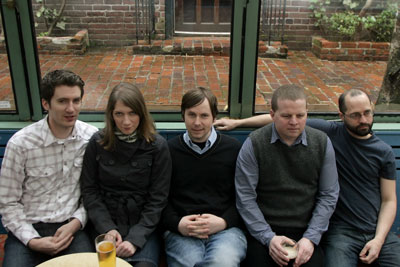 The full Young & Sexy line up drinking at the old Irish Heather. It may be daylight,
but that beer will go down easy.
They ate lunch together, and, when she left to go back to work, Paul ran after her, shouting, asking her if she wanted to be in a band.
Paul and Lucy are a little uncomfortable talking about this. And they start to joke that they will take all references of their meeting from their bio on their website. According to the bio, the relationship went sour. And it left Paul in bad shape, but the experience was great fodder for lyrics.
Scott (to Paul): So what made you decide you needed to get Lucy back in the band?
Paul: "Well I wasn't getting anywhere in a musical way by myself. Really what happened is I wrote a song to try to winner her back sort of. Then I got her to sing it. She didn't know I had written it for her, at the time. I guess it was just a ploy to try to get her back."
Scott (to Lucy): While you were singing it, Did you figure out the ploy?
Lucy: "Well thinking about it now, the chorus was, 'I want you back, I want you back again.' It was pretty obvious. At the time, I was more like, 'Oooooh I'm singing into a microphone.'"
Scott: I have to say, that's a pretty ingenious ploy.
Paul laughs: "And it didn't work. But we ended up having a band because of it, so that's pretty cool."
Lucy: "It was a much better relationship because of it. We didn't kill each other."
The relationship may have soured—Lucy is now with the band's drummer—but Young & Sexy have continued to make beautiful music ever since.
Scott: 10 years later, what's one thing you still find sexy about each other?
Nervous laughter erupts from both.
Lucy: "Paul has a magical way with words." Paul chuckles as she continues. "His lyrics: They're beautiful! That's sexy."
Paul: "Obviously her voice is quite sexy. She's pretty sexy in general. I don't think anyone would disagree with me on that."
Scott: I wouldn't disagree, but I will note that Paul turned a bit red there.
Paul: "Actually, I've got a sunburn."
More nervous laughter.
Scott: What's the biggest misconception of Young & Sexy?
Lucy: "That we're—she pauses—not young and sexy? I am not sure. How do people conceive us? I have no idea!"
Lucy is referencing a particularly blunt review of their current record, The Arc, in the TorontoNOW which starts, "Vancouver's Young and Sexy are neither young nor sexy. Discuss."
Ouch.
The industry scribes may not always be kind. I think the most critical thing I have read about the band is some reviewers calling them "New Pornographers lite."
Paul: "Yeah. And that's not without its merit. We don't have as many 'rockin'' songs as they do. There's boy-girl vocals. And we're pop music from Vancouver. But I haven't seen too much else that's similar."
Young & Sexy is about to embark across Canada to tour their latest release, The Arc. Paul's blog states the record was nearly called Damsels in the Dungeon or The Caldron Capers. Both potential titles make Lucy burst into guffaws—they are both ridiculous to her. "Paul getting dark with the imagery." She much prefers her suggestion, Shazzy Bazzy. But Paul admits he only had one day to decide what to call it, and since the album was anchored by a song called Young & Sexy vs. The Arc, it was a good enough reason to make it the title.
While on tour, Paul plays the band svengali and does all the driving. Since Paul does all that, Lucy has volunteered to be the band's fashion consultant. She also lets me know that being the driver also allows Paul to control the van stereo. Lucy recalls that last time, he last forced the rest of the band to listen to jazz and Stravinsky—which is a good thing, since they would not have chosen to listen to anything like that.
Scott: When you look back at early Young & Sexy… what do you think you've gained since then?
Paul: "We're better singers. I'm a better singer."
Lucy: "We're better musicians. We're writing better songs."
Paul: "'The Poisoned Cup' is a very nice ballad. It's just very laidback."
Scott: Is there a song on the current record you couldn't have written 10 years ago?
Paul: "Definitely 'Poisoned Cup.' And the first song Saucers—"
Lucy completes his sentence: "Saucerful of Fire."
Scott: What do you miss about just starting out?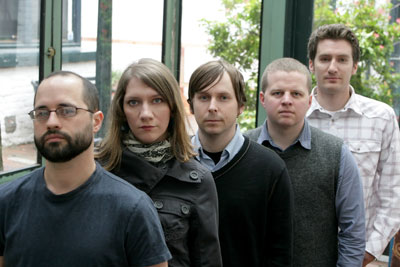 Lucy is also Young & Sexy's fashion consultant. Here, she lines everyone up for their makeovers.
Lucy: "The naiveté of it. I look at those times, I had no idea what to expect at all. Reviews. People reading about you, and asking questions about our relationships. Now it's like, 'Oh yeah, it's just another record.' And already we're looking forward to the next album."
Paul: "I guess the timeframe seems different. It just seems like when we first started there was so much happening. It all seemed very exciting. Not that it's not as exciting now. We have a lot more fun now than we did back then. It's a different thing."
Scott: Since you are now missing your 'naiveté,' when was the last time you felt a spark of that?
Lucy pauses for a moment to think: "The last show—"
Paul tells the story: "The last show we played was at as record store. There was no microphone. And I was scared shitless. Ups, sorry for swearing."
Scott: It's ok.
Paul: "But yeah. Man, that was scary."
Tune in to the interview show with host Scott Wood for more interviews with your favorite indie acts. Find us at www.cjsf.ca (Vancouver, BC, Mondays @4:30pm), www.radiocfxu.ca (Antigonish, Nova Scotia, Fridays @11pm-12am), www.cfru.ca (Guelph, ON, Tuesdays @3pm) and www.umfm.com (Winnipeg, regular timeslot TBA). You can also listen to and download both new and old shows at www.winniecooper.net.