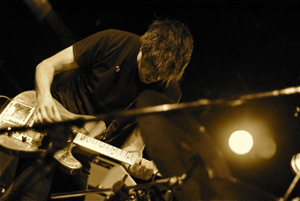 Brian King of Japandroids
North by Northeast: A Field Guide
Three nights, a hell of a lot bands, too many mustaches push our writer to the edge.
Thurday, June 17, 2010 -
7:41 pm: What was supposed to be a simple one hour commute into the city turned into a three hour tour. The City of Toronto is gearing up the next weekends G20 summit and it is causing havoc already. I'm at NXNE headquarters where I have to pick up my media pass for the weekend. I just had to haggle for short term parking at the lot across the street. He wanted $15. I paid $5.
I don't remember having to wait so long to get my pass, but then again, I don't think I ever arrived so late.
I hope parking guy doesn't sell my car.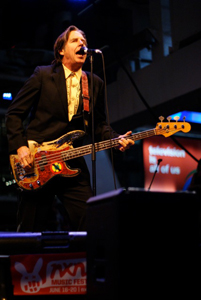 John Doe of X
8:02 pm: Vomit inducing "fashion" victim number one was just spotted outside of the hotel. A seemingly normal looking guy walked by with one major fashion crime; dumbo-sized, stretched earlobes. They were about a half inch above his shoulder. They were flopping around like the extra fold of skin they were. The earrings he was wearing were not doing their job well enough to make you look at but the blob of epidermal matter.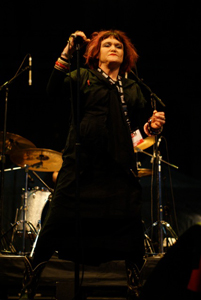 Exene Cervenka of X
9:15 pm: First band of the festival, Grunge legends Mudhoney, are on the stage at Yonge & Dundas Square (YDS). Standing near the beer gardens, I see what appears to be the bands oldest fan. She is at least 70 and is dancing beside a table of beer, which one can assume she likely consumed. Besides her dancing, the other great thing about her is her hat, which has huge flowers on it. It looks like she got sidetracked from her knitting class only to end up shit-faced at a rock show. I hope that is me, minus the hat and breasts, when I am 70.
9:22 pm: The crowd, as expected, is pretty old. Most of it looks to be 35 +. It's not about to get any younger either. LA punk icons X are due on stage next.
MUDHONEY is playing The Dicks classic!!!! Fuck Yeah.

9:27 pm: Bring on the dropped-D tuning. If it wasn't for the mass consumerism at YDS telling me otherwise, I could easily mistake this show for one that occured sometime in 1992. Heads are being banged - Hard.
9:40 pm: DICKS HATE THE POLICE!!!!! MUDHONEY is playing The Dicks classic!!!! Fuck Yeah.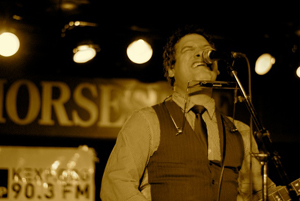 Ali says having her band behind her relaxes her.
10:06 pm: X are killing it. The band sounds like they haven't missed a beat in 30 years. The crowd looks great too. Everyone seems to be having a great time.
10:15 pm: Circle Pit! It's not huge, but one starts abut four songs into X. Seriously, I can't believe they sound so great.
11:05 pm: After not making it into The Rivoli for Buck 65's performance, we head to the Legendary Horseshoe Tavern. We don't want to miss Elliott Brood and The Ghost Is Dancing who are set to play a set each starting at midnight. Game 7 of the Lakers / Celtics is on the screen in the front bar, so I grab a pint of 50 and take it part of the low scoring affair.
11:35 pm: LA's War Paint are on stage in the back bar. Loud, psych-rock that gets you trapped in your head. It feels like time has stopped. Not my thing at all, but the crowd seems to be enjoying it well enough.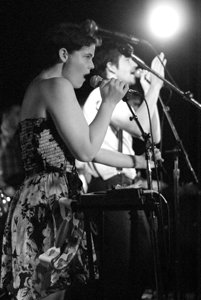 The Ghoat is Dancing
12:47 am: Elliott Brood just finished an outstanding set. I have seen then five times and they never disappoint proving yet again why they are one on Canada's best live bands. Some heavy-set guy with long hair thought he was the fourth member of the band tonight. Imagine a heavily intoxicated Phillip Seymour Hoffman dancing and trying to get your attention. He spent more time looking at the crowd behind him then he did the band. Intoxicated enough to be singing the wrong words and clapping off time. Knowing that his hangover is going to be huge, I smile.
As an aside, during this set I came to realize I am getting too old for this. I have been going to shows for 15 years and while I am not stopping anytime soon, I just don't understand fans today. People spend more time texting then they do singing along. I just don't get it.
12:53 am: Some really drunk girl wants me to take a picture of Elliott Brood's drummer, Stephen Pitkin, because "he drummed so hard, he sweat through his pants." She doesn't seem to notice the sweat on any other members; Just the drummer.
1:27 am: Toronto's The Ghost Is Dancing is again a surprise. I have seen them three times and I always forget how great they are live. Their shows are a flurry of hand-claps, nudity, cover songs and smiles. I need to stop forgetting about them. This time the band does an great cover of The New Pornographers classic "Letter's From An Occupant". Neko Case is nearly impossible to cover in any capacity, but vocalist / keys player Lesley Davies did a fantastic job.

Jamie Matechuk of The Ghost Is Dancing
1:47 am: The Ghost Is Dancing just finished up one of the best sets of the weekend. Didn't I write the same exact thing last year? The set ended with half-nude stage dives and a guitar being thrown into the crowd. Time for a long drive home, but first, street meat on Queen St. West.
Friday, June 18, 2010 -
4:05 pm: We finally made it back to the city after another long and grueling commute. We checked into our hotel in time to catch the last few minutes of the England/Algeria World Cup match. >We over look the pool and there seems to be a decent little party going on down there. After dinner, I think I will take a dip, but now it's time to plan the evening. Tonight, if I can catch both Japandroids and The Golden Dogs, I will be happy.
5:28 pm: The Much Music Video Award's are on this weekend as well, so Queen St W it a bit mad. I am standing in front of Much headquarters surrounded by a few hundred young onlookers as some forgettable band is doing soundcheck. There are a lot of young girls here, and I feel a bit perverted asking them who is on stage for some reason, so I leave it alone. Whoever they were = Not Good.
Beside the building, there is a sign on a telephone wire. The sign has a picture of Frank Sinatra and another of MMVA host Miley Cyrus. The sign say "This is music (under the Chairman's head). This is a commercial (under Ms. Cyrus's). Learn The Difference." I wonder how many people here can tell the difference?
6:22 pm: Just finished dinner at one of the many Indian restaurants along Queen West. All of them have menus in the window. All of them have hosts who come outside and entice you to get out of the heat. We ended up going with the one with the most accolades and for what it was worth, it wasn't bad. Not the best Indian in the world, but it will provide a nice base coat for my stomach seeing as I am expecting to put my body through hell over the next 10 hours.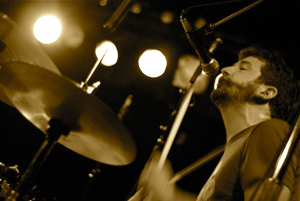 Dave Prowse of Japandroids
8:22 pm: After a dip in the pool, a movie about a mermaid who has legs, and a panicked trip to the Eaton Centre for black leggings, we finally start our night. There really isn't thing going on for a few hours, so we head north up Yonge and get off on Bloor, figuring we would make it to Lee's Palace in time for Japandroids.
10:41 pm: Well, what have I been up to for over two hours? Walking. Lots of walking. We took the Subway north for a bit, but ended up on foot for most of the time. Stubbornly, I am wearing terrible footwear tonight. I am a slave for fashion and my black and red bowling shoes needed a night out. Sadly, however, a brief trip to Shopper's Drug Mart ended up with me putting insoles in about half an hour ago. You would thing that I would have learned that sensible footwear is a must for this festival years ago.
We stop for a pint at a bar beside Lee's because they have a tap, a jukebox and are considerable cheaper then anything inside the club. The jukebox is digital, meaning it has thousands on songs. I panic and hand off the responsibility to my girlfriend whose selections drew more then one compliment. We down our drink just in time to head next door for San Diego's Wavves.
The hipster count is high. Are ironic-looking mustaches still ironic if every third guy has one?

11:19 pm: Wavve's bassist ,Stephen Pope, looks a bit like The Melvin's King Buzzo. They are talking about "Fucking a dog in the ass." Good thing their music is fun. The crowd is having a blast, though I would wager a guess that a large percentage either have fake id's or just turned 19. R Kelly would like the girls in this crowd.
11:37 pm: The hipster count is high. Are ironic-looking mustaches still ironic if every third guy has one?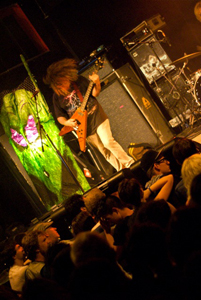 Waavess
11:46 pm: Wavves just finished their set. It was fun, tight and a whole lot better then I was expecting. The kids in the pit looked like they were having a blast too. On a serious note, I may have uncovered a conspiracy that Health Canada may wish to further review. It would appear that Optometrists in Toronto are ripping kids off by selling them black framed glasses with no lenses. Oddly, most of the people wearing them also have mustaches, so I doubt that they can even tell that their vision isn't getting better when they wear them. I guess they really don't mind looking like assholes.
12:17 am: Vancouver's Japandroids are on stage at Lee's Palace. The band is three songs in and the place is going nuts. They played a secret show last night at the Dakota Tavern that I have heard more then one person talking about. I wish I could have been in two places at once last night.. Their brand of danceable punk rock is really infectious live. Guitarist/Vocalist Brian King is playing in front of the largest collection of amps this side of a Dinosaur Jr. show.
12:27 am: It finally strikes me. I could never pinpoint it before, but seeing them live I am finally able to determine that I like Japandroids so much because they are the direct result of two friends, some amps and some free time. In other words, the best type of rock & roll music. No pretension.
12:54 am: After leaving the Japandroids set a bit early, we caught a cab down to the El Mocambo on Spadina. I don't think I have been here in over a decade. Amusing thing overheard in the men's room:
Back at the Horseshoe Tavern for more Mudhoney and more Labbatt's 50

"Hey, do you know how to set off the sprinklers" one friend asks the other. "Use a lighter" he responds.
About 15 seconds, and a bit of pondering later, the reply of "Not quick enough" is heard. Things may get interesting.
1:39 am: The Golden Dogs just finished their set. I think this was the fifth time I have seen the band live, and while it was likely the weakest of those performances, the band again provided some pop gems so infectious that you will be asking your MD for an ointment. Most of the set featured songs from their forthcoming third album, and it sounds good. The songs were not as fast and as poppy as I would have liked, but overall, I am looking forward to seeing them again when I am a little more familiar with with the tunes.
1:42 am: I was just cut off by CBC's Jian Gomeshi... That's it. It's wa,r Jian!
2:10 am: Back at the Horseshoe Tavern for more Mudhoney and more Labbatt's 50. The back bar is full, so I down my pint up front with the aged local bar flies. Sitting here, with this clientele, I feel a bit like Bukowski. Now if only there was an Off Track Betting venue around the corner...
Best I can tell, the band is playing a double set. It would have been nice to actually see them again, but they do provide a nice backdrop to the countless men attempting to seduce the half-dressed, tattooed women.
4:00 am: After opting to walk back to the hotel, we grab a late night dinner at an all-night burger truck across the street. Finally, after a long night, time for bed.
Saturday, June 19
2:23 pm: After checking out of the hotel, grabbing lunch and walking for what seems like hours, we end up in Little Italy. There is a street festival called "The Taste of Italy" happening this weekend so the area is packed full of people and great aromas. It to sticky and hot, so in reality, all I want is a drink. Fresh squeezed lime juice and mineral water do the trick nicely. Interestingly, there are more Thai, Caribbean and Asian food vendors then there are Italian. I guess even Italy is a cultural mosaic now.
6:17 pm: We walked, and walked, and walked. We haven't really stopped since noon. Exhausted, we find ourself back on Queen St W where we have to move our car to a new lot. The one we were in closes at 11:00 pm. My black jeans feel like they have been painted on. We wanted to check out Neutral Uke Hotel, this afternoon, but never could find the venue. It would have been fun too. Luckily, we have found a clean, air conditioned establishment for a pint and another burger. We contemplate another night in a hotel simply for a shower/pool.
7:35 pm: Back at YDS and we catch the end of Wavves part II. They are the first of the big draws on stage here tonight. Yonge Street is closed. I have been told that this is the first time it has ever been closed for something like this. The crowd is massive already. If I get close enough to take any pictures, I will be shocked. Due to demand, my press pass won't get me into the photo pit tonight. Good thing for zoom lenses.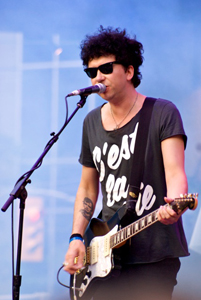 Sone Rose Wagner of the Raveonettes
7:52 pm: Having been here Thursday, I found a way up front and managed to find a place to snap some pics. Truth be told, if I am still here during The Stooges, I will be shocked.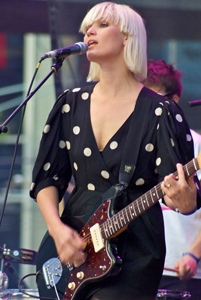 Sharon Foo of The Raveonettes
8:02 pm: The Raveonettes take the stage surrounded by smoke from the smoke machine. Note to stage crew - Smoke machines are not effective outside. Besides the wind, and the meat smell coming from the food vendors, it just looks like someone burnt their brisket backstage. Even though the view is obstructed due to the smoke, the band sound great. Truth be told. it would appear that they don't move around much anyway, so the smoke isn't that big of an issue.
8:27 pm: Some moron behind me yells "Elvis is alive at Yonge and Dundas." Really, the best musical comparison you can make for The Raveonettes is Elvis Fucking Prestley? The band breaks into their song "Lust".
8:55 pm: The Raveonettes finish their set. Lead singer Sune Rose Wagner says "We don't want to get our asses kicked by Iggy Pop for playing too long." They sounded great, but lacked the energy that the crowd expected for the band opening for The Stooges. Personally, I wanted more "I Want The Candy" and less "Ally Walk With Me." Too many mid-tempo songs.
9:00 pm: The sardine can just got a whole lot tighter. Co-emcee for the evening, Fucked Up's Damien "Pink Eyes" Abraham calls The Stooges the "Greatest rock & roll band ever." The crowd seems to be mostly in agreement. I talk to a few guys who saw the band in the 70's and 80's. These are the stories I want. One guy tells be about the time he saw The Dead Boys at the Horseshoe tavern. As the story goes, if you got too close to the stage and tried to get on it, you ran the risk of getting hit by a hammer. Another guy says "Iggy Pop saved my life." and then started talking about how great the poetry of Jim Morrison was. I have said it before, and I will say it again - Fuck hippies.
12:01 am: I have never seen a show like that. There must have been 30,000 people here. The Stooges an hour ago and my ears are still ringing. I couldn't get a decent picture because of the pit. I couldn't write because of the pit. I couldn't do much because of the pit. Iggy, the sparkplug he is, called for "dancers" at one point, inviting the crowd on stage. I don't think I have ever seen security so frightened. My view for the show was terrible. I ended up in the front row beside the stacks of speakers, meaning the only time I could see the band was when Iggy or his stage manager came towards the crowd. Still, even without having seen much, it was a memorable performance by one of the true greats.
As much as I wanted to keep going, I want my bed, my dog, my cat, my shower, and most importantly, my quiet house. I turn 30 in a few weeks time. Three days of mayhem is enough for me. I love this festival but my aching feet are telling me it's time to quit. Until next year...