Singer and bassist Adam Thomas
The Adam Robert Thomas Interview
Adam Thomas, one of Vancouvers busiest musicians, has a new CD out just in time for the Jazz Festival season.
At last year's Vancouver International Jazz Festival I kept running into bassist Adam Robert Thomas. I first saw him with the delightful Trombone Mayhem at Granville Island on a near perfect day on the waterfront. Next he appeared with the stunning Laila Biali at her gig at the Iron Works and near the end of the festival I saw him with Mike Allen at Performance Works. This was an expected appearance as he often plays with Allen and the band put on a world class performance. His bass work is in constant demand, but over time he has added vocals to his repertoire. Although, trained in drums, trumpet and his principal instrument bass Thomas has been singing in church since he was a child and only started singing at gigs when well respected west coast vocalist and educator Kate Hammett-Vaughan encouraged him. He has often sung at O'Doul's Restaurant and did some vocals on Mike Allen's CD Vancouver. Now he has taken one more step with the release of his new CD For My Love, where we does all the vocals and also plays bass along with Mike Allen and the quartet. I caught up to him in Vancouver on a rare night off.
Read the review of Adam Thomas' new CD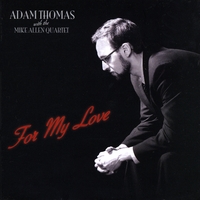 For My Love .
JD: Where did you grow up, Adam?
AT: I am a native of BC. I was born in Surrey and grew up in the Fraser Valley and moved into Vancouver when I was a teenager. Then I did a couple of years at Capilano University and finished my undergraduate degree at North Texas State University near Dallas, Texas. Then I moved to New York for about a year and then I've been back in Vancouver since then. So I've been back in Vancouver for about seven years.
JD: There's quite a few of you that went to North Texas State. You and Cory Weeds and …?
AT: Ya, Brad Turner, Bruno Hubert, Joel Fountain, Alvin Cornista, Brennan Saul.
JD: So how did you find out about? Just word of mouth?
AT: Ya, actually when I was in elementary school living in Langley I went to a concert at my sister and brothers high school and Brad Turner was an alumnus of that high school. He came to do a concert when he had just transferred to North Texas University for his Masters. At the time, I played trumpet and I got it in my mind at a pretty young age that I would like to go to school at North Texas at some point and after my second year at what was then Cap College, I wanted to push myself and grow a little bit more. Bruno Hubert had spent a semester at North Texas. He came back and he sounded unbelievably better than when he had left and he already sounded really good, so that was quite a feat. He convinced me that I should go, so I went down and Joel Fountain went the same year. The following year, another Vancouver bassist, who is now in Toronto, Marc Rogers went with us as well.
JD: That's good. It's nice to have buddies with you when you go away to university. It's good to have somebody you can relate to. What degree did you end up with?
There was not much jazz at all at our house, so my earliest memories of music would be going to sleep with the turntable spinning...

AT: I ended up with an undergraduate degree. I had more credits than I needed to graduate, but I very much enjoyed my time at school. I spent a lot of time in the ensembles and enjoying my classmates. I ended up doing my first and second year work in my last two and a half years of school; kind of upside down but I enjoyed it all the way.
JD: That's good. School's a good place to be. It is a good environment being around all those other musicians. Like you said about Bruno, the only thing that happens is that you get better. It's awesome. So, I'm going to take you way back. What is your first musical memory?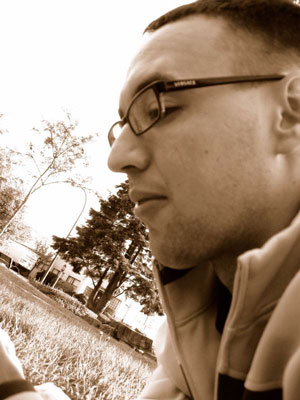 Adam Thomas at home
AT: My Dad was an avid music collector and a lot of folk music. There was not much jazz at all at our house, so my earliest memories of music would be going to sleep with the turntable spinning and he had a double live John Denver album—I think it's called An Evening With John Denver that we listened to a million times, practically speaking. We listened to it so much that we knew the particular scratches and skips on it. Actually it's funny, because my brother bought it on CD fifteen years later, or so and we were listening to it on CD and it got to a certain song we thought what's wrong. Whey does this sound weird—because it didn't have the certain skip that our record had (laughs). We'd listened to it so many times. My Dad had some Bob Dylan in the house and Gordon Lightfoot. About the only jazz records we had in the house was a jazz fusion album by Chuck Mangione called Feel So Good. It was a big hit in this era. Also, we had a Nat King Cole album called The Man and His Music. Although neither of them were particularly jazz; one was almost more pop music and the other one was definitely more fusion.
JD: Ya, the Nat King Cole album doesn't fit his collection at all from what you said, but people do branch out. And Chuck Mangione's Feel So Good, everybody of a certain age had that one. Boy that sold like crazy. I think Chuck got to retire after that one. He even got to be on Family Guy or King of the Hill—one of those animated shows.
AT: (laughs) He was on that show a lot. Oddly enough that album inspired me to be a jazz musician. Really, when I was six or seven years old I told my Mom, "I want to be a jazz musician. I want to play jazz and I want to play trumpet or guitar." She looked around and she found somebody to teach me trumpet and I started lessons when I was eight. But Chuck Mangione was one of my influences. I hadn't heard that record for a long time and when I was in university I decided to go out and get it on CD because I wanted to hear it again. I can see why I was so attracted to the music because that album is almost disco jazz, really, but the guys playing it are in love with what they are playing and you can tell that it's so exciting, fresh and new and they are having a ball. The energy of the album is so great. There's a lot of great improvisation and interaction and the tunes are great. So it's really and exciting album to listen to usually when I listen to it I can hear their excitement when they play. I think that's what got me hooked actually to getting into improvisation and being a jazz player.
JD: Well, it was perfection in that it really hit a spot in the North American music psyche. Basically everyone picked up on that. Wow if I got a penny for every album that was sold I'd be retired now (both laugh) and I think Chuck got a least a buck so I think he did ok. It does show through on that and there is a lot of soul in it. It's considered quite cheesy by a lot of people, but I appreciate it too.
AT: (laughing) Ya, my wife won't let me play it very often (both laugh).
JD: Adam, you were a trumpet player and you took up the bass. How did that happen?
AT: Actually when I was in elementary school I started playing ukulele through the school system. I started playing in district groups and honour groups and in those groups they always had a string bass, but at that age the girls were always taller than the boys and the girls were always the ones playing bass, so I never got to play the bass. I went and saw a concert when I was a kid. It was right when the movie Dick Tracy was popular. The band was all dressed like mobsters ala Dick Tracy and I remember that the electric bass player didn't move the whole concert except for once when he looked over at the drummer and smiled. It was probably a mistake that the drummer made or it might have been that he was really grooving or something. But for some reason I thought that was really cool so I got into playing the electric bass first. But I always had this fascination with the upright bass so I got into the upright bass. My last year of high school between my eleventh and twelfth grade I found an acoustic bass at a local music store and my grandfather had actually given me money to get a new trumpet, so I was trumpet shopping. So one of the music stores had an upright base and I wondered if my grandpa thought it was ok if I got the bass instead. So I got the bass and that was kind of what sealed the deal. And then at the time I played drums, trumpet and bass and I applied to Capilano as a bass player and drummer. My first year I played both bass and drums, but pretty quickly, drums went by the wayside. The upright bass took the foremost position.
JD: And since then you added vocals to your repertoire. How did that come about?
AT: I always sang since I was a kid. We grew up in a church setting. I always grew up singing every week and then I sang in choirs in elementary and in high school and then when I was in eighth or ninth grade, I can't remember, Rejean Marois, who teaches at Cap taught at our high school—I don't remember how that came about—in the local jazz program, so I had a bit of exposure to choral jazz and then when I got to college I auditioned and took part in the jazz choir as a member. I was playing in gig occasionally with Kate Hammett-Vaughan and she had this one gig at the Latin Quarter and it was a jam session on Sunday nights and I would go and play there. So one night when I was there she somehow got wind of me singing in jazz choir or something like that and she said "You should sing a tune sometime." Eventually I got up the courage and sang a tune. I don't remember what it was but she was very supportive and encouraging. I remember there were parties and she would have people hanging out at her house and she would always be putting on vinyl. I remember going over to her house a lot of times and listening to old Ray Charles and Little Jimmy Scott and Sarah Vaughan and all this great old stuff. She really pushed me along in getting me singing. Since then it has become more and more a part of what I do. Now it is a regular part of what I do and I sing on half of the gigs that I play.
JD: It would be intimidating to have Kate Hammett-Vaughan finish singing and they hear her say "Now Adam's going to sing." Oh my God what a tough act to follow, eh (laughs)?
AT: (laughs) Ya.
JD: But I imagine she helped you along and imparted some knowledge, too.
AT: Yes, you'd be intimidated by her reputation and her skill, but as a person she is so warm, supportive and helpful but it's hard to feel nervous because she is that way and you couldn't imagine her being critical or anything and it was actually very freeing, I think.
JD: So you are one of the busiest guys in town. I know you often have gigs at O'Doul's. That was the first place I saw you. At the Jazz Festival last year I saw you with Trombone Mayhem, and with Mike Allen. Did you play with Laila Biali at the Iron Works, too?
AT: Yes, I did.
JD: So are you taking all the jobs in town? What's going on/
AT: (laughs) No.
JD: You'd like to though, eh? No, that's good that you are getting all of those gigs. Maybe you could tell us about your experience last year at the Jazz Festival.
AT: It was a lot of fun. Usually, we play almost every night at the O'Doul's jam session Mike Allen hosts from midnight to 2:00 AM. That's always a lot of fun and you are playing a lot for the whole week. It's great for your performance chops. By the end of the week you really have a good connection with your instrument. It's really nice. There is exciting energy and the audiences are really supportive. They come out and they are really excited about jazz and the players are excited, too. I had a lot of fun playing with Laila (Biali). Laili's a dear friend and she sounds so great. Morgan Childs was playing drums on that gig and he's also a dear friend. We've played a whole lot together. That was a really fun performance. It had a lot of energy and it was really well received. Last year I did a really nice gig with Mike Allen at Performance Works. Again it was really well received. I think we had Chris Gestrin playing piano that time. Ya, there were a lot of really memorable performances that were a lot of fun. The jam session—a lot of great musicians came down and played. One evening Kenny Werner came and sat in and Eric Harland. It was quite the year—a lot of fun! The year before the Lincoln Center Orchestra was here. Wynton (Marsalis) and his whole band came down a couple of nights, actually. It's always fun and it's really nice to be working. This year coming up there are some fun things happening. I'm working with Mike Allen again and we're doing a show for the CBC and it's a tribute to Frank Loesser as it's the 100th anniversary of his birth in June and we're going to do a tribute to his music. Karen Plato is going to be singing on that as well. I'll actually just be singing. Sean Cronin will be playing bass for that performance. That will be fun.
JD: Ya, the Jazz Fest schedule just came out. People can check the Coastal Jazz and Blues Society site for all the info. Good, I'll surely catch some of your performances. Well, one of the main reasons that I phoned you was to talk about the new CD you have out with you as the leader. It's called For My Love, Adam Thomas with the Mike Allen Quartet. You chose to record a wonderful group of ballads mainly from the Great American Songbook. Maybe you could tell us a bit about the new CD.
AT: My wife and I spend a lot of evenings at home when I'm not working. The CDs that get the most play at our house are a couple of ballad CDs. They are mellow CDs, often jazz; a Keith Jarrett one The Melody The Night and You; there's a beautiful Chris Gestrin CD called Times That Don't Belong to Us that we love. There's a Michael Brecker album called The Nearness of You. It's one of the last albums he did before he passed on. There's a couple of others, but I had in my mind a dream of doing an album that was like those albums. A ballads album, something that people would listen to at home and chill out and relax. At the same time I wanted to do an album dedicated to her, so I had this in my mind and I talked with Mike about it at some point. I said, "Hey we should do this ballads album together. I don't know what you would think about that." We had talked about it. That's going back a few years, now. Then in the spring of 2008 Mike organized a recording session for the summer. It was with Miles Black on piano and Julian McDonough on drums and myself and Mike. I did the engineering and we all just got together and recorded. We did two days as a trio without Miles and then two days as a quartet with Miles. We just got together and recorded to see what comes out of it and just kind of deal with whatever comes out of that recording time. We recorded a couple-few albums worth of things. Some of Mike's originals and one day we did the ballads. We did all the instruments there live and I recorded the vocals afterwards. It was a little to much to think about playing bass, singing and recording at the same time. So that's how it came about. Song selection came about as I talked with my wife about some of her favourite songs that I sing and what songs she likes and I also had a couple of songs on there that she didn't necessarily pick, but I liked. "Nancy" wasn't necessarily on her wish list, but I wanted to sing it for her, so that one was on there. We did fourteen tunes in about two and a half hours and two of the tunes didn't make the album. They just didn't fit as well in the overall theme by the time things were done. It was quite the proficient recording day and it turned out nicely, I think.
JD: It's called using your time well (laughs). You get good marks for that in school. Now did you do all the arranging or was it a team effort with Mike and the guys?
AT: That was somewhat organic. I had in my a few things that I wanted to do for a few of the tunes that were specific. I had a stack of charts for everybody that was mostly just lead sheets. On a couple of them I had notated a specific arrangement like the first tune on the album "I Got it Band and That Ain't Good" was actually an arrangement by a friend of mine in New York named John Chin, a piano player. I brought that as a complete arrangement but the rest of it, I may have had something in mind and I would talk to Miles (Black) and then we'd play it. On some of the tunes Miles had some ideas. On "My Foolish Heart" he wanted to play the verse instrumentally with Mike (Allen). So we did that and he ended it. So basically we just talked through the arrangements and made a couple of notes and then we'd play the song. Most of the arrangements were done by myself and Miles, then we'd just play the tune out and pretty much everything was first take with "Inutil Paisagem" being the one exception. We did two takes of it.
JD: I'm glad you said that title and not me. I wouldn't have got that one right. That was the one I was going to avoid if I was going to talk about anything (laughs) and that is the Antonio Carlos Jobim title. You sang that in Portuguese, I take it.
AT: Yes.
JD: Now, the Tin Pan Alley Days and later spawned incredible writing teams. Do you have any favourite writing teams that came out of that era?
AT: Gosh. That's hard to say. Not specifically Tin Pan Alley, but I love Rodgers and Hart and Rodgers and Hammerstein and Jerome Kern did a lot of partnerships with different people. Hoagy Carmichael and Ned Washington wrote some beautiful tunes together and Hoagy wrote some beautiful tunes on his own as well. But, one thing I did find interesting is that on this album there's only two tunes that were written by just one person. Ann Ronell wrote "Willow Weeps for Me" (and Vernon Duke wrote "Autumn in New York"). Outside of that most all of them were written by teams or at least a pair of people.
JD: For My Love is a nice CD. I get a bit sentimental and I appreciate the selections that you chose and considering the amount that's out there and how difficult it must have been. The fact that you and your wife have favourites helped narrow down the field. I'm enjoying it. Maybe you can tell people how they can get a copy.
AT: If you are in Vancouver and are at any performances where I am playing you can get it from me and you can also get it on CD Baby. I have a website as well and a Myspace page and I'm just recently on Facebook and they will have links. All of those are Adam Robert Thomas, so you can go to www.adamrobertthomas.com or www.myspace.com/adamrobertthomas you'll find me. If you Google Adam Thomas bass and voice you will find me as well.
Check www.coastaljazz.ca for the dates and times of Adam's performances at the Vancouver International Jazz Festival this summer.