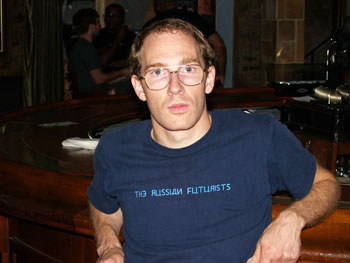 Dan Snaith is Caribou (photo David Shankbone)
Great Northern Caribou Learns To Swim
Dan Snaith finds musical epiphany while mastering front crawl
Just like the great Canadian migrant Caribou, Dan Snaith traipses across our national musical landscape with stealth and grace. Due to their long legs, the great northern Caribou can walk in deep snow and are strong swimmers who can cross wide expanses of water. However, Dan Snaith (aka Caribou) was never a strong swimmer until this past year – hence the title of his brand new disc, Swim. "I had this idea of making liquid or fluid sounding dance music where all the elements are washing from one place to the other", explains Snaith in a telephone interview from the Trans-Canadian highway on May 12. Mission accomplished. Those words aptly describe the lightness and dreaminess of the sound supported by a firm and very danceable back beat. After a moment's hesitation, he admits that he just learned to swim over the past year. Swimming lessons were a gift from his wife who could not have known he'd find musical epiphany while mastering the front crawl.
I'm not trying to make Canadian-sounding music in anyway. I've always felt my music was geography-less.

Fluid certainly best describes the general tone and sound of Caribou's latest offering. It is that fluidity that incites the listener to either sway, groove, trance or dance. An homage to modern technology, the disc is filled with an assortment of real and fabricated timbres. For instance, the track "Sun" revolves around a single word, sun, and a single note, but consists of layers upon layers of rhythms and harmonies incorporating computer-generated jungle sounds including a yelping monkey, a growling lion and even dissonant elephant trumpeting. I also discerned similarities with Hugh LeCaine's, "Dripsody" – one of the first pieces entirely composed on an electronic synthesizer. LeCaine is the Canadian inventor of the synthesizer before Moog commercialised it.
When asked about why he chose a name such as Caribou for his band, Dan explains that with both names Manitoba and Caribou, he wanted something that would connect him to Canadian wilderness and remoteness. Yet, in the next breath he admits: "I'm not trying to make Canadian-sounding music in anyway. I've always felt my music was geography-less." Dan grew up in rural Ontario and didn't get into popular commercial music due to the isolation from any "world music hub", as he puts it. "I was out of the loop in Dundas, Ontario, so my friends and I figured things out for ourselves. We weren't reading magazines that told us what to listen to. That's probably the biggest impact it had on my music."
Later in life, Dan turned to math and completed his Ph.D. in London, England (the Empire!). He enjoyed theoretical (or pure) mathematics, explaining that it gave him the opportunity to play around with abstract ideas: "Pure math is very creative, imaginative and intuitive – things that people associate with artistic pursuit. Music is about ideas and emotions. I love dreaming up a way to make a sound and then trying it out to see if it reflects the sound I had in my head."
I had this idea of making liquid or fluid sounding dance music where all the elements are washing from one place to the other.

He'd have you believe he's just another friendly Canadian traveling around the world conveying his images of Canadian tundra upon unsuspecting audiences. When asked if he ever considers himself an ambassador of sorts, Dan replies "Oh no! But the further out we go, the more we get asked about Canada and its culture." "And, he adds, everywhere I go, people comment about the strength of the Canadian indie scene."
If you've ever been to a live Caribou show, you know that Snaith loves the multi-disciplinary nature of art and adds video and other art forms to the spectacle. On this tour, guitarist, Ryan Smith created video art that is projected while he performs live on stage. "It's all integrated into the music we're playing", says Dan. "It's a great opportunity for Ryan to make something visual that accompanies the music."
Snaith is a very prolific composer and artist. His discography as both Manitoba and Caribou adds up to over a dozen discs spanning an entire decade. A turning point in his career came when he was awarded the prestigious – and very generous – Polaris Music Prize for his album Andorra.
One final question. I ask him what he did with the $20,000 he received from Polaris. In true Canadian fashion, he gave a good chunk of it to charity: The Stephen Lewis Foundation and EcoJustice. Thankfully, he kept what he needed to produce his next album in a "real professional studio" (his words!). No more bedroom studios and laptops. The funds were put to good use so that we can all continue to feast on some great Canadian Caribou.
Caribou are currently touring across Canada and the US throughout June, July then in Europe until September. Check dates: http://www.myspace.com/cariboumanitoba
Anne-Marie Brugger
Host/Producer, Hop The Fence
CHUO 89.1 FM Ottawa
hopthefence@hotmail.com
1 June 2010