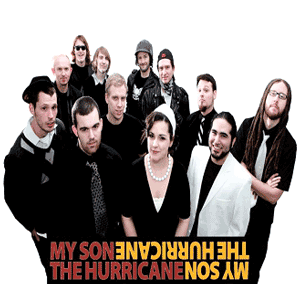 The Eye of the Hurricane
They say size doesn't matter, but it does with My Son The Hurricane. This thirteen piece band is ready to let loose a wind storm and lay a little dirty brass on you.
"Anything worth doing is worth over-doing," says Danno O'Shea.
With that in mind, musical collaborators Danno O'Shea and Nelson Beattie, concocted a project that in their vision grew to gargantuan size, and then finally broke through the banks of imagination to become the real deal. The pair called together a dream team of top caliber musicians, who wield saxophones, trumpets and trombones. Throw in a sousaphone for good measure, and add a funky rhythm section. Top it off with an MC that has some serious swagger and you've got My Son The Hurricane, the next generation of a New Orleans style brass band. "Think Professor Longhair and Dr. John meet A Tribe Called Quest." says Danno. "I call it brasshop funk, the hip hop, if only because of our MC Jacob Bergsma," he adds.
It's really important for us to live up to the size of this band. It is its glory and its detriment

Danno O'Shea, self described 'built like a hockey stick with giant hair' is the band leader and drummer for My Son The Hurricane. He calls himself a jobber musician and over the years has played on countless other projects.
O'Shea met Nelson Beattie, a baritone sax player, and also a jobber musician on the scene in St. Catherine's, Ontario. "He and I had been talking about how great it would be to create a project of our own. He [Beattie] began exposing me to this New Orleans music, Stanton Moore, Longhair, Youngblood Brass Band. As I was hearing this music, it was like someone had just turned on the lights," recalls O'Shea. "It was like I was hearing the music I was meant to…" he trails off as he remembers. "I equate it to like seeing that girl in high school that just opens your eyes." O'Shea and Beattie began to assemble their perfect musical storm.
Not one to bend to conformity, Danno prefers to explore new possibilities. "I'm all about the crazies," he smilingly says, "people who do it their way." Wanting to put a modern twist to this music that had captured him, rapper Jacob Bergsma was the first call. "When Jacob said yes, I said well let's just make this crazy," recalls Danno. "Let's find a sousaphone, let's get a guitarist for sure, these things have made a difference. As far as the rapping goes, it would have been easy to have an awesome female singer front this band, but I think there's already one Sharon Jones and the Dap Kings or one Bettye Lavette. I met Jacob 3 or 4 years ago and as soon as I heard him I thought I have to play behind this fella."
By not putting limits on their creative vision, the two musicians ended up with a thirteen piece group that was ready to take on something different. "Sonically there's a lot of stuff going on," explains Danno. "It's been a challenge, and everyone has had to find their place to make this thing work. It's really important for us to live up to the size of this band. It is its glory and its detriment."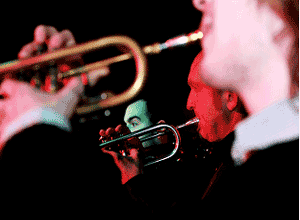 When the pieces were brought together, was there an idea of the unique outcome that would be conjured up? Danno responds, "You know all of our music is created in sheet music form before a note is played. We were listening to this on midi files on Nelson's computer and it was sounding like elevator music and he and I were both starting to get really nervous. Here we were bringing in really high caliber players and, you know…But when the first notes were played, and Jacob got going the smiles came out. Afterwards everyone's kind of looking around at each other, kind of like wow, this is really good. It was almost like a nervous excitement and we thought now what."
"Now what", ended up being in famed Grant Avenue Studios with producer/engineer Paul Riemens to record My Son The Hurricanes' EP, Check the Barometer. Danno O'Shea says of the outcome, "Oh yeah, we love it. It's not the most polished thing I've ever done but you know New Orleans style brass is kind of dirty and we wanted some of that to come across. We wanted the horns to be kind of mean sounding. I mean we didn't want to over produce it. The idea was not to make it a Britney Spears album. I'm jacked on it right now; it's great to hear the tunes coming back at us."
Danno says that My Son The Hurricane's music is available in digital download only. "We don't create physical CD's. It's an old medium. I'm under a lot of pressure to make CD's for people, maybe I'll buckle, but I think for now it's easier to get my music clicking your space bar than it is to go to the mall and get it. It's more accessible through ITunes."
What does Danno O'Shea want you to tell you about My Son The Hurricane? "You know, only that it's worth the listen. It's worth trying something new. You know my old man would never listen to hip hop music but I think he's starting to appreciate the tongue in cheek lyrics. I think it's really cool for people to be checking out something new."
We didn't want to over produce it. The idea was not to make a Britney Spears album.

When it was commented that My Son The Hurricane certainly pushes people out of their comfort zone, Danno simply says, "Get out of the box. Just get out of the box, that's my life."

Log on to www.mysonthehurrican.com to download the music and find out where they will be playing. You can go to their Face Book page for information and also to hear the audio portion of this interview http://www.facebook.com/mysonthehurricane
There is a storm brewing here, and it's called My Son The Hurricane.